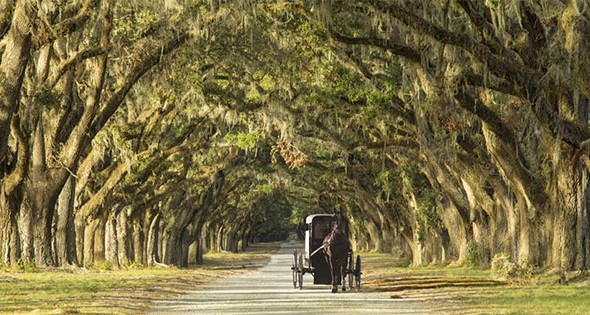 Alabama: A Poorly Kept Secret
17 Oct, 2018
Alabama's reputation as an economically backward state was shattered over two decades ago when Mercedes located its beautiful white M class SUV U.S. headquarters near Tuscaloosa, Alabama. Twenty one years later the company is about to embark on a billion dollar upgrade and in the interim both Honda and Hyundai have set up shop in Alabama. The state has been on a roll ever since (pun intended).
Alabama Launchpad, a public- private partnership, is at the centerpiece of the state's strategic economic development plan that focuses on job creation through innovation, entrepreneurship, research and development, and commercialization.
Alabama's industrial base is broadly diversified and continues to grow. The largest industries by number of workers in 2017 were manufacturing (16.3%), retail trade (15.1%), health care (13.2%), and accommodation/food services (11.3%). The State's high growth job sectors, in the time period 2010-2017, were Administrative and Waste Services (20.7%), Accommodation and Food Service (19.1%), Arts, Entertainment, and Recreation (16.3%), Transportation and Warehousing (15.7%) and Manufacturing (10.6%).
Other interesting facts about Alabama. The state has the second largest timberland base in the United States with nearly 23 million acres. Forest products exports were valued at over $1 billion in 2013, ranking the industry as the fifth largest exporter in the state. The forest products industry employs more than 25,000 people statewide. Alabama is home to hundreds of aerospace related industries supporting both government and commercial markets. Companies like Airbus, Boeing, GE Aviation, and GKN call Alabama home. Alabama's aviation and defense industry (including Boeing and Lockheed Martin) has been integral to U.S. Space and Defense programs for more than 50 years. Much of it is top secret. Alabama is home to Redstone Arsenal and Marshall Space Flight Center where the Saturn V rocket was designed and the next-generation Space Launch System is being developed. In 2012, Airbus announced that it would build its first American jetliner production facility in Alabama. Google has recently launched construction on a $600 million dollar data center.
Alabama is an ideal place to raise a family with the median sale prices for homes at 40 percent less than the national average. If you enjoy fishing hunting boating, salt water, sunshine, hiking, playing golf watching football or humidity, you would also do well to consider Alabama.
City of Auburn
The City of Auburn, Alabama, has been called the economic engine of East Alabama, fueled by diverse industry, a nationally recognized educational system and a high quality of life. Auburn is home to Auburn University, a comprehensive land, space and sea grant research institution that blends the arts and applied sciences. As the City's largest employer with over 5,000 employees and over 29,000 students, Auburn University is a major contributor to the local economy. Auburn has sustained a strong economy and workforce and continues to develop new industry. The city's industrial base is built around small to medium-sized value-added, technology-based manufacturing firms. Auburn industry categories range from small engines and generators, specialty plastics packaging, wireless technologies and automotive to aerospace, advanced manufacturing and medical. With a population of approximately 64,000, Auburn boasts over 5,000 manufacturing jobs in its four technology parks.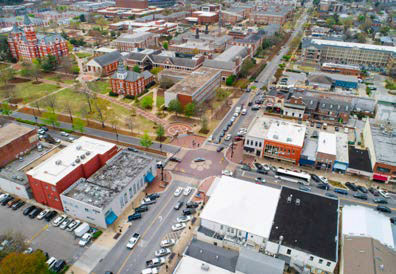 Auburn's industrial community continues to grow as new industries locate in Auburn and existing industries plan expansions. It is home to General Electric (GE) Aviation, which added a large aerospace company to Auburn's industrial portfolio. GE Aviation uses additive manufacturing to produce turbine airfoils and structural components for jet engines. Berghoff Precision Machining specializes in the mechanical processing of highly complex work pieces, including five-axis and high-speed machining for key customers in equipment manufacturing, semiconductor and aerospace industries. Winkelmann Flowform selected Auburn as the location for its first U.S. manufacturing operation in 2017. The company produces high quality and precise flowformed metal parts for the space flight and aviation industries. The location of these companies has further diversified the employment base in Auburn.
A positive business environment, a viable workforce, a fantastic education system and a high quality of life have all fueled Auburn's economy and growth in the past several years. Driven by continued population growth in East Alabama, rapidly expanding tourism and travel marketing, Auburn continues to experience steady commercial growth. In recent years, more than 55 commercial projects have taken place with City assistance.
Auburn has consistently been recognized for its economic growth and job growth, ranking No. 10 on the Milken Institute's list of the top performing small cities, No. 8 on Forbes list of the best small places for business and careers and No. 16 on USA Today's list of cities adding the most jobs. The City's many achievements can be attributed to a City dedicated to maintaining a strong economy and job market for its citizens.
Elmore County
The Elmore County Economic Development Authority is committed to improving the economic well-being of the business community and enhancing quality of life through the creation and preservation of jobs and wealth in Elmore County. Located in the heart of the River Region, Elmore County has a strong transportation infrastructure, a skilled and ready workforce, and an abundance of recreational opportunities. Elmore County has a strong and supportive business climate that attracts new business and industry to complement and enhance a vital and growing existing business community.
Boasting dynamic schools, unified leadership, extraordinary natural beauty and a superior quality of life, Elmore County, Alabama has a rich history of being a predominantly agricultural area, but in recent years, it has started to make the transformation to the one of the fastest-growing counties in the state. The county offers the best of both worlds to individuals settling here: small towns with high-quality education, low-crime rates, and low-cost of living, next to a major metropolis in Montgomery.
Elmore County is defined by lush forests, flowing rivers, wide welcoming lakes and a population of hard-working citizens who honor their heritage, whether it is Native American, European, or African. Northern Elmore County lies home to two fresh water lakes with access to more than 70 square miles of recreational waterways. With distinctive lake homes lining its shores, Lake Martin is becoming known world¬wide for its sparkling waters and for wise land-use developments that honor the land and its waters. Lake Jordan boasts some of the best bass and crappie fishing in the South.
Throughout Elmore County there are cities and towns that welcome all who visit… and those who find reason to put down roots and join the gentle Southern way of life that are the envy of all who travel to the county.
Companies moving to Elmore County can be sure they will find a capable, experienced workforce to meet their needs, while individuals know they will find a place they can belong. It is no surprise that businesses world-wide are considering Elmore County for their base of operations or their next expansion. With the leadership of the Elmore County Economic Development Authority, and a spirited cooperation from municipal leaders, the county is poised to continue its development. The low tax rates and attractive climate that yields moderate winter temperatures and little to no snow each year make Elmore Count appealing to many executives. The days are beautiful with typically 214 sunny days per year and an average July high temperatures reaching about 92 degrees. Centrally located with two major Interstates, I-85 and I-65, passing through and bordering portions of the county, transportation routes for commerce and travel are abundant.
Elmore County Alabama – where business meets pleasure.
Talladega County to Build Two Speculative Buildings
Less than urban areas such as Talladega County, Alabama have to create reasons for companies to consider them for new plant locations. One reason is an available building that reduces the time and cost that it takes to begin production. This year the Talladega County Economic Development Authority and two of its cities, Sylacauga and Lincoln, will construct two speculative buildings to attract industry to the area.
The TCEDA will construct a 100,000 square foot building in the newly formed Lincoln Industrial Park on Interstate 20 to attract companies involved in the automotive industry, particularly parts manufacturing. Lincoln is home to Honda Manufacturing of Alabama with 4,500 associates building the Honda Pilot, Odyssey and Ridgeline vehicles. Honda suppliers, as well as those of Mercedes Benz, Hyundai and Kia would benefit from the proximity to the plants and the ability to draw employees from Alabama's largest center of population. Completion of the 100,000 square foot facility is expected in the fall of 2019.
The City of Sylacauga, this fall, will begin construction of a 60,000 square foot building in the S.B. Pinkerton Industrial Park at the Sylacauga Airport on U S Highway 280. In addition to automotive suppliers, Sylacauga plans to attract those companies that use calcium carbonate in their products. Companies such as IKO Shingles, Atlas Web Tech, and Heritage Plastics have all located in Sylacauga to be near Imerys and Omya, both suppliers of calcium carbonate.
Speculative buildings have been a success story for Talladega County which has constructed and filled six of them. Kasai Kyogo, an automotive supplier, recently purchased the 100,000 square foot speculative building in Talladega, doubled its size and now employs over 500 people. Fleetwood Metal in Sylacauga occupies two former speculative buildings and has over 330 employees working to make automotive parts. Lohr North America will occupy a 100,000 square foot facility in Lincoln this year and manufactures carriers for hauling automobiles. They plan to employ over 130 people when they reach full employment.
Speculative buildings have given companies reasons to look at areas smaller than urban area, saving the companies both time and money, and giving residents of more rural areas opportunity to work.