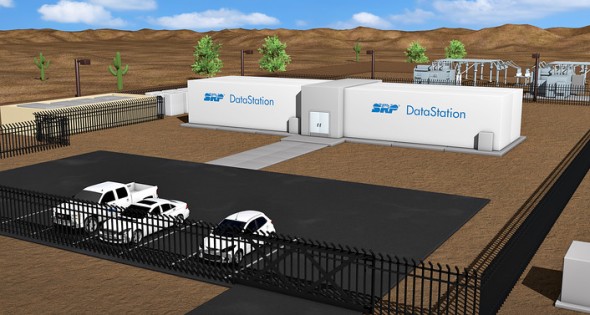 Arizona is Ready for Entrepreneurs
05 Oct, 2015
By David Hodes
Caption: The Salt River Project intends to deploy BASELAYER's modular data center technology in locations near its existing electrical infrastructure where they can be connected directly to the energy grid. SRP DataStations would allow for data center growth with minimal impact to the community in relation to new power line construction. Image: SRP
Economic development in this state is centered on fast-growing industries, represented in part by companies that have bailed out of California to come to Arizona, a state that embraces entrepreneurs and their startups who are always looking to do more for less.
Sandra Watson, president and CEO of the Arizona Commerce Authority (ACA), says the authority is targeting high-growth industries such as advanced manufacturing, IT hardware and software, bioscience and health care, optics and photonics, aerospace and defense and renewable energy.
To assist growing business in these sectors, the ACA created Start Up, a resource for businesses on their website that is part of the ACA's ongoing efforts to align resources, connect partners and strengthen Arizona's vibrant innovation ecosystem supporting the state's entrepreneurs.
In an emailed response to questions, Watson wrote that Start Up was designed as a result of proactive engagement and strategic dialogue among leaders within Arizona's startup community. Insights gathered from ecosystem partners and businesses has resulted in the development of a centralized resource connecting all things entrepreneurial in the state, she wrote.
"The ACA is committed to making Arizona the most entrepreneurial, innovative state in the nation — creating the best place anywhere to start and grow a business," Watson writes. "We are excited about the ongoing collaboration with the entrepreneurial community in this effort, and these enhancements to the ACA's website are part of a suite of dedicated resources serving startups and early-stage companies at every phase of their business development."
Additionally, Arizona is increasingly viewed as a new business haven for some businesses that have had enough of the California system of taxes and regulations that make doing business in that state more difficult. Recognizing that fact, the ACA has opened two offices in California — one in the heart of Silicon Valley, San Jose — and is taking a long-term approach to collaboration with that state to build and strengthen their relationship, Watson notes.
Down to Business
*Arizona is ranked first in the nation for entrepreneurial activity.
*The state has experienced 13 consecutive years of tax reduction.
*Arizona is immediately accessible to three of the world's largest economies — California (No. 9), Texas (No. 13) and Mexico (No. 14). 800 tons of cargo are transported daily through the Phoenix Sky Harbor International Airport.
Industries and Innovations
A few of the notable expansions into Arizona from California include Zenefits, a human resources software solutions company based in San Francisco that expanded to Scottsdale in November, 2014; Revel Systems in San Francisco, makers of a point-of-sale software-based system, that also expanded to Scottsdale in January, 2015; another San Francisco-based company, Weebly, a company created to help make websites, which also expanded to Scottsdale in January, 2014; and Silicon Valley Bank, based in Santa Clara and expanding to Tempe in July 2014. Silicon Valley Bank is committed to investing $100 million to technology and life science companies based in Arizona over a five year time frame.

Chandler, a suburb of Phoenix, is located on the State Route 101 science and technology corridor. The highway is a beltway that connects many of the Phoenix suburbs — Tempe, Mesa, Scottsdale and Chandler among others — providing access to major universities, the Biodesign Institute, Arizona State University Research Park, research hospitals and Chandler's internationally recognized biotechnology companies.
Those bio companies include the Germany-based Heraeus technology group; Insys Therapeutics Inc., working on cancer supportive care and cancer therapy products; Radiant Research Inc., a clinical research and development company; and Analyze Inc., a custom chemical technology company, among others.
Talent and Education
Watson writes that the ACA leads "sector partnerships" in which companies join forces with educational and governmental organizations to concentrate on industry issues and workforce development.
Recently the ACA launched a sector partnership focused on the IT industry, and was selected to lead the Phoenix regional team in the "Communities That Work" partnership led by the Aspen Institute's Strategic Workforce Initiative. The initiative works to identify, evaluate, and promote promising and successful practices and policies that improve access to quality training and employment for low-income adults.
Business and academia collaborations are key to the success of business in the state. Caryn Sanchez, economic development project manager for the Salt River Project (SRP), which is one of the state's largest power and water utilities, says that Arizona State University (ASU) is a "jewel in our economic development tools."
"They are a bright spot in how we draw businesses to the area," she says. SRP has a variety of partnerships with the university, including the Advanced Technology Innovation Center (ATIC) at ASU's Ira A. Fulton School of Engineering at the Polytechnic campus. SRP and ATIC recently signed an agreement that will run at least until 2017.
It seems like everywhere in the state, high-tech opportunities and startup developments are firing up.
Micah Miranda, Chandler's director of economic development, says that they host an annual science, technology, engineering and math (STEM) festival. "We really work closely with our private sector partners to identify what their future needs will be," Miranda says. One of those partners is Intel, with a $1.7 billion campus in Chandler.
Chandler economic development also operates the Innovations Science and Technology Incubator, a 60,000-square-foot incubator for innovative entrepreneurs in the life sciences and emerging technology industries.
Chandler economic development also offers business access to TechShop, a chain of member-based workshops that enables people of all skills levels to come in and use industrial tools and equipment to build their own projects. "Think about the TechShop as you would think about your local gym," Miranda says. "But instead of focusing on the weight lifting and other stuff, they provide access to things like lathes, industrial sewing machines and 3-D printers."
Assets
SRP's Sanchez says that they are getting a lot of interest in using their utility services from data centers that are also interested in the city because of the dry climate and the low risk for natural disasters. "They are interested in our low electricity rates, the lowest in the Southwest, along with the power reliability that we offer which is very important to data centers," she says.
Helping to attract those business is legislation enacted in August, 2014 — Senate Bill 1413 — that ended the tax on electricity for qualifying advanced manufacturing operations.
Utility companies typically pass through the costs of these taxes to their customers. But under this new exemption, qualifying manufacturing and smelting businesses may avoid having these taxes added to the cost of their natural gas and electricity bills by providing their utility companies with an exemption certificate certifying that this exemption applies.
To qualify for this exemption, the purchaser of the electricity or natural gas must be "principally engaged in manufacturing or smelting operations" and use "at least 51 percent of the electricity or natural gas" in such operations, according to the bill. "And that has really started to make a difference, where we have a list of manufacturers taking advantage of that," Sanchez says.
If a business wanted to expand in Maricopa, a desert oasis with a population of approximately 50,000 in the southwest part of the state, they had few options until recently, notes Denyse Airheart, the director of economic development for the city. "So what we are working on now is our very first light industrial business park."
The first building in the park will be a 30,000-square-foot space, with approximately 200,000 square feet of space available once the park is fully up and operational. The project is contingent on the extension of a road connecting the park to the east-west State Route 238, Airheart says, adding that they anticipate the road extension to be in place by early 2016. "We have many home-based businesses in Maricopa, and we are trying to understand their space requirements because we would love to be the home to local businesses instead of businesses we recruit from other areas."
Outdoors and Recreation
Arizona is well known throughout the country and abroad for its big game hunting opportunities. Big game animal species in the state include antelope, black bear, buffalo, desert bighorn sheep, elk, mountain lion, and mule deer. Hunting for this game is most popular in the dry rugged Kofa Mountains, in the southwest part of the state 60 miles northeast of Yuma; and the Kaibab's Arizona Strip, in the far northwest part of the state north of the Colorado River.
Lifestyle
Arizona — with its unique combination of wide open spaces, tight and growing communities, a stable climate, an educated workforce, and a welcoming home to innovative companies — is seen by developers as an ideal place to both live and work in the Southwest.
What developers are working on now is keeping the workforce there, providing what they need to stay in the state and helping it continue on its growth surge.
For example, in Maricopa, Airheart says that they have had a resurgence in retail investment in the community in response to residential growth. "We know that the average resident has been here about seven years, and is about 32 years old," she says. "And they moved here with the promise of urban-type amenities. So we are hoping in two to three years to have those amenities for our residents, and provide more opportunities for our residents to work in the community."
For now, with all the economic development work supporting startups and university collaborations percolating just below the surface, the state is in a watch-and-see mode as plans laid out years ago are coming together. "We see slow but steady growth over the next few years," Sanchez says, adding that ASU provided an economic outlook showing that the state is sixth in population growth and 24th in job growth. "We feel very optimistic about the outlook for the state."
Even smaller cities like Chandler have been laying out the red carpet with the understanding that there is more to offer these days. Miranda says that they are working to recruit companies because they have a stable operating environment. "What you get when you set up here is what you get in the long run," he says. "That can put a business on a path to steady
growth."
More Info