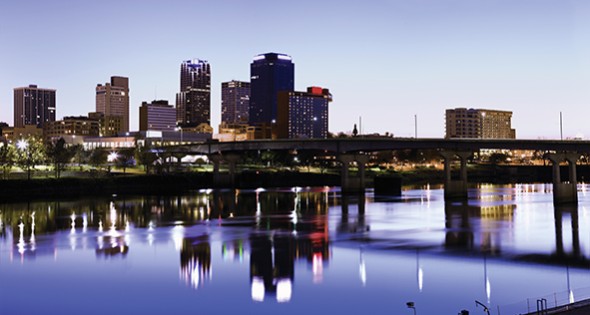 Arkansas: Economy a Natural Success
31 May, 2017
In Arkansas, there is a unique blend of industries that make up the economy, including global retailers, massive data curators, biotechnologists, industrial manufacturers, alternative energy providers and logistics specialists.
Advanced food manufacturing and packaging is an important part of the economy, and Arkansas is home to Tyson Foods, the third largest employer in the state, and many other food manufacturers, including Cargill, ConAgra Foods, Frito-Lay, Gerber, Kraft Foods, Land O'Frost, Nestlé, Pilgrim's Pride, Pinnacle Foods, Riceland Foods and Simmons Foods.
Home to nearly 180 well-known companies in the industry, aerospace/aviation is Arkansas's second leading export, partly because the state offers a competitive environment for aerospace and aviation companies to operate.
Arkansas is home to Walmart, the world's largest retailer, along with seven other companies on Fortune magazine's list of the largest 1,000 companies in the United States.
Tourism is also very important to the Arkansas economy. The official state nickname "The Natural State" was created for state tourism advertising in the 1970s, and is still used today. There are 52 state parks throughout Arkansas. The completion of the William Jefferson Clinton Presidential Library in Little Rock has drawn many visitors to the city and revitalized the nearby River Market District.
Regional Sidebars
By Rachel Hamilton
City of Magnolia
The City of Magnolia is home to Southern Arkansas University (SAU), which has been growing "up to 15 percent" in enrollment "for the last four semesters," says Cammie Hambrice, executive director of Magnolia Economic Development Corp. (MEDC).
SAU has added new programs to address skills gaps, such as in engineering, according to Hambrice. "We're trying to educate and keep some engineers in Arkansas. It also allows our local [industrial companies] to do internships."
"We set aside money each year for industry training" in electrical, welding, forklift driving and other skills, says Hambrice. Magnolia Business and Training Center houses a welding academy that turns out 32 welders per year, and offers continuing education to the area's employee base.
Magnolia, which has a population of over 11,500, is seeing small business development, particularly of restaurants, which is "adding to our quality of life," says Hambrice.
Magnolia also enjoys a diverse industry base, as Hambrice says. Albemarle employs over 500 workers supplying bromine chemicals, and Hixson Lumber is the largest producer of wooden fence in the US.
CMC Steel is another larger employer in Magnolia, helping to keep the economy strong through diversity. "When one is down, the other is [often] booming, so that helps with our employment," says Hambrice.
Harvey Couch Business Park, a 250-acre shovel-ready site on Highway 82 also served by rail, has an economic development tax that doesn't sunset, so MEDC is able to offer funding for new or expanding industry to "help them get off to a good start," Hambrice says.

Chaffee Crossing
Chaffee Crossing is a 6,000-acre development in the City of Fort Smith. Interstate 40 and the Arkansas River run east-west through Fort Smith, and Interstate 49, when completed, will run north to Kansas City and connect with Interstate 29 to reach Winnipeg.
With the two interstates, the navigable waterway, two Class 1 railroads and "a fantastic airport," Chaffee Crossing and Fort Smith have the "capacity to be a transport hub, and that's what our goal is," says Ivy Owen, executive director of Fort Chaffee Redevelopment Authority (FCRA).
The widening of the Panama Canal will allow distribution companies in Fort Smith to "bring that new freight [from the Gulf of Mexico] and get it out west and northwest," says Owen. "A distribution facility or any type of transportation would be well-served to be here in the next five to ten years."
"Anything research and development in the medical field would also be well-suited here," Owen says. The Arkansas College of Osteopathic Medicine is expanding in Chaffee Crossing, expecting to open a new medical school in August 2017.
Chaffee Crossing is zoned mixed-use, so it is "not just an industrial area," says Owen. "We have [over 20] residential investments […] with more homes to come. […] We're a fully integrated, sustainable, walkable community here."
"We've grown into more of a service community," says Owen. "We have a lot of medical [businesses]. We're retraining [our workforce] for healthcare and IT jobs." The corporate headquarters for Arkansas Best Corp., a credit union, is expected to "add another 1,000 employees to our workforce and most are IT jobs."