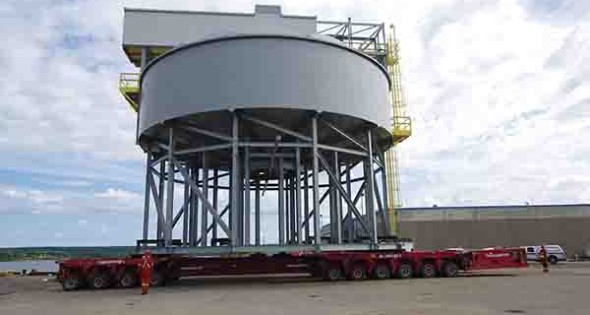 Atlantic Canada: These provinces are finding their way back to economic prosperity
25 Mar, 2016
By David Hodes
Over the past few years, Atlantic Canada has been recovering economically but is now poised for explosive growth. Composed of Nova Scotia, New Brunswick, Newfoundland (which includes Labrador) and Prince Edward Island, this dynamic region is bouncing back with incentives and strategies to entice companies and strengthen trading relationships.
Patrick Brannon, a director of major projects for the Atlantic Provinces Economic Council, a regional think tank that analyzes the economy in all four provinces, says that what they have been seeing in the region is that all four provinces have been slowly growing. "There are some challenges in terms of demographics because we have an older population and not a lot of immigration," Brannon explains.
He says that Labrador is struggling a little more than the rest of the provinces because of the decline in oil prices. "That has had a big impact on their bottom line," he stresses. "They are in a little bit of a different boat than the rest of the region."
His council has been doing some research on the free trade agreement (FTA) between Canada and the European Free Trade Association and feels that Atlantic Canada is well positioned to do more trading with Europe because of its location on the eastern seaboard of North America. "We have had long-term linkages with Europe, strong linkages on the trade side of things previously," he adds.
That drive behind more trade with Europe hinges on the continued partnership building with the EU and Canada's major seaport, the Port of Halifax in Nova Scotia. The port has the deepest berths on the East Coast and handles traffic from 20 of the world's leading shipping lines. It is worth $1.7 billion to the Canadian economy, as estimated in an economic impact report by the port authority in January 2015.
Brannon says that the port has had a strong connection with Europe in part because of the port's two container facilities – the 70-acre Fairfax Cove Container terminal and the 72-acre South End Container terminal. "That port represents a natural advantage for us, and the FTA will certainly open things up in sectors such as commercial fishing and fish processing," Brannon says. "Those sectors will see some significant tariff reductions because of the agreement," he explains.
Additionally, the FTA may come into play for pharmaceutical products. Each of the four provinces has different levels of development in that sector, he says, and they expect those to expand over the next few years.
Industries and Innovations
In many countries, including the United States, aerospace manufacturing creates new opportunities for growth in automotive manufacturing due to similar high-tech manufacturing operations. However, the automotive sector has significantly decreased in Atlantic Canada, Brannon states. "They got squeezed out because other operations outside of this area became more efficient and more productive," he says.
The region is more focused on the aerospace industry now, manufacturing products such as engines, cabins and components for the industry.
The aerospace sector in Miramichi, a city in northern New Brunswick, just took a leap forward with a financial support agreement with one of the largest aerospace defense contractors in Canada, according to Paul McGraw, marketing consultant for the Department of Economic Development and Tourism for the city of Miramichi.
Cormer Defense, part of Cormer Group Industries, has been serving the global defense industry since 1989. Cormer provides integration of all sub-contracting processes, with expertise in precision high-speed machining, integration, assembly, and driver train repair and overhaul for the Canadian Armed Forces.
As part of a recent 10-year agreement with the company, the provincial government will provide financial support of up to $5.2 million through conditional contributions, forgivable loans and payroll rebates through Invest NB and the Miramichi Regional Economic Development and Innovation Fund. The fund is designed to provide incremental assistance to companies in the areas of workforce development and strategic infrastructure, among others.
There is also a huge ship building project in Nova Scotia in the Halifax harbor that started last September for the Canadian Navy. It's a potentially $30 billion project over the course of 25 years. Once built, the site will be used for building arctic offshore patrol boats and surface combatants for the navy.
The development of these ships is in response to the National Shipbuilding Procurement Strategy, announced by the Canadian government in June 2010. Canada will replace the current surface fleets of the Royal Canadian Navy and the Canadian Coast Guard, which are reaching the end of their operational lives. "That shipbuilding operation will be ramping up here over the next few years and peaking in the early part of the next decade," Brannon says.
The momentum in offshore oil is still strong, according to Brannon, at Newfoundland and Nova Scotia. One example is the development of the Hebron oil field, located offshore in Newfoundland and Labrador at the Jeanne d'Arc basin. The field was first discovered in 1980 and is estimated to be able to produce more than 700 million barrels of recoverable resources.
The estimated $14 billion project to develop this oil field includes offshore surveys, engineering, procurement, fabrication, construction, installation, commissioning, development drilling, production, operations and maintenance, and decommissioning. It is expected to be completed in 2017. Co-venturers on this project include ExxonMobil, Chevron, Suncor Energy, Statoil and Nalcor Energy.
Multi-national companies are helping grow local companies in Dieppe, the fourth most-populous city in the province of New Brunswick.
One example in Dieppe is BMM Test Labs, a multi-national company with global headquarters in Las Vegas. BMM does testing of software for video gaming. "They made an agreement with New Brunswick to create 1,000 jobs over the next five years here," Louis Godbout, an engineer and executive director of Expansion Dieppe, the city's land development agency, says. "That will be quite amazing."
The investment by the company will contribute an estimated $75 million annually to New Brunswick's gross domestic product once all the positions have been filled.
Dieppe has created a new strategic plan for the next five years for the city, Godbout says.
"We still have land available in the area. And to stimulate development, we put in place some financial incentives for businesses," he says.
That three-part incentive package includes bringing added value to a building. "There are zoning requirements, and if you build beyond those requirements by adding a third story or fourth story, we will give financial assistance based on that added value to the building," Godbout says.
The second part of the incentive package is about parking stalls. The city offers an incentive of $10,000 per parking space to entice developers to build underground parking as they build on land currently not occupied by other buildings.
He says that the third part of the incentive package is about unique ventures to be brought into the downtown area. "Any particular unique venture added on to this area, we can incentivize on a project-by-project basis if anyone wants to propose something here," Godbout says.
Talent and Education
Brannon says that there are training programs supporting the aerospace sector specifically, including some smaller ones through the community colleges in Nova Scotia, Newfoundland and Labrador.
One example is the Newfoundland-based College of the North Atlantic (CNA), the largest post-secondary education and skills training center in Atlantic Canada. It is enhancing its aviation-training program as a result of an investment by the Canadian government, including the addition of an international certification program for aircraft maintenance and engineering technicians.
Through an international partnership between CNA and Lufthansa Technical Training based in Frankfurt, Germany, graduates of the program can get professional certification through the European Aviation Safety Agency (EASA), along with Transport Canada and the Federal Aviation Authority (FAA).
Brannon says that entry-level positions in high-tech manufacturing like aerospace are relatively easy to fill because there is a very robust university system that can help build the workforce pipeline. "The challenge is keeping all of them here in the country," Brannon says. "But we want to find more of those mid-career people who have 10 to 20 years of experience," he stresses. "Those are the toughest positions to fill, especially in fields like engineering."
In Miramichi, there is a tech center, two-year-program project that has been developed over the past three years to assist tech startups, beginning with a 700-square-foot storefront office. "If you are one of those startups, we will provide you with the space at no charge," McGraw adds.
"It will be a furnished space with desk and even a computer that the startup requires," McGraw says. Most of the startups are tech companies.
After the initial two years is up, the startup will then transition to a retail rental space that is provided by one of the developers in the city, McGraw says.
Assets
In addition to the Hebron oil field and gas project, there is also the Muskrat Falls Hydroelectric Power project, coming down from Labrador through Prince Edward Island and into Nova Scotia.
That $8 billion project is underway, but it will begin to slow down soon, Brannon asserts.
Another big energy project, with roots outside of the Atlantic Canada region, is the Energy East project from TransCanada, a 2,800-mile pipeline project that will transport about 1.1 million barrels of crude oil per day from Alberta and Saskatchewan to the refineries of eastern Canada and into a marine terminal in New Brunswick, to be potentially exported out of the port of St. John there.
That is a $15 billion project nationwide. "From that project, there will be a few billion spent as it works into New Brunswick," Brannon continues. "That is a few years away now but has the potential for supporting new investments there through the years."
A major asset for the Dieppe area is the Dieppe Industrial park. The 1,100-acre park is home to more than 200 businesses, including major employers such as Bonté Foods, Canada Post, CE3 Custom Electronics, FedEx, HighJump Software, Imperial Manufacturing Group, Malley Industries, Nanoptix, Purolator, Saputo, Sysco Food Services and Soprema.
"We have a master plan that dates back to 1993 that has been updated over the last ten years for that park," Godbout says. "There was about 150 acres of land there for investments. We had planned to sell that over a 15-year period, but we have almost 80 percent of that land sold now, much faster than we had planned for," he says.
Lifestyle
In Miramichi, there is a new elementary and middle school under construction. "This is a multi-million dollar project that will be opened this year," McGraw says. "It's a complete state-of-the-art facility."
There is a second multi-million-dollar expansion on an existing school scheduled to open at about the same time, he says. The provincial government just announced the construction of yet another elementary school. "So that will basically have the effect of completely revamping the elementary-middle school system here in the city," McGraw says. "All of these facilities will be very new, modern, state of the art."
New Brunswick is the only bilingual province in Canada, McGraw says, which makes commerce with other Canadians – and Americans – easier. "This city, for instance, is much more community-based than the big city centers, like Toronto or Montreal, because people can more easily relate to each other," he says.
Nova Scotia is poised for growth in the next couple of years, Brannon says. "There are a lot of opportunities in energy and mining in Atlantic Canada," he says. "And there are a lot of big projects slated to come online in 2017 and beyond."
The economic development direction in Atlantic Canada is toward more industry diversification, something that Miramichi is embracing, McGraw says. "We have been a resource-based economy here for years – forestry and mining," he says. "So we are trying to diversify into advanced manufacturing more here."
For complete details on conducting business in Atlantic Canada, visit:
Side Note
Down to Business
– Atlantic Canada's manufacturing sector sold more than $37 billion worth of goods, directly contributing almost 7 percent of the region's GDP in 2013.
– Aside from refined petroleum, seafood products account for the largest share of Atlantic Canada exports to the European Union (EU), valued at $270 million in 2013.
– Growth in smaller export industries in Atlantic Canada include the beverage industry. Beer exports have been growing consistently, while recent growth has been largely attributable to growing exports from distilleries, such as vodka.
Outdoors and Recreation
– New Brunswick's provincial parks include the Northumberland Strait at Murray Beach, a warm, saltwater sandy beach; or Sugarloaf Park, where adventurers can experience alpine skiing or snowshoeing, and hike up Sugarland Mountain, an ancient volcano and dominant landmark of northern New Brunswick.