British Columbia: Decade of Uninterrupted Economic Growth
10 Jul, 2018
British Columbia is the westernmost province of Canada, located between the Pacific Ocean and the Rocky Mountains. It is the third most populated province with an estimated population of 4.8 million as of 2017.
The capital of British Columbia is Victoria, and the largest city is Vancouver the third largest metropolitan area in Canada.
British Columbia has a diverse economy that is in a strong position with consumer demand, high employment and income growth, and rising exports and government spending. Service producing industries account for the largest portion of the province's GDP.
It is the terminus of two transcontinental railways, and the site of 27 major marine cargo and passenger terminals. The province is agriculturally rich, especially in the Fraser and Okanagan valleys, due to milder weather near the coast and in some sheltered southern valleys.
The traditional economic mainstay has been resource extraction, principally logging, farming and mining. Vancouver serves as the headquarters for many western-based natural resource companies. It also benefits from a strong housing market and a per capita income above the national average. Vancouver is also the business capital of British Columbia.
Employment in the resource sector has fallen steadily, and new jobs are mostly in the construction and retail/service sectors. However, many areas outside of metropolitan areas are still heavily reliant on resource extraction. The largest section of this employment is in finance, insurance, real estate and corporate management.
British Columbia is known as Hollywood North since the Vancouver region is the third-largest feature film production location in North America after Los Angeles and New York City.
The province is predicted to have solid economic growth through 2020 by a trade association of credit unions. Last year was said to have had "stellar growth," and the positive momentum is expected to continue for the next 24 months, despite a slower housing market.
Growth is expected to slow to just over two percent in 2019, but economists expect a rebound to 3.3 percent by 2020, marking what they say has been "more than a decade of uninterrupted annual growth."
Prince George
Economic Development Officer Keenan Hopson was born and raised in Prince George, and after attending the University of Maine on a Hockey scholarship, came home to raise a family and help tend to the economic development needs of his community. BXJ asked Keenan to define what makes Prince George an ideal place to live and work.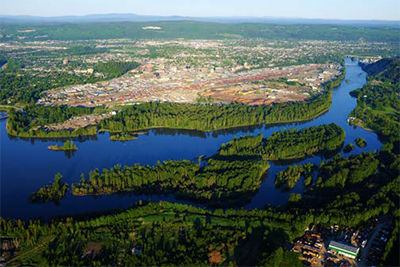 Describe Prince George's economic development attraction to someone who has little or no knowledge of the area?
The Prince George area is rich in natural resources, and the forest industry lies at the foundation of our diverse manufacturing sector and increasingly diversified economy. We are connected to the world by modern telecommunications, road, air and rail, which make the city an ideal location for manufacturing, transportation, logistics and export operations.
Briefly give us an overview of companies in your area?
We have a wide range of industrial companies such as sawmills, pulp mills, a paper mill, pellet plants, chemical plants, steel machining and fabricating shops, and an oil refinery, in addition to several industrial supply and equipment distributors. There are over 300 forestry related businesses in the Prince George area that produce $3.86 billion of total output, represent $1.53 billion of GDP and provide 9,000 full-time jobs. Prince George is also the supply and service center for nearly 320,000 people and for more than $428 billion worth of projects planned or underway in northern BC over the next decade. As such, Prince George is home to several banks, business support agencies, engineering, law and accounting firms, as well as regional head offices.
Are you targeting certain industries for the future?
Absolutely. We would like to see more secondary manufacturing in the wood industry like cross laminated timber, engineered wood products, cabinets and furniture. We see a lot of opportunity in the forestry innovation sector, which can include businesses in sensors, the internet of things (IoT), LiDAR, drone technology and applications, big data analytics, and 3D/4D modeling. We are also targeting data centers and clean technology innovation, production and exporting.
Tell us about your quality of life?
We are a city that appreciates work-life balance. A few key points: Our average commute time is 15 minutes. People in Prince George experience higher average wages than the rest of the province.
We're an outdoor mecca (hiking, camping, biking, lakes, skiing, etc.).
We have four seasons with lots of sun in the summer and winter.
The average home costs $319,167.
We have lots of parks and outdoor space for families (89 percent of residents reside within 400m of a park or open space).
We have the only international airport in the area.
Northern Health (the regional health authority) is headquartered in Prince George.
We're an urban center which features shopping, an art gallery, a symphony orchestra, professional theaters, a winery, breweries and museums.
What type education and training opportunities exist for your workforce?
We have two well qualified post-secondary institutions: University of Northern British Columbia (UNBC) and the College of New Caledonia (CNC). UNBC was rated #1 in Canada, two years in a row, as the top university of its size. People in Prince George can go from pre-school to Ph.D. and even become a doctor, without leaving the city. UNBC and CNC help create a skilled and ready workforce.