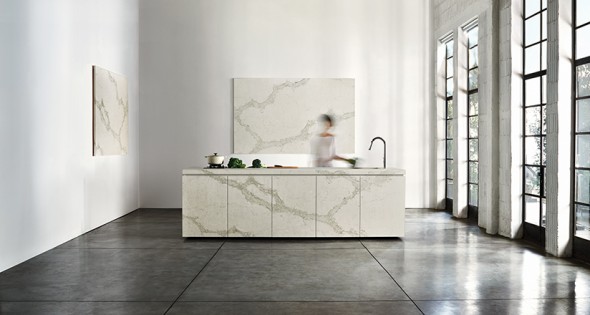 Caesarstone in Bryan County, Ga.: Deal of the Year
20 Nov, 2014
The Georgia Economic Developers Association named the location of the Israeli company Caesarstone Sdot-Yam Ltd. to Bryan County, Ga., as the "Deal of the Year" in the 50,000 and under population category at its annual awards luncheon on November 17.
Caesarstone manufactures custom quartz surfaces, using the latest technologies and innovative techniques to create the ideal surface for kitchens, vanities, floors, and other interior surfaces for both residential and commercial buildings.
Just one year ago, Caesarstone announced it would build its first-ever U.S. manufacturing facility at Belfast Commerce Centre, a certified industrial site owned and managed by TerraPointe and the largest rail-served site in the Port of Savannah market.
While Bryan County had all the right attributes, Caesarstone required a development-ready industrial site to support its operations. Enter TerraPointe and its certified site, Belfast Commerce Centre.
As the largest rail-served site in the Port of Savannah market, Belfast features 8,800 feet of onsite rail, two miles of I-95 frontage, and direct rail access to the port via CSX and the Riceboro Southern Railway. A certified "development-ready" site, it had all the necessary permits in place for Caesarstone and other similar manufacturers interested in building there.
"We are pleased with our decision to locate our plant in Bryan County," says Yosef Shiran, CEO, Caesarstone. "The proximity to the Savannah port, convenient transportation, availability of quality workforce, and the support of the community and authorities of Bryan County and the state of Georgia make this the right location for our operation expansion."
In addition to creating 180 jobs, Caesarstone is investing more than $100 million into the facility.
"The Caesarstone project was extremely competitive," says  Derrick Smith, chairman, Development Authority of Bryan County. "Initially, Caesarstone reviewed 80 sites in seven states. All the parties — from the company to the landowner, the city, the county, and the development authority — came together to find creative solutions to make this deal happen. And we were all working around different time zones, cultures, and languages throughout the process."
Source and group photo: Georgia Economic Developers Association
Cover photo: Caesarstone