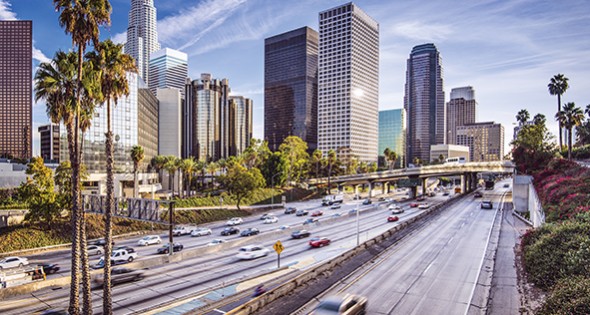 California: The Country's Largest Economy
10 Mar, 2017
By Lori Culpepper
As the largest state based on population and the third largest state based on size, it is no surprise that California has the largest economy in the United States. Last year, California's gross state product was approximately $2.496 trillion, which included growth in 2015 of 4.1 percent.
Earlier this year, California's economy became the sixth-largest economy in the world. The state is home to a diverse set of industries, and despite a long-term drought, manufacturing and agriculture have continued to perform well.
California leads the nation in the production of fruits and vegetables, including carrots, lettuce, onions, broccoli, tomatoes, strawberries and almonds. Dairy products contribute the single largest share of farm income, and California is the national leader in this sector. The state also produces the major share of U.S. domestic wine.
The manufacturing of electronic equipment, computers, machinery, transportation equipment and metal products has increased significantly in recent years. Many high-tech companies and small low-tech companies make their home in Southern California, in what is said to be the largest manufacturing belt in the U.S. Farther north, "Silicon Valley," between Palo Alto and San Jose, is the nation's leading producer of semiconductors, and an area that also focuses on software development.
California continues to be a major U.S. center for film, television and related entertainment industries, especially in Hollywood and Burbank. Tourism is also an important source of income with Disneyland, other theme parks and cities like San Francisco drawing millions of visitors each year. California also abounds in natural beauty, seen especially in its many national parks and forests — home to attractions such as Yosemite Falls, giant sequoia trees and miles of Pacific beaches.
By Rachel Hamilton
City of Elk Grove
Elk Grove, a Sacramento suburb, has been a place for homes and shopping centers, but it will soon see an infusion of new Apple employees. "We're trying to make the shift from [being] a place to live to [being] a place to live and work," says Darrell Doan, economic development director for the City of Elk Grove.
"Our most well-known corporate anchor is the Apple Corporation," Doan says. Apple has a campus of four buildings and "is expanding their physical and employment presence in Elk Grove by several thousand employees."
"We continue to grow our tech sector with Apple's presence," says Doan. "We have a tech-focused co-working facility with 17 small tech startup companies in it." The city aims to "try to build a culture of innovation and entrepreneurship."
"We're just unabashedly pro-growth. We're looking for developers and businesses that see opportunity in California's Central Valley with Bay Area proximity at suburban prices," Doan says.
"In January [2017], we're embarking on a $40 million infrastructure project" to equip the Southeast Policy Area (SEPA) site with roads and utilities, Doan says; the site occupies 500 acres that was previously agricultural land. They are marketing the site "nationwide to corporate office users."
Elk Grove will spend $100 million on a public works project to construct a civic center to bring activities, culture and a public gathering space. "Elk Grove is a suburb, and its land use patterns are suburban. We're trying to create our own downtown with this civic project," Doan says.
City of Fairfield
Fairfield is becoming "a true food and beverage development hub," says Bob Burris, economic development and workforce housing division manager of the City of Fairfield. Among the food and beverage companies in the city are Anheuser-Busch InBev, Jelly Belly, Frank-Lin Distillers, Guittard Chocolates, Just Desserts and Heretic Brewery.
"Over the last couple of decades, we've built infrastructure to have access to [Lake Berryessa] to support our major manufactories," says Burris. "We could support several more Anheuser-Busch-sized breweries here, which is a lot of water. We have the wastewater [capacity] to match that."
"This is a city with tremendous capacity for new manufacturing from medical supplies  and pharmaceuticals to traditional or advanced manufacturing," Burris says, explaining that the city has industrial facilities and land for industrial development available.
"Another area where we're seeing a lot of activity is in healthcare," says Burris. Partnership Health Plan has added a 100,000-square-foot building to their national headquarters in Fairfield "bringing their job count to about 700."
Fairfield is about 50 miles northeast of downtown San Francisco along Interstate 80 and 50 miles southeast of downtown Sacramento along the same highway. "We're seeing a lot of companies with over 1,000 employees because they know they can capture both labor markets," Burris says.
"We have those folks that can bring experience to a new facility," says Burris, noting that educational opportunities abound in and near Fairfield, from Solano Community College to UC Davis and UC Berkley and the other schools in the Bay Area.
City of Gilroy
"The biggest thing for us is […] distribution right now because of our proximity to the Bay Area," says Tammy Brownlow, president of the Gilroy Economic Development Corp. Gilroy is about 30 miles southeast of San Jose along Highway 101.
United Natural Foods, Inc. opened a 450-square-foot distribution center in Gilroy in February 2016. "They employ about 230 people right now, but they can double the size of that in the future," Brownlow says.
The city is also a hub for food and beverage producers as well as distributors, particularly the allium family. "Gilroy is known as the Garlic Capitol of the World," says Brownlow. Christopher Ranch produces garlic, and Olam International processes garlic and onions.
"One of our other larger manufacturers is Monterey Gourmet Foods," Brownlow says. "They moved here a few years ago and employ about 270 people right now. They're growing by leaps and bounds."
"We're fortunate to be a sales tax capture community," says Brownlow, explaining that Gilroy is "pulling [sales tax revenue] into our city from shoppers outside our community." Gilroy is home to many outlet stores as well as tourism destinations such as the new Stomping Ground, part of the Santa Clara Valley Wine Trail.
Gilroy's lower cost of living and proximity to San Jose and Silicon Valley mean that the city has "a big out-commute of tech workers," who are in transit about four hours per day, as Brownlow says. "We'd like to convince tech companies to locate in Gilroy because their workforce already lives here."