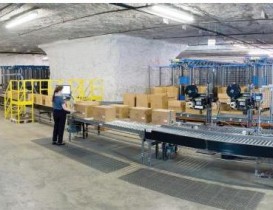 Interior of SubTropolis.
The National Archives and Records Administration (NARA), which oversees the management of all federal…
The U.S. Environmental Protection Agency (EPA) and LG Electronics USA (LG) have entered into an agreement to collaborate on a number of environmentally beneficial goals. The memorandum of understanding (MOU) is the first such agreement signed by a leading consumer electronics and appliance manufacturer.
Under the MOU, LG will…
Examining the food industry, one of the biggest questions presented to suppliers is how to balance the quality that consumers ask for and the affordability that they need. In recent years, alternative energy sources such as solar, have become increasingly cost effective and technologically feasible.
A new white paper from…
According to Robert D. Atkinson and Luke A. Stewart, more than three years on from the end of the Great Recession, only six states have regained employment levels enjoyed prior to the recession, and 17 states are still more than 5 percent below their pre-recession employment levels.
In the…
TechNet recently released the "2012 State Broadband Index: Where States Rank as They Look to High Speed Connectivity to Grow Strong Economies and Vibrant Communities."
The report found that states actively investing in and utilizing broadband networks are seeing stronger economic growth, better connected communities and enhanced quality of life…
A settlement among the South Carolina Department of Commerce, its Division of Public Railways and the city of North Charleston was recently approved by the North Charleston City Council. This is a first step towards ending all pending litigation among the parties, as well as the State Ports Authority, creating…