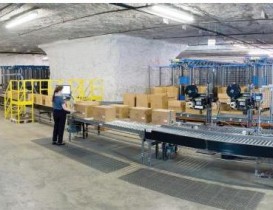 Interior of SubTropolis.
The National Archives and Records Administration (NARA), which oversees the management of all federal…
Sasol has announced it will invest between $16 billion and $21 billion in an integrated gas-to-liquids (GTL) and ethane cracker complex in Westlake, La., which is expected to create 1,253 direct jobs. The project  by Sasol, a South African company, will be one of the largest foreign…
The Capital Institute has published the fourth case study in its Field Guide to Investing in a Regenerative Economy initiative.  The institute is a non-partisan, transdisciplinary Collaborative Space.
The case study, The Next (Regenerative) Industrial Age: The Story of the National Manufacturing Renaissance Campaign, focuses on the work of…
England Airpark's 34-acre heavy industrial site "E-1" located adjacent to Union Tank Car, has been designated as a Cleco SmartSite. It is the first site in Rapides Parish to receive the designation, which is a program certified by McCallum Sweeney Consulting. Cleco Corp. is an energy services…
The Risk and Insurance Management Society Inc., or RIMS, has released a guide walking organizations through the establishment of a framework for strategic risk management practices. The guide also takes a look at how some of the world's leading organizations have developed balanced risk-taking approaches.
RIMS has identified…
A recently released study shows the wind energy industry creates jobs for workers, economic benefits for landowners and downward pressure on electricity rates. The study was conducted by law firm Polsinelli Shughart in partnership with the Kansas Energy Information Network.
"Kansas' Renewable Portfolio Standard has helped diversify Kansas' energy mix…