"Game On!" with First Pitch at New Stay & Play Youth Baseball Tournament Facility at Ballparks of America in Branson
30 Jun, 2016
BRANSON, MO – Ballparks of America is gearing up to host the grand opening of its first-of-a-kind, $20,000,000 youth baseball stay-and-play tournament facility in Branson, Missouri on Thursday, July 7, 2016, 3:00-5:00PM CST. Gold Glove Chicago Cub centerfielder Bobby Dernier will welcome travel ball enthusiasts and community stakeholders along with City of Branson Mayor Karen Best at the replica Chicago Stadium where the two joined last week in a ceremonial ivy planting to honor Wrigley Field, Dernier's MLB home.
"This is an amazing facility and fantastic opportunity for young ball players to really experience a true MLB setting, which may be the only exposure kids have to shape their vision of a career in baseball," says former Chicago Cub Bobby Dernier. "Travel ball is serious businesses, but there needs to be a balance with the fun and excitement of being a kid. At Ballparks of America, kids can dream big while they're out there on the turf competing against another team from somewhere else in the country, but enjoy spending time at all of Branson's cool attractions with their families and teammates. I wish I had an experience like this as a kid…I just wanted my own baseball card and found myself in centerfield in the MLB," Dernier added with a laugh.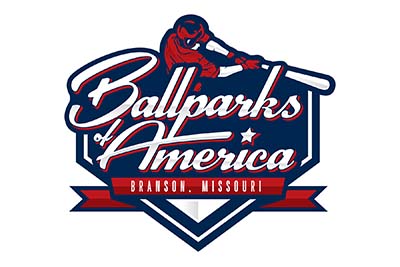 Following the July 7 grand opening and media event, nearly 200 12U youth baseball players will arrive Ballparks of America for the first weeklong stay-and-play tournament experience. First pitch and welcoming ceremonies will take place on Saturday, July 9, 2016 with local entertainers, a car show, contests and other activities for travel ball families to enjoy before getting down to baseball business. The first week of tournaments will consist of a guaranteed six games on the new synthetic turf that marked completion of Ballparks of America's interpretation of the famous Wrigley Field (Chicago) and Tiger Stadium (Detroit).
"Ballparks of America has paid meticulous attention to a travel ball family's real baseball experience, and we've endeavored every step of the way to create an environment of fun, comfort and special amenities that are not typically found at a baseball complex," says Hamilton Chang, CEO of Ballparks of America. "We designed five stadiums that pay homage to iconic MLB ballparks like Wrigley, Busch, Tiger, Fenway and the historic Ebbets Field, and have plans to add more in the next phase of development like Kauffman Stadium."
10U-13U youth travel ball teams will travel to Branson and stay as a team in our air-conditioned team suites with big league amenities including Big Screen TVs, individual lockers and access to private showers. The tournament experience is just as exciting because these teams will play weeklong tournaments against teams from all over the U.S.
Branson is a family-friendly vacation destination with over 200 attractions, theme parks, world-class entertainment, water sports and other outdoor activities and is ranked #1 in Trivago's Best Value Cities in the U.S. In addition, the Ozark Mountain Country region is also becoming a golf destination as the Bass Pro Legends of Golf and Champions tournaments have taken place at Buffalo Ridge and Top-of-the-Rock for the last three years. Families of team members will stay off site at a Ballparks of America hotel partner, and ample time will be given to teams to enjoy all that Branson has to offer with their families during tournament weeks.
The grand opening and media events – including an abbreviated showcase scrimmage game between local youth host teams – will take place from 3:00-5:00PM on Thursday, July 7, 2016 at 1000 Pat Nash Drive in Branson. First pitch will follow on Saturday, July 9 to kick off the first weeklong tournament of 12U youth baseball competitions.
An archive of photos from the ivy planting event can be found online at:   https://www.dropbox.com/sh/wf12be5zuzwfnz9/AABr2QvEhjFoChNNOPbnNba9a?dl=0
Learn more about Ballparks of America at www.BallparksOfAmerica.com, Follow @GameOnBranson on Twitter, and "Like" us on Facebook at www.Facebook.com/BallparksOfAmericaBranson.
Media inquiries may be directed to Hamilton Chang, CEO of Ballparks of America at BallparksOfAmerica2016@gmail.com or by calling (847) 778-4487.
ABOUT BALLPARKS OF AMERICA:
Ballparks of America is a premier youth baseball stay and play facility located in Branson, Missouri. 10U-13U youth baseball teams compete at this one-of-a-kind experience in weeklong tournaments while families vacation in Branson. The campus consists of state-of-the-art synthetic turf fields to provide consistent play, minimal delays due to weather, and pristine infield surfaces that will not deteriorate late in the season. These fields are situated within five two-thirds scale replicas of iconic baseball stadiums allowing baseball youth a simulated MLB experience on and off the ballfield. Teams stay together with their coaches in air-conditioned, carpeted "Big League Team Suites" during weeklong tournaments, and are provided in-suite big screen HDTVs, individual lockers, three meals per day and access to semi-private shower and bathroom facilities.
ABOUT BOBBY DERNIER:
Chicago Cubs center fielder Bobby Dernier – who some remember as "The Deer" at Wrigley Field during the 1980's – is a Gold Glove Award winner and was the lead-off hitter in the 1984 National League East Division Championship team. Hall of Fame 2nd baseman Ryne Sandberg batted second behind Bobby D, and the two were dubbed "The Daily Double" by Cubs announcer Harry Caray. Bobby was named the Cubs major league 1st base coach in 2010 serving until 2012 and is now a Cubs Ambassador residing in Kansas City, Missouri.

Jennifer Langford, MBA/MIS
Communications Manager – City of Branson  
417.337.0017 – mobile/SMS
Website:  www.BransonMO.gov