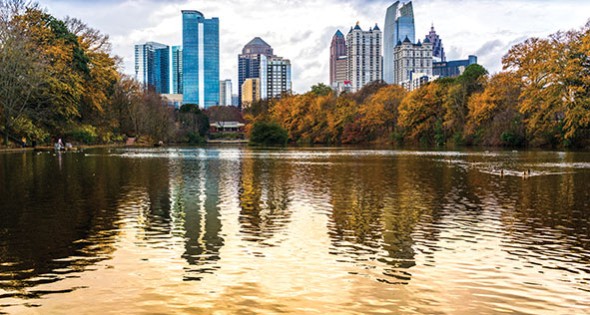 Georgia: Strong Role in Globalized Economy
17 Oct, 2017
Georgia has one of the top pro-business environments in the nation. State statutes, economic development practices, business development support, fiscal conservatism, community leadership and an innovative, progressive business community provide a positive economic ecosystem. The state has been named the No. 1 State for Business by Site Selection magazine four years in a row from 2013 to 2016.
The state was ranked No. 2 for infrastructure and global access by Area Development magazine in 2015 thanks to its logistics infrastructure, including Hartsfield-Jackson Atlanta International Airport, which makes Georgia an international center for air passenger travel.
With a strong foundation of air, land and sea transportation, the state is able to sustain business growth in an increasingly globalized economy. Large logistics companies such as Delta Air Lines, UPS, SAIA and Manhattan Associates are headquartered in Georgia, as well as internationally-recognized brands like The Home Depot, The Coca-Cola Company and Gulfstream Aerospace Corporation.
Georgia's Centers of Innovation provide over 1,500 businesses each year the technical industry expertise, collaborative research and partnerships to help the state's strategic key industries connect, compete and grow globally. The centers provide services that assist companies in developing new products, services and markets through partnerships with state, federal and private institutions that comprise Georgia's Innovation Ecosystem. This ecosystem includes the state's universities and technical colleges.
Key industries throughout Georgia are advanced manufacturing, aerospace, agribusiness, arts, automotive, contact centers, data centers, defense, digital entertainment, energy and environment, film and television, financial services, food processing, information technology, life sciences, logistics and transportation and tourism.
Regional Sidebars
By Rachel Hamilton
Liberty County
Liberty County is roughly 30 minutes south of the Port of Savannah along Interstate 95. The county has two industrial parks near the exit to the interstate, says Ronald Tolley, CEO of Liberty County Development Authority (LCDA). "That has helped us bring in several projects related to the port traffic."
There are, for instance, five distribution centers in the county, the largest of which is the 1.5 million-square-foot Target facility in Tradeport East. It has 1,800 acres of land still available—which Tolley notes can accommodate an additional 8,300,000 square feet of new facilities.
The proximity to the port allows companies to get product to market overnight not only "up the Eastern Seaboard and up toward Atlanta and the Midwest, but all the way down to the tip of Florida as well," says Tolley.
Fort Stewart adjoins Hinesville, Liberty County's largest city. Personnel exiting the military there provide "labor that is well-proven," says Tolley. "They know how to work within teams, they're literate, they have computer skills. That is an advantage for us in today's tight labor market."
The county's school system has a college and career academy to help high school students find career opportunities, and Savannah Technical College and Armstrong State University have branch campuses in Liberty County, Tolley says.
"Approximately 70 percent of our employment is related to foreign direct investment," Tolley says, noting that the county is a member of the World Trade Center of Savannah and can (and has) set up Foreign Trade Zones (FTZ) in about 45 days.
Cumming in Forsyth County
Cumming is on Georgia Highway 400/U.S. Highway 19 northeast of Atlanta in the center of Forsyth County, the most affluent county in Georgia, says Robert Long, vice president of Economic Development at Cumming-Forsyth County Chamber of Commerce (COC).
The southern part of the county has "an emerging ecommerce ecosystem" which Long says has developed spontaneously. Forsyth County, he says, is the best place in Georgia for customer service centers, database support, software development and especially financial technology—all of which are beneficial for ecommerce companies.
Sports Warehouse announced a $20 million expansion in February of 2017; that is expected to create over 340 jobs. The company sells specialized sports equipment online. "If we didn't have the ecosystem, we wouldn't have been successful with Sports Warehouse and other ecommerce companies," Long says.
The county's school system is ranked No. 1 in the state, and Lanier Technical College and the University of North Georgia have campuses in Forsyth County. "Education is one of the biggest reasons why folks want to move here. An educated workforce is highly sought after by technology companies."
"We have quite a few data centers here," says Long, explaining that fiber optic internet comes from a main line that follows U.S. Highway 19. "Most of our community not only has fiber but redundant fiber," he says.
The COC is targeting manufacturing and evaluating sites in the northern part of Forsyth County for the creation of a new industrial park to keep pace with the growing demand. "Except for data centers, the highest capital investment per job comes from advanced manufacturing," Long says.