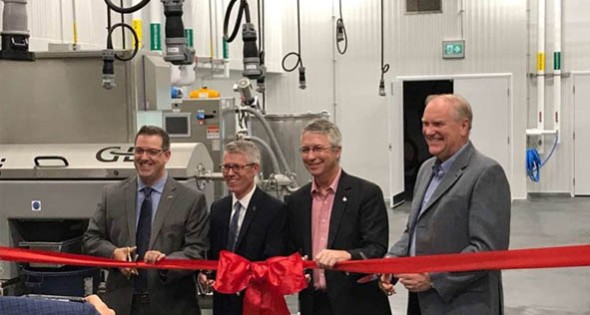 Guelph, Ontario Canada
29 Oct, 2018
Local business Mirexus Biotechnologies Inc. has moved into their newly built headquarters in the Hanlon Creek Business Park at the corner of Downey Road and Hanlon Creek Boulevard. Mirexus adds to the strong and diverse businesses that already operate in the business park.
Following the purchase of the 1.75–hectare (4.3–acre) parcel of land in July 2017, Mirexus broke ground on their development in September 2017 and completed construction this past July.
Mirexus was launched in Guelph in 2008 and has seen positive growth over their 10 years. From their beginnings at the University of Guelph to their new location and staff complement of 27, Mirexus has thrived as part of Guelph's business community and all the support that comes with that.
"Guelph is renowned as Ontario's agri-innovation cluster attracting both local and international companies," says Barbara Maly, manager of Economic Development for the City of Guelph. "We're happy that Mirexus continues to invest in Guelph, and that they play an important role in growing our community of innovative and progressive thinkers."
Mirexus chose to stay and further invest in Guelph because of the community's desirable location in the centre of Canada's Innovation Corridor, access to research and talent provided by the close proximity to multiple post-secondary institutions, and great quality of life for employees.
"Our current location provides us with access to a group of top post-secondary institutions for research needs as well as the opportunity for future expansion of our facility," says Phil Whiting, President and Chief Executive Officer at Mirexus Biotechnologies Inc. "Our employees also enjoy living here which makes Guelph the perfect place for our operation."
The new Mirexus headquarters is 1,115 square metres (12,000–square feet) with room to grow in the future. Cutting-edge design features make Mirexus' building an attractive entryway to the Hanlon Creek Business Park at Downey Road.
About Mirexus Biotechnologies Inc.
Mirexus Biotechnologies Inc. is a safe and natural biomaterials company based in Guelph, Ontario that is commercializing a novel nanotechnology, PhytoSpherix®. As a multifunctional additive, PhytoSpherix® can be used in a wide variety of markets ranging from cosmetics to nutraceuticals to biomedical applications in animal and human health. This technology was originally developed at the University of Guelph by Professor John Dutcher.
About Invest in Guelph
Invest in Guelph represents the business development outcomes identified in the City of Guelph's economic development strategy, Prosperity 2020. Its purpose is to position and promote Guelph as an ideal place to do business.
For more information
Barbara Maly, Manager, Economic Development
Business Development and Enterprise Services
City of Guelph
519-822-1260 extension 2822
barbara.maly@guelph.ca