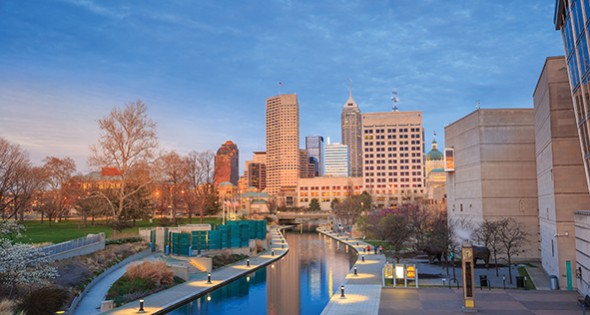 Indiana: Focusing on Innovation and Entrepreneurship
15 Mar, 2017
By Lori Culpepper

Throughout 2016, Indiana focused on investing in innovation and entrepreneurship through strategic partnerships to solve 21st century challenges while supporting long-term economic growth, job creation and talent attraction.
Indiana is able to focus on those goals because the state is already strong in other areas, such as infrastructure. The state's infrastructure ranked the best in the nation according to CNBC's Ranking of America's Top States for Business 2016. Indiana's regulatory structures also rank best and least burdensome in a recent study done by the Pacific Research Institute in 2015.
At a time when other states are raising taxes to keep up with increasing state debt, Indiana's history of smart fiscal choices, balanced state budgets and cash reserves in a rainy day fund puts the state in a position to actually lower taxes. Indiana's corporate income tax rate has steadily decreased and is expected to go from the current 6.5 percent to 4.9 percent by 2021.
Major industries in Indiana include aerospace and aviation; advanced manufacturing; agribusiness; cybersecurity; defense and national security; energy; life sciences; logistics and transportation; motorsports; and innovation and entrepreneurship.
Indiana is home to the orthopedics capital of the world and the world's second-largest automotive industry. Indiana also leads the nation when it comes to manufacturing jobs creation.
By Rachel Hamilton
Wabash Valley Power
Wabash Valley Power's (WVP) service area covers Indiana and parts of Illinois and Missouri. The electric generation and transmission cooperative is member-owned. "Those end-of-the-line businesses are our primary driver," says Brian Anderson, director of economic development at WVP. "We are first and foremost focused on our existing membership."
"We tend to do quite well with heavy industry," Anderson says, "particularly those that like rural areas." WVP has also helped bring in manufacturing items such as medical devices that may not use great quantities of power, but are "very sensitive to little blips."
Agriculture is well known as one of Indiana's strengths. Recently, Walmart announced their first ever milk processing plant to be constructed just outside Fort Wayne, says Anderson. The $180 million investment will create "in the ballpark of 200 jobs."
That creates "a real supply chain advantage" in the dairy industry. Homestead Dairy is building the area's largest robotic dairy to increase the milk supply. "What they tell us is that when it's all said and done, they'll be the largest robotic dairy in the country," Anderson says.
Two polymer recycling companies are setting up in Indiana to turn recycled plastic into diesel fuel — GEP Fuel and Energy Indiana in Carroll County and RES Polyflow in Camden. "That's advancing technology for areas of Indiana that are conventionally thought of as more rural," Anderson says.
General Motors (GM) invested $1.2 billion to expand their Fort Wayne plant which manufactures GM trucks, indicating a "long term commitment to that community," Anderson says. A facility of its size requires an extensive supply chain as well.
The automotive industry and the dairy industry are both large contributors to the creation of opportunities for distribution — of which there are many in Indiana, according to Anderson.