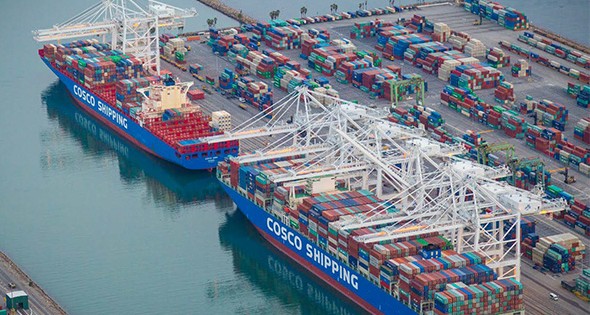 Intermodal: Diversification on the Way
02 Apr, 2018
There has been a subtle but growing shift to using more diversified methods of sending products around the country – and the world- as the intermodal infrastructure responds to increased e-commerce demands of shorter deliver and return cycles and supply chain developers work to make the industry greener.
In a report from Chessie Seaboard Transportation (CSX), a Class 1 railroad company headquartered in Jacksonville, Florida, and operating on the eastern U.S.seaboard and into Ontario and Quebec, supply chain professionals are rethinking how they manage the various modes of delivery – from air cargo to shipping to trucking and rail – to find the best cost efficiencies available while mitigating the risks for unforeseen interruptions of delivery services.
In fact, some supply chain managers are shifting freight to alternate ports to take advantage of intermodal dynamics, while others are working on ways to get inventory closer to consumer consumption points. They will be focusing more on modal diversification. "Since transportation expenses account for 65 percent of the total supply chain budget, it makes sense that the number one way companies are preparing for disruptions is through strategic modal selection, which can provide cost savings over 15 percent," the report found.
The report indicated that nearly half of all supply chain managers will shift from trucking to intermodal rail services, expecting to realize savings of at least 15 percent in their transportation costs, with the added benefit of reducing carbon emissions.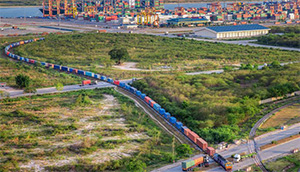 Other considerations to improve delivery and save costs involve the use of new technologies, such as drones, robotics and data analytics to not only provide for better efficiencies but help create a smoother flow of freight from point to point.
In the Council of Supply Chain Management Professional's (CSCMP) annual logistics report, it was revealed that supply chain managers constantly review their systems at least twice a year for delivery to make sure that their modal mix is the most efficient it can be.
According to the logistics report, identifying and converting sub-optimized freight to its best-suited mode leads to cost savings, productivity gains and protects against disruption.
RAIL GETTING STRONGER
Railroads are seeking more work in the logistics space, with a growing interest in providing better service to the supply chain where e-commerce customers now expect more timely – and often free – delivery and returns of merchandise.
In a statement within the CSCMP logistics report, Matt Rose, executive chairman of Burlington Northern Santa Fe Railway (BNSF), serving the western two-thirds of the U.S. plus portions of Canada and Mexico, said that railroads will continue to work on "additional conversions in their intermodal lanes" as they remain focused on new ways to improve efficiency and reliability in order to attract more of this traffic.
Since 2000, BNSF has invested over $47 billion in capital investments. "In addition, thanks to significant capital investments made by the private-sector railroads, the nation's 'steel wheel' network is in excellent condition," Rose wrote.
In a keynote speech for the 2015 conference of the U.S. Energy Information Administration (EIA), former Energy Secretary Ernest Moniz said that there have been many pipelines built and flows reversed to accommodate increases in domestic oil production. Without railroads and inland waterways, he continued, the U.S. would have been unable to rapidly take advantage of the dramatic growth of oil production in North Dakota or ethanol production in Minnesota. "The dramatic oil production increases in 'unconventional' locations, coupled with the renewable fuel standard where ethanol is now almost 10 percent of the nation's gasoline supply, are straining existing – and relatively fixed – transportation infrastructures," Moniz said.
He noted that these shared infrastructures include rail, barges, inland waterways, and ports. The impacts of the congestion associated with increased transport of supplies have ranged from the higher shipping prices to localized electricity reliability concerns as key commodities – oil, coal, ethanol and agricultural products – compete for transportation services. "Assessing the operational health and value of these shared infrastructures – including those that cross international borders – is key to advancing a more fulsome energy security and federal investment strategy."
He went on to recommend funding for these shared infrastructures that would enhance energy security by improving energy availability. "By making it easier, more economical, and more robust to move energy commodities and material around the United States, we can be more confident that a supply interruption will not propagate throughout the whole economy," Moniz said.
WORK TO BE DONE
There is much work to be done in intermodal development and use. The Transportation Research Board (TRB) is sponsoring "Transforming the Marine Transportation System through Multimodal Freight Analytics: Fifth Biennial Marine Transportation System Research and Technology Conference" on June 19-21, 2018 in Washington, D.C.
The conference will seek to identify research needs, gaps, and potential technology gains related to harnessing robust, integrated, high fidelity multimodal freight transportation modeling and data sets.
Particular emphasis will be placed on improving the efficacy of freight flow analytics through advancements in data harmonization, modeling, data management practices, and collaboration among multimodal freight system stakeholders and sectors.
GREENING OF THE SUPPLY CHAIN
One of the driving forces for the supply chain going forward is making it greener, starting with freight moving into the country.
Leading the way is the Port of Long Beach, a 3,200-acre port, the second busiest port in the country and 20th busiest container cargo port in the world, handling much of the freight coming from east Asian countries like China, South Korea, Japan, Hong Kong, Taiwan, Vietnam and others.
The port has ten piers, 62 berths and 22 shipping terminals. It handles 82.3 million metric tons of cargo each year. It is also one of the greenest ports in the country. "Zero emissions remains our ultimate goal," Long Beach Port Executive Director Mario Cordero said in a press release. "For us to continue to grow sustainably, our port must be better prepared than other North American ports to bring goods on vessels that plug into clean shore power, move on zero-emission yard equipment and cranes, and are transferred quickly onto the most efficient network of trucks and trains."
The port recently announced a project to enhance train assembly and shift more cargo from trucks to rail, which places containers directly on trains at marine terminals. No cargo trucks would visit the facility, greatly reducing carbon emissions.
A one-mile-long train can take as many as 750 trucks off the roadways. It is expected that this project will result in cargo being moved faster, with fewer environmental impacts.
Noel Hacegaba, managing director of commercial operations and chief commercial officer of the Long Beach port, says that they are watching the development of a zero emission truck from Tesla that would help with their sustainability goals. But that is just the tip of the iceberg for what the port is doing.  "To accommodate these larger ships, which is a growing trend, we need to work within our existing footprint, which has, over the last three years, put us at the forefront of supply chain optimization," Hacegaba says. "Today we are more involved in looking at the broader supply chain than in the past."
The demands of e-commerce is "a game-changer," he says, requiring more operational efficiencies that can be gained through the use of predictive analytics. "E-commerce is forcing the supply chain to become leaner, more precise, faster, more predictable and more efficient," he says.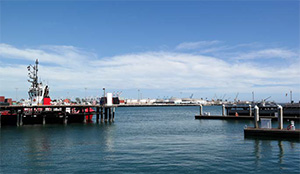 Hacegaba says that eight of the port's terminals now have an appointment system. One of the terminals is employing advanced predictive analytics by pairing up with their appointment system, a process called predictive availability.
With this system, a customer for inbound cargo is not allowed to make or schedule an appointment until a container is discharged from a ship. "You can imagine that that really compresses the time limit that they have to schedule an appointment and pick it up for delivery," he says. "So with this predictive availability piece, customers of inbound containers can now schedule an appointment for up to five days before the vessel arrives into the terminal."
What that does, he says, is give a lot more predictability to trucking companies. "But it also gives our terminals the opportunity to be more strategic with how they discharge containers, because now they know in advance of the ship arriving when those containers are going to be picked up."
Using this technology allows terminals to run what they call dual transactions. It allows a truck operator to come into a terminal, drop off a container either for export or for an outbound load and, in the same transaction, pick up and remove an inbound container. "That is the most ideal situation because now you have a truck delivering a container for export and picking up a container that is inbound in the same transaction," Hacegaba says. "That is the cleanest and most efficient way to remove containers via truck. And this predictive availability program allows such dual transactions."
A THINKING SUPPLY CHAIN
A technology spotlight report from IBM, "The path to a thinking supply chain", reports that the notion of a digitallyenabled, thinking supply chain that acts on all available data to prioritize actions and deliver superior results "is something that can be a driver of sustainable competitive differentiation.
"If we consider this shift to a thinking supply chain to be an aspirational journey, with capabilities acquired over time, then many supply chains have already begun their transformations," the report continued. "But they need to become digitally enabled quickly, otherwise that aspirational supply chain might become a reality somewhere else. Being digitally enabled means connecting and automating internally across functional areas or with end-to-end processes like order to cash and with suppliers, customers, and consumers. There will be a 'network' effect where value grows exponentially with the automation of transactions, documents, and key partner enablement."
For more information about the companies mentioned in this article: polb.com (Port of Long Beach)