LogistiCenterSM at 480 Warehouse/Distribution Available for Lease Park Loop Road | Shepherdsville, KY 40165
02 May, 2016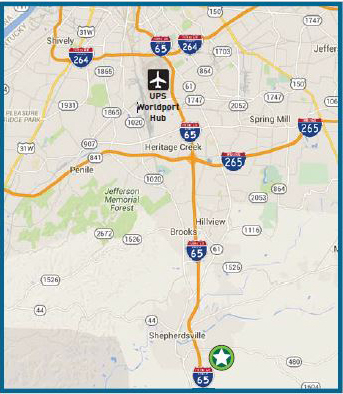 With over 108 million square feet of industrial space, the Metro Louisville market is a desired location for manufacturing, distribution, and e-commerce companies. Among the advantages of the Metro Louisville market are a solid workforce, strong manufacturing base, three key interstates, and a major air shipping hub (UPS Worldport), which has created countless opportunities for manufacturing companies and a strategic solution for many companies' supply chain strategies.
A Dermody Properties project represented by:
Kevin A. Grove, CCIM
Senior Vice President CBRE
Doug Butcher, SIOR
Senior Vice President
T + 1 502 412 7615
T + 1 502 412 7641
kevin.grove@cbre.com
doug.butcher@cbre.com
Building Dimensions:
520' x 1,050'
Dock Doors:
49 with mechanical levelers, seals, and bumpers;
Expandable to 99 doors
Drive-In Doors:
(4) 12' x 14'
Clear Height:
36'
Office Area:
Build-to-Suit
Loading Bay:
54' x 60' (typical)
Column Spacing:
54' x 50' (typical)
Fire Protection System:
ESFR
Parking:
324 Car Parking Stalls
67 Trailer Stalls
Lighting:
LED fixtures on motion sensors to provide average
level of 30 FC at 30" above finished floor
Year Built:
2016
Structure Exterior:
Insulated Tiltwall Concrete Panels
Site Area:
32.26± Acres
HVAC Systems:
Roof-mounted, direct-fired heating units to maintain
55 degrees at -10 degrees ambient.
Zoning:
I-L
Electric:
Main switch gear rated for 3,000 Amps, 480/277 Volt,
3-Phase
Floors:
7" Concrete Slab w/ steel mesh reinforcing at dock
bays & 4,000 lb./square inch compressive strength;
Minimum rating of FL 20 & FL 35.
Roof:
45 mil White TPO over a metal deck; R-19 Insulation;
15 Year No Limit Warranty
Utility Providers:
Electric: Salt River Electric – www.srelectric.com
Natural Gas: Louisville Gas & Electric – www.lge-ku.com
Water: Louisville Water Company – www.louisvilleky.gov/LWC
Sewer: Shepherdsville Sewer Department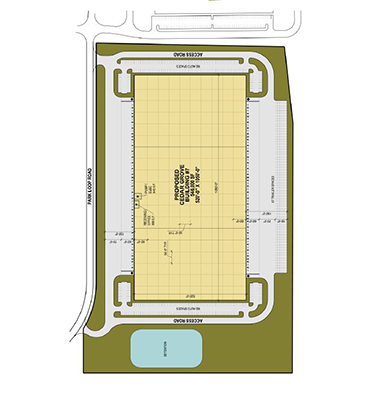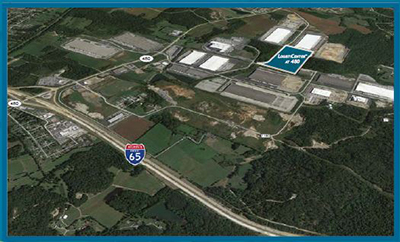 Bullitt County
The Bullitt County submarket currently has 12,189,390 square feet of industrial space. The majority of the properties in the Bullitt County submarket are owned by institutional industrial companies and are leased to a variety of e-commerce, distribution, warehouse, and assembly companies. Bullitt
County is located along Interstate 65 and is just south of Louisville, UPS Worldport, and Ford Louisville Assembly Plant
About Dermody Properties
Dermody Properties is a privately held industrial real estate investment, development, and management firm, founded in 1960. The firm specializes in acquisitions and development of industrial real estate in strategic locations for Internet fulfillment centers, manufacturing, distribution, third party logistics, food packaging, and distribution.
LogistiCenterSM is a national trademark brand, owned and developed by Dermody Properties. It represents the firm's business philosophy of developing Class A distribution facilities that meet the supply-chain requirements of the most innovative companies. All LogistiCenterSM facilities are designed to meet best practices in sustainable design and construction, and incorporate building features, such as additional clear height and extra trailer and car parking, that enables companies to execute their operations more effectively and efficiently.