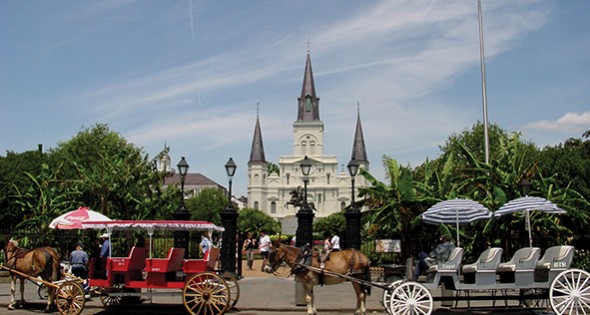 Louisiana: Global Companies, Small Firms & Crawfish
02 Jun, 2017
The economy of Louisiana involves a trained workforce, low business operating costs, a variety of key industries and improvements in infrastructure. Because of all of these features, the state is often ranked among the top ten business climates in the nation.
Louisiana has also attracted globally-recognized companies such as Benteler Steel/Tube in manufacturing, Bell Helicopter in the aerospace industry and software developers such as IBM and game designers like InXile Entertainment and Electronic Arts. In 2016, the state attracted billions of dollars in new projects in biotech, information technology, advanced manufacturing, agribusiness and other industries.
Also in 2016, Louisiana enhanced its focus on small firms as a critical driver of the state's economy, rolling out several initiatives targeting small-business growth.
Louisiana has continued to expand its tools, programs and infrastructure to speed and streamline business development, including construction-ready sites for large projects.
The state's main agricultural products include seafood, specifically crawfish. The state is the biggest producer of crawfish in the world, supplying approximately 90 percent. Louisiana also produces chemical products, petroleum and coal products, processed foods and transportation equipment, and paper products. Tourism is an important element in the economy, especially in the New Orleans area. Tourism and culture are estimated at bringing in $5.2 billion each year.
The Port of South Louisiana, which is located on the Mississippi River between New Orleans and Baton Rouge, is the largest volume shipping port in the Western Hemisphere and the fourth largest in the world. It is also the largest bulk cargo port in the world.
 Regional Sidebars
By Rachel Hamilton
St. Tammany
One point of pride for St. Tammany Economic Development Foundation (STEDF) is "our collaborative efforts in workforce development," says Development Director Ashley Cangelosi Llewellyn.
STEDF represents St. Tammany Parish (Louisiana has parishes instead of counties) along the northern shore of Lake Pontchartrain. New Orleans lies along the southern shore of the lake, accessible via Interstate 10 and the Lake Pontchartrain Causeway.
STEDF is partnering with local governments, businesses and educational institutions including Northshore Technical Community College, the new campus of which is focused on science, technology, engineering, and math (STEM) curriculum and located in Mandeville, Llewellyn says.
The question all those groups are coming together to answer, according to Llewellyn, is "What does the future workforce need to look like?" and "How do we make that happen?"
"These are critical conversations that need to happen," says Llewellyn. One result of that inter-organization communication is that each group is able find out when one can meet a need for another. For example, "our business and industry partners" hire "substantial entry-level positions from our existing education partners."
The education partners "provide a support system to guide [upcoming talent] along their path to success," and also help individuals in the existing workforce maximize their potential, Llewellyn says.
"Tammany is on the move and on the rise," says Llewellyn. "There is always room for growth and new opportunities. If somebody wants to be our neighbor, we're glad to have them. […] Caring about people and having a deep investment in community is part of the [existing] corporate culture."
City of Ruston
By Rachel Hamilton
"Ruston is well-connected and putting a high priority on growth and infrastructure improvements so we can be ready for the next generation of business and industry," says Kristi Lumpkin, Economic Development Administrator for the City of Ruston.
The Moving Ruston Forward project, funded by a ¾ cent sales tax, is the city's plan for $80 million in infrastructure improvements for water, sewer, electricity and roads, and, as Lumpkin explains, quality of life projects such as a regional sports complex that can host sports tournaments for all ages.
Besides a desire to grow the community, Ruston is preparing for the growth of Louisiana Tech University, which plans to enroll 15,000 students by 2020. "We need to be ready for that," says Lumpkin, "not only with infrastructure but with housing and things like bike trails" such as the Rock Island Greenway.
Ruston's technology sector is growing, at least in part because of that workforce. Advanced manufacturing also has a presence, and "we're becoming a healthcare hub and a financial hub," Lumpkin says.
Monster Moto just had a ribbon cutting on its new facility that re-shored advanced manufacturing jobs in the US. Monster chose Ruston partially for their location and partly "for the caliber of students" coming out of Louisiana Tech.
Ruston is located on Interstate 20 and Highway 167 in north central Louisiana; it is served by KC Southern Rail and has its own regional airport. Location and transportation access are assets for distribution and logistics companies, which Lumpkin notes they are pursuing.