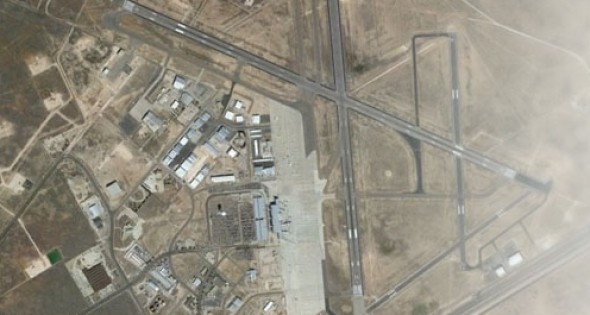 Midland, Texas, Airport Receives Spaceport License
17 Sep, 2014
In a joint release today, the Midland International Airport, Midland Development Corporation, XCOR Aerospace and Orbital Outfitters announced the Federal Aviation Administration (FAA) approval of a Commercial Space Launch Site License (Spaceport) for the Midland International Airport.
The airport is the first primary commercial service airport to be certified by the FAA under the Federal Aviation Regulation Part 420 as a spaceport. The airport will now be known as the Midland International Air and Space Port.
"The proximity of the airport to the spaceport allows us to take advantage of existing infrastructure which in turn lowers cost to the operators and offers us a competitive advantage over operations at remote locations," says Marv Esterly, director of airports. The spaceport business model is to start small and expand as needed while leveraging existing facilities before building new ones in order to keep costs low for commercial space companies. Over the next few years Midland will work to adapt the current spaceport concept to accommodate other types of launch vehicles and the needs of aerospace companies as they arise.
"It's an important day for not only Midland, but the nation, as we see the private space sector becoming a vital part of our future economy," says Robert Rendall, board chairman, Midland Development Corp. "The spaceport is co-located with our commercial airport which will allow Midland to attract additional aerospace companies to the community. As a region with a strong history in oil and gas productions, the pre-existing workforce skills are easily transferable to aerospace, aviation and their supporting industries.
XCOR President Andrew Nelson adds: "For over a century Midlanders have been challenging frontiers and conquering world-changing innovations: the original Midland wildcatters to the now high-tech horizontal drillers; Jim Hall who revolutionized the automobile industry with his ground-breaking aerodynamic designs; and Leo Windecker who produced the first FAA-certified all-composite aircraft that influenced the way most aircraft are designed today."
XCOR manufactures the XCOR Lynx, a piloted, two-seat, fully reusable liquid rocket-powered spacecraft that takes off and lands horizontally. It will rocket customers to space and back. XCOR's Commercial Spaceflight Research and Development Center headquarters will be one of the first tenants at the Midland International Airport and Space Port pending the renovations of an existing hangar.
What's more, Orbital Outfitters, a space suit manufacturing company with a
secondary line of business focusing on the production of full-scale space vehicle mockups, is the latest company to announce its move to the Midland International Air & Space Port. Orbital Outfitters' new spacesuit manufacturing and altitude chamber complex will be located on the field adjacent to XCOR and will be one of the premier facilities of its kind in the world.
Midland's economic development officials say the community is poised to be an incubator and a collaborative environment for the aerospace community and look forward to welcoming new companies to town.
For complete details, visit www.midlandtxedc.com.
Images: Orbital Outfitters and XCOR.