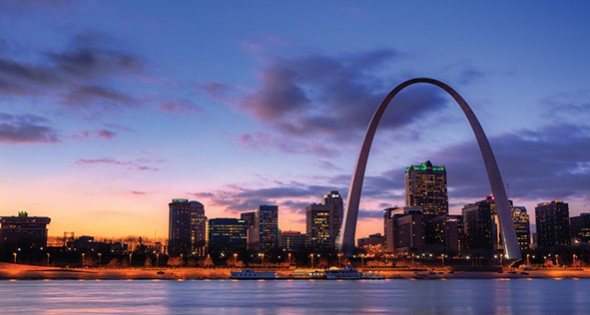 Missouri: Thriving in Auto, Banking & Technology
02 Jun, 2017
Missouri's business climate encourages growth with a highly skilled workforce that works throughout the diverse economy of the state and a transportation and infrastructure system that is in good shape.
The state has the seventh largest public road and highway system and 130 public airports, including two international airports. Missouri is centrally located within 600 miles of 51 percent of U.S. households and 52 percent of U.S. manufacturers.
Missouri has a large, highly-skilled workforce that includes 2.78 million workers and 25 Certified Work Ready Communities. During 2014, 41,951 workers from 406 companies trained through the Missouri Works Training program.
With historic investments by Ford and GM, the rebirth of the automotive industry is happening in Missouri as one of the largest auto supply chains in the nation where vehicles like the Ford F-150 and the Chevy Colorado are assembled.
Missouri is the only state with two Federal Reserve Banks (Kansas City and St. Louis) and is home to the regional headquarters of several major banks including Bank of America, U.S. Bancorp, Regions Bank as well as the h headquarters for Commerce Bank, Central Bank and UMB Bank.
The state has been named one of the top 15 fastest-growing state for tech jobs four years in a row. With fast download speeds, some of the fastest growing tech companies like World Wide Tech and Square are located in Missouri. AT&T, Enterprise, Walmart, MasterCard and Edward Jones have data centers in the state as well.
Regional Sidebars
By Rachel Hamilton
Joplin Area
The City of Joplin is in southwestern Missouri, near the borders of both Kansas and Oklahoma. "There are a couple things we're pretty excited about," says Rob O'Brian, president of the Joplin Area Chamber of Commerce. "One of them is the growth going on in our food processing sector."
DEF, LLC. is building a new frozen food production facility, which O'Brian says is an investment of roughly $45 million that will create 200 jobs initially and "grow to about 400 jobs in five years." The plant is expected to open in early 2018.
Heartland Pet Food is increasing the size of their two-year-old plant by about 112,000 square feet, O'Brian says, which will add nearly 50 new jobs. "So with both human and animal food, we continue to see growth in the area."
"This summer, we will open up the Joplin campus of Kansas City University of Medicine and Bioscience (KCUMB) medical school," says O'Brian. KCUMB in Joplin will be able to enroll 600 medical students. The location in Joplin is crucial because the school has "an emphasis on family and rural medicine."
"The manufacturing sector in general is thriving here in the area," O'Brian says. The area is home to manufactures of transportation equipment, electronics and technology as well as value-added manufactures that make pieces of larger equipment for other companies.
Many companies use Joplin as a distribution point because of its central location in the US and because of interstate, rail and air access. "Depending on where you are in the region, there are two or three airports within an hour's drive," says O'Brian.

Taney County
The largest city in Taney County is Branson, which is spending millions of dollars to improve Highway 76 in town. "They're improving pedestrian ways, undergrounding the utilities, and making it a more inviting and safe atmosphere for folks to get out of their cars and walk," says Jonas Arjes, executive director of the Taney County Partnership.
Bass Pro Shops founder John Morris has opened a new family fun center at Big Cedar Lodge Resort and will finish construction on a family-friendly 13-hole golf course in or near May 2017. Taney County has "49 new golf holes under construction" total, says Arjes. "I don't know if there are any markets expanding in golf as quickly as we are."
Not quite all of the businesses in Taney County are in tourism. "I have about five employers that don't fall into [that category]," says Arjes. National Enzyme Co. manufactures enzymes and Victorian Heart Company is a wholesaler of linens.
One unique asset of Taney County is a 3-million square foot "secure underground facility in a [former] dolomite mine that currently has a pretty incredible data center in it," Arjes says. That data center is owned by Jack Henry & Associates Inc., a financial security firm.
"What makes this [facility] unique is that it's bone dry. There is a layer of shale above the limestone, so water can't permeate that shale," says Arjes. It is also therefor a beneficial environment for food storage.
"Complementing all this is the Branson Airport," Arjes says. The privately owned and operated facility has a 7400-foot runway and flies to five nonstop locations.