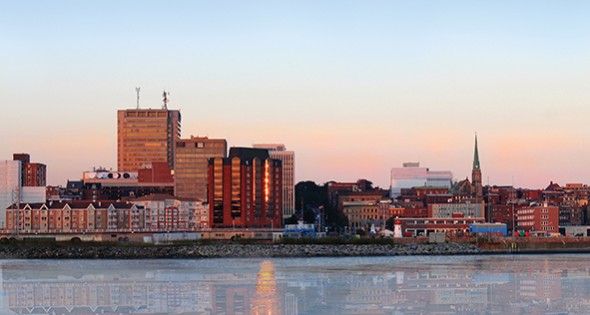 New Brunswick: Gateway to the U.S.
18 May, 2017
New Brunswick is one of Canada's maritime provinces and is the only constitutionally bilingual (English–French) province. New Brunswick's urban areas have modern, service-based economies dominated by health care, educational, retail, finance and insurance.
Located on Canada's east coast, New Brunswick's location makes it easy to reach multiple time zones during the workday. Because of the time zone, companies can do business with Western Europe and the Americas. New Brunswick has a modern, multi-modal transportation hub, situated to capitalize on worldwide markets with an integrated system of highways, ports, railways and airports.
The U.S. is the province's largest export market, accounting for 92 percent of foreign trade. In 2014, refined petroleum accounted for 63 percent of exports, followed by seafood products, pulp, paper and sawmill products, and non-metallic minerals.
New Brunswick also has a reputation of being a hub for technological innovation with the University of New Brunswick, which is said to be the most entrepreneurial university in Canada, to award winning start-ups and internationally renowned companies.
The province's labor force has one of the best high school graduation rates (82 percent) in Canada, and most workers (60 percent) have at least some post-secondary education. One-third of the labor force is fluently bilingual in English and French. Small businesses make up over 90 percent of all companies in New Brunswick and employ 35 percent of workers. The province is home to four universities and 11 colleges that graduate more than 7,000 students annually.
New Brunswick Regional Sidebar
By Rachel Hamilton
Miramichi
Miramichi is located at the mouth of the Miramichi River where it flows into the Gulf of St. Lawrence. "Our location is quite strategic," says Paul McGraw, economic development officer with the Dept. of Economic Development and Tourism (DEDT) for the City of Miramichi.
The "rural city," as McGraw calls it, is part of the largest population hub in northeastern Canada with access not only to the river — which allows barging large freight — but also to rail and a junction of north-south "arterial highways," says McGraw, noting that Miramichi Airport has one of the longest runways in Atlantic Canada at nearly two miles long.
"Miramichi is historically a lumbering town," McGraw says. Currently, the city is positioning itself to "utilize the talent that was traditionally in those mills" and diversify its economy into new sectors, such as aerospace, advanced manufacturing and technology.
The area's aerospace and defense sector has attracted "one of the top 100 research and development contractors in Canada," and McGraw says the city expects to build on that success.
The advanced manufacturing sector is engaged in "large scale production contracts for mining and the oil and gas industry in western Canada," says McGraw, noting that the department is working to pair advanced manufacturing capabilities to the aerospace and defense sector in the future.
Miramichi also has a small but thriving technology cluster, particularly focused on game development, McGraw says. The city supports startups by providing business advice and two-year leases of storefronts.
"When this community has the opportunity to sell itself, it does," says McGraw. The workforce displaced from the lumber industry has been commuting back and forth from Alberta, but they come back to live in Miramichi. "The people from here have an enormous pride and sense of place."