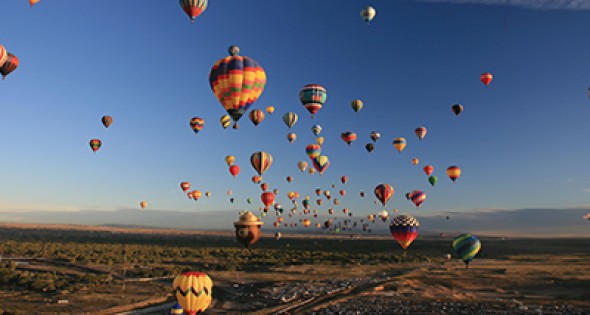 New Mexico: Coming Up with Cutting Edge Research and Technology
19 Sep, 2016
By Lori Culpepper
The climate is good for business in New Mexico, literally and figuratively. The state's temperate climate allows businesses to operate with little concern about natural disasters or extreme weather conditions. A friendly tax structure – Governor Susana Martinez has reduced taxes 24 times since 2011 – is credited with making the state a good place for business as well. Kiplinger says New Mexico has the 8th most friendly tax climate.
There are many other factors involved in a prospering New Mexico economy, including a productive workforce and one of the nation's top five training programs. According to the 2014 State New Economy Index, New Mexico's workforce is ranked first in manufacturing value added.  The state's Job Training Incentive Program has been serving businesses since 1972, reimbursing companies for training expenses when they create new jobs.
This workforce is responsible for cutting-edge research and technologies generated by three national laboratories and three nationally-recognized research universities. This is beneficial to businesses since they can borrow a scientist from Los Alamos National Laboratory (LANL) or Sandia National Laboratories through the New Mexico Small Business Assistance (NMSBA) program. The Center for High Tech Materials and the Center for Integrated Nanotechnologies support manufacturing as well by offering access to their facilities. Created under the Microlab Technology Commercialization Act, the Center for Collaboration & Commercialization serves as a "front-door" by giving businesses access to the equipment, facilities and personnel of the national laboratories.
LANL was established in 1943 as the site of the Manhattan Project for the purpose of building an atomic bomb. The lab continues to work on national security with a focus on nuclear proliferation, border security, energy and infrastructure security, and countermeasures to nuclear and biological terrorist threats. NASA selected SuperCam instrument, embedded with Laser-Induced Breakdown Spectroscopy (LIBS) technology originally developed at LANL, for the Mars 2020 mission. LANL scientists also successfully test launched a new rocket design that includes high-energy fuel and a new motor design that delivers a high level of performance as well as safety.
Logistics is one of the fastest growing industries in the state due to access to a variety of growing markets, excellent transportation infrastructure and a central location in the Southwest. The Borderplex offers a unique combination of logistics assets on the Mexican border at the Santa Teresa-San Jeronimo Port of Entry, including a 12 mile overweight cargo zone. Union Pacific opened a $400 million intermodal terminal on its Sunset Route in 2014. More than one million square feet of industrial space has been filled at Santa Teresa in less than four years.
Governor Martinez says the state has also worked to develop other key sectors of New Mexico's economy, such as tourism. With the New Mexico True advertising campaign, the state is seeing record numbers of visitors and increased tourism spending as people come to the state for hiking, Native American culture, a huge hot air balloon festival, skiing and more.
Los Alamos County
By Rachel Hamilton
Los Alamos County is northwest of Sante Fe and home to the Los Alamos National Laboratory. The area includes Valles Caldera National Preserve, Bandelier National Monument and the new Manhattan Project National Historical Park which was created in December of 2015.
"That's going to bring a lot of new tourism to the area," says Harry Burgess, county manager of Los Alamos County. "That will add some pressure on local businesses to accommodate the tourists. We're hoping to get everybody to stay an extra day or two for the new park."
"The National Laboratory is our biggest employer at over 10,000 people," Burgess says. It has announced it will hire more than 2,400 employees over the next two years, which will include some new positions and some to replace retiring baby boomers.
Los Alamos is experiencing a housing crunch, according to Burgess, so they are working with developers to build new housing on 60- to 75-acre tracts available in the area.
There is also "a significant amount of infill development" available since the disastrous forest fire in 2001, he says. "We're hoping to attract some folks who want to do that type of work in addition to these larger parcels."
Two recently prominent technology companies include Descartes Labs, which aggregates metadata for agricultural concerns, and UbiQD, which produces quantum dots that have many uses, including currency protection and solar applications.
The county has invested "about $50 million in new buildings to expand the downtown area of Los Alamos. That has been matched by the private sector on a one-to-one basis," Burgess says. "We hope that will be an additional impetus for growth."
"Historically it's been known as a closed community, but we are really attempting to make the best of our resources here. We are attempting to create a lifestyle community where people want to come to work and play," says Burgess.
Lea County
By Rachel Hamilton
Lea County is in the southwest corner of New Mexico. "We are right in the midst of the Oil Belt," says Steve Vierck, president and CEO at the Economic Development Corporation of Lea County.
Lea County has an estimated 12,000 active oil wells, making it the largest oil producer in the state. "We're being impacted by that because of the decline in oil prices," Vierck explains.
But the oil industry is still robust. "This part of the Permian Basin has extremely good distribution infrastructure in place," Vierck says, explaining that Chevron is able to make a greater investment because the distribution network is already in place, lowering the drilling cost.
"This area is branded the EnergyPlex," Vierck says. "We've been pumping oil since 1927 here, and we've got a lot of other energy as well." That includes uranium enrichment for nuclear power plants worldwide at the now $4 billion U.S. Natural Enrichment facility near Eunice.
Akuo Energy USA is building a 30 megawatt windfarm near Tatum in Lea County that they plan to expand in the future. SunEdison, which Lea County shares with neighboring Eddy County, and Xcel Energy are both producing solar power. Biofuels are a targeted cluster in Lea County.
"Partially because the energy industry has been here for some decades, there's a large, well-established array of machining and metalworking companies here," says Vierck.
Their work was initially on oil rigs but many have diversified out to the utility industry, mining and manufacturing in some cases. "Some of those companies are doing precision machining work" for Los Alamos and Sandia National Laboratories, Vierck says
"We have a really good community college that provides exceptional customized training for new jobs," says Vierck. "That has been key to help companies adjust their market focus." New Mexico Junior College is located in Hobbs.