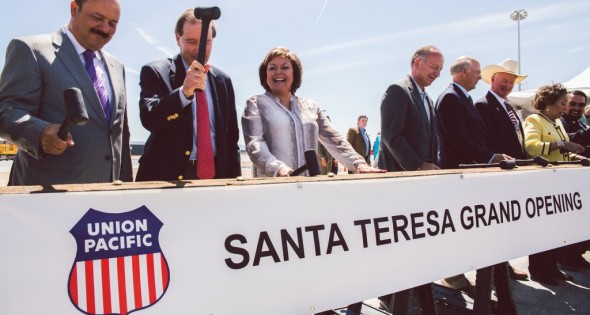 New Mexico: Incentives Behind Explosive Growth
30 Sep, 2015
By David Hodes
Caption: Grand opening of Santa Teresa's Union Pacific project. Gov. Susana Martinez is in the center with other elected officials, including Chihuahua, Mexico's Governor, Cesar Duarte, on the far left. Photo: New Mexico Economic Development Department
New Mexico's economic development structure is helping businesses hit home runs left and right these days as a result of a new energy to its mission of bringing — and keeping — new business in the state.
Since taking office in 2011 Gov. Susana Martinez has reduced taxes 24 times, including the 2013 jobs package which reduced the maximum corporate income tax rate from 7.6 percent to 5.9 percent, and enacted a single sales factor apportionment methodology for the income of multistate corporations who manufacture products in the state.
She has also signed into law an expansion of a tax credit supporting the state's growing aviation cluster.
Following her lead, Jon Barela, cabinet secretary for the New Mexico Economic Development Department, says that the department has made a number of ground-breaking changes to not only taxes in the state but incentives.
He says that the economic development department has provided tax credits for businesses that pay high wages — the High Wage Jobs Tax Credit, equal to 10 percent of the wages and benefits paid for each new economic-base job created — and invest in research and development. The R&D tax credit allows a basic tax credit equal to 5 percent of qualified expenditures, and an additional 5 percent credit toward income tax liability by raising its in-state payroll $75,000 for every $1 million in qualified expenditures claimed.
Barela says that the state is growing fast, and is in a position to reclaim their title of being the aerospace and aviation capital of the country. "We have a rich history here, with testing and evaluation and R&D in aviation and aerospace," he says. "And thanks to many tax incentives that we have provided to that industry, that sector is growing dramatically." There are seven tax incentives related to aerospace and defense, including House Bill 14, signed into law in 2014, which eliminated the gross receipts tax on maintenance services and parts on aircraft.
As with other states in the southwest such as Nevada and Arizona, Barela says that he has been seeing business flight from California into his state. "Indeed. California is a very fertile market for us to prospect. The last few months we had some job announcements by California companies in a variety of industries that have chosen our state."
Down to Business
• New Mexico is the third largest energy supplier in the country.

• Cutting-edge research and technologies generated by three national laboratories and three nationally-recognized research universities offer unique and rare resources to companies. Companies can borrow a scientist from Los Alamos or Sandia National Laboratories through the New Mexico Small Business Assistance Program.

• Since 2011, global exports from New Mexico have grown 253 percent from $1.5 billion to $3.8 billion, and exports to Mexico have grown nearly 400 percent from $429 million to $1.5 billion. In 2014 alone, exports to Mexico grew by 93 percent.
Industries and Innovations
One of the California companies that chose to move to New Mexico is the Flagship Food Group, a value-added food processor that moved its manufacturing and distribution headquarters from Los Angeles to a 79,000-square-foot plant in the Renaissance corridor in Albuquerque in early in 2015. The company expects to create $40 million in sales at the new plant immediately, with hopes of upping that to $100 million in sales over a short period of time.
Farther down south in the state is Southwest Steel Coil Inc., a subsidiary of Los Angeles-based Calstrip Industries Inc., which moved most of its manufacturing operations to just a few miles north of the Mexican border. "They have grown dramatically," Barela says. "But the bottom line for all of the economic development that we are working on here is that we intend to ramp up our marketing efforts into other states and other geographic areas. Because I think manufacturers are under increasing pressure to compete."
Gary Camarano, economic development coordinator for the city of Las Cruces, says that they are getting both California companies and foreign investments coming into the area.
They used $75,000 in economic development funds to help bring a San Diego-based company, Franco Whole Foods, manufacturers of tortillas for companies like Costco and other major supermarkets, into Las Cruces earlier this year. The company is on track to employ more than 200 people in the next six to eight months, Camarano says.
Camarano says that Las Cruces also got a foreign direct investment from Romania, the aerospace R&D company ARCA Space Corp., which invested $1.2 million to begin operations, with the New Mexico Economic Development Department kicking in $500,000. Las Cruces also just picked up a company from Germany, CertoPlast North America Inc., which makes technical adhesive tapes; and a third foreign investment from Turkey, the wire manufacturer CN Wire Corp.
Talent and Education
Gary Tonjes, president of Albuquerque Economic Development, says one of the incentives that has helped economic growth in the state is the job creation fund. "It's a fund that the governor can use to close deals and incentivize projects," he says. "Three years ago, we had zero dollars in that fund. Two years ago, we had $3 million. Last year we had $15 million. And this year we have $50 million. So that is the biggest piece, and makes us more competitive with some of our better funded neighbors in attracting projects."
Tonjes says that he has seen the flight from companies in California as well, but for different reasons than just business relocation incentives. "First and foremost it's about talent. We have talked to California companies who say that they have a revolving door when it comes to talent."
Money for securing talent is not an object to some companies in that state, he says, and, as a result, other companies without deep pockets are becoming victims of poaching. So those companies are looking for a place that people can go where they can find a good location and a good, well-educated talent pool — and be able to hang on to those people.
One example is The Gap Inc., which relocated its finance and human resources operations from San Bruno to the Albuquerque business center. "They relocated about 30 people here, and hired another 300 local people," Tonjes says.
Assets
Camarano says that Las Cruces, the seventh largest manufacturing hub in North America, has good infrastructure to continue their work with such towns as Juarez, Mexico, just 50 miles south.
The city is at the intersection of two major interstates — Interstate 10 for east/west travel, and Interstate 25 for north/south travel — with a new, $400 million, 2,200-acre intermodal facility just west of the Santa Teresa airport. "We had a 213 percent increase in exports last year because of those infrastructure assets we have in place," Camarano says. "So we are sort of the North American Free Trade Agreement (NAFTA) gateway if you will, for North America, Central and South America."
Lifestyle
New Mexico's temperate climate is very attractive for living and working, along with a low incidence of natural disasters and extreme weather. Residents can enjoy four seasons and a number of outdoor activities in the sunny climate and varied landscapes. Snow and water skiing, ice fishing, fly fishing, hiking, mountain biking, and camping are all part of life in the state.
The cost of health care, transportation, and housing in both Las Cruces and Albuquerque, for example, are below the national average. And that is a distinction that economic developers play up.
Tonjes says that the cost of living difference is what always comes up in conversations with other companies on the West Coast. "One of the things they said is that they looked in the San Jose neighborhood where the median house price is $1 million," he says. "Albuquerque's median house price is $175,000. So it's that great affordability."
You can get your life back, Tonjes says, because you are "not staring at the back of someone else's car for hours on end. You can get into work, have a productive day, then get home and enjoy your family or the outdoors or whatever here in Albuquerque."
The state has worked hard in the background to get its economic house in order, and those efforts are just beginning to pay off. Barela says that he thinks there will be dramatic growth in the state over the next few years, especially in the manufacturing sector thanks in part to the state's national lead in trade exports. "The strategic alliance we have with plants in Mexico for the production of certain types of manufacturing I think allows us to achieve our vision of being what we like to call the gateway to the Americas," he says. "And the cornerstone to that is manufacturing, followed closely by logistics, warehousing and transportation."
Tonjes says that one of the things they have been working on for the last four years has been to improve the business climate of the state. "We have seen a greater pro-business transformation of policies over the last three years than we have seen in the previous 40 years," he says. "New Mexico has just turned the corner in a very big way in terms of how it treats capital and on the incentive front. And that work has been nothing short of magnificent in terms of improvements of that which we have to help us compete for key projects."
More Info
New Mexico Economic Development Department
Albuquerque Economic Development
City of Las Cruces