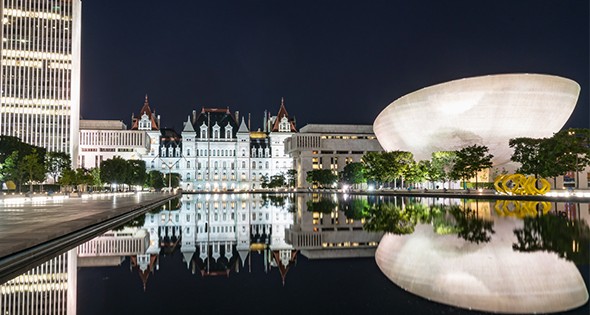 NEW YORK STATE IN THE SPOTLIGHT
06 Jun, 2019
The Empire State connects business and academia for innovative collaborations
In New York State, strategic plans for long-term economic development are driving an innovation economy that's building business and job growth. From investments of more than $100 billion in infrastructure, to leveraging a highly-educated talent pool, the state is growing industry assets across its 10 regions.
Eight years ago, New York State launched a new regional economic development initiative enlisting local experts and stakeholders to develop a community-based approach and establish a streamlined competitive process for state resources. The Regional Economic Development Councils have been awarded more than $6.1 billion for 7,300+ job creation and community development projects across the state.
Building on its top-tier university assets, New York State is investing in workforce development and recruitment in growth industries, including life science and clean tech, to meet the needs of a changing economy and also supports early-stage businesses through industry and academic partnerships. For example, New York's ambitious clean energy mandate of 100 percent clean energy by 2040 is creating new jobs across the state, and the state is investing $27.5 million for workforce development training in that industry.
While New York is second in the country for biosciences jobs, with more than 80 institutions operating with National Institutes of Health funding, the state has committed to a $620 million initiative offering tax credits and investments in early-stage companies and R&D. This investment is furthering the growth of life science clusters across the state and benefitting from unparalleled academic and research talent.
One of New York's biggest strengths is its diverse, highly educated talent pool. In the past eight years, New York State is strengthening the talent pipeline for its key industries. As the first state in the nation to offer free college tuition to middle class families, students have access to the largest comprehensive public university system in the nation. New York State is first in the Northeast for STEM graduates, third in the country for engineering graduates and third in the country for high-tech employment.
The state also supports public-private partnerships that allow businesses access to academic talent and resources. Empire State Development's Division of Science, Technology and Innovation (NYSTAR) funds more than 70 centers, including Centers for Advanced Technology and Centers of Excellence, across the state that foster industry-university collaboration in the development of new technologies and products. NYSTAR's Innovation Hot Spots and Certified Business Incubators support startups and early-stage companies through entrepreneurial networks and ecosystems, providing access to capital and mentoring.
New York State is driving economic development through a holistic approach that connects regional assets to opportunity. By investing in the workforce of tomorrow and planting seeds for the future, businesses will continue to grow and succeed here.