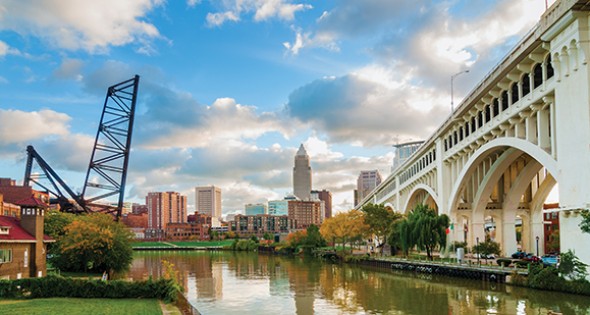 Ohio: Economic History Spurs Future Growth
04 May, 2017
By Lori Culpepper
Ohio boasts a strong business environment, skilled labor pool, integrated infrastructure and scale-up opportunities. All of these features lend themselves to a strong and growing economy for the state.
Ohio has one of the Top 5 business climates in the nation and is second in the nation when it comes to total number of new corporate facility projects and most qualifying projects per capita. Increasing exports continue to support economic growth.
Home to more than 200 higher education institutions, Ohio's top teaching and research facilities partner with more than 2,000 companies in the state and around the world to train a talented labor pool.
Especially beneficial for the logistics and distribution industry, Ohio is located within 600 miles of more than half the U.S. and Canadian populations. It is easily accessible by road, rail, air and water and has the nation's fourth largest interstate system.
Many diverse industries are found throughout the state. Manufacturing, agriculture and automotive are already transforming to keep up with the industries with clean, high-tech working environments. Biohealth, IT, aerospace, logistics and financial services are other major industries.
Much of Ohio's economic history is based in manufacturing. New technologies, materials and manufacturing processes are leading a resurgence in this area. Ohio is home to three National Network for Manufacturing Innovation (NNMI) institutes: America Makes, American Lightweight Metals and Advanced Composites Manufacturing.
Ohio also has a strong history in the automobile industry. The entire supply chain, from raw materials to final vehicle assembly, is represented in Ohio with more than 600 automotive enterprises. Ohio is the lowest-cost state in the Midwest for the automotive industry.
Ohio Regional Sidebars
By Rachel Hamilton
City of Xenia
Fuyao Glass America is on track to have the world's largest automotive glass factory in Moraine, Ohio, according to Steve Brodsky, development director for City of Xenia Economic Development.
Xenia is in the center of the triangle created by Interstates 70, 71 and 75 in western Ohio and connected to those interstates by U.S. Route 35, Brodsky says. Xenia and Moraine are both in the Dayton metro area, with Moraine being closer to the city center.
Fuyao's growth in Moraine is important to Xenia because there are "a lot of opportunities in that supply chain," Brodsky says. "Overall, the auto industry around Dayton is making a resurgence." For example, U.S. Mahle and Napa Start are located in Xenia.
Xenia is drawing companies because it "is blessed with a lot of good industrial land" and now has "two certified shovel-ready sites" available, Brodsky says. The due diligence, including environmental impact studies, has already been done and paid for, which he notes is often important, especially to smaller companies.
"One of the biggest opportunities is in the unmanned aerial systems arena," Brodsky says. The draw is Wright Patterson Air Force Base with its Air Force Research Labs, also located in the Dayton metro area.
Companies are coming to Xenia not only to work "with the drones themselves" but also to research flight technology data and applications, says Brodsky. "It's a hotbed for UAV/UAS research and development." The base and labs contribute to a highly educated workforce, he adds.
Wayne County
In September 2016, Daisy began production of sour cream in Wayne County, and in January 2017 announced another expansion to add 100,000 square feet to their facilities in which to start cottage cheese production, an investment "in excess of $140 million," says Rod Crider, president of Wayne Economic Development Council (WEDC).
Wayne County is in northeastern Ohio; large state highways connect it to Interstates 71 and 77. Daisy came because of the access to both East Coast and Midwest markets, according to Crider.
GOJO Industries, the parent company that manufactures Purell products is now manufacturing pump assemblies in a 100,000-square-foot facility that had been unoccupied since 2004, Crider says.
"Food processing and the automotive industry are growing in Wayne County," he adds. JF Smucker Company, Big Heart Pet Brands and Schaeffler Group USA are all expanding in the county.
The Ohio Agricultural Research and Development Center (OARDC), "the country's largest agricultural research center," has a large campus in Wooster and is part of the Ohio State University  says Crider.
WEDC is working with the OARDC to strengthen their relationship with area bioscience and life science companies to create products across industries. For example, "one company there is working to turn plant material into rubber for the auto industry," Crider says.
In January 2017, WEDC launched its new website, WorkInWayne.com, which is part of a larger talent recruitment to connect the business community with local education institutions. "We're training and educating our youth for the jobs that are going to be available in our community in five to ten years," says Crider.