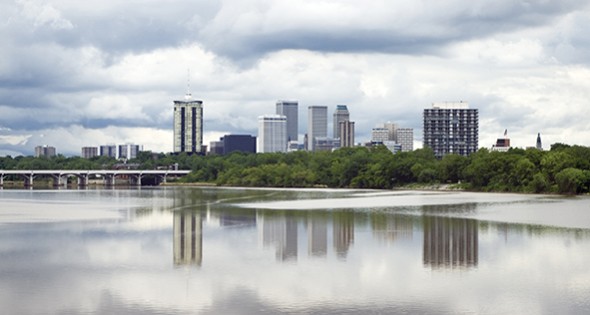 Oklahoma: Good Location Makes for Good Economy
08 May, 2017
By Lori Culpepper
Oklahoma is located in the heart of the U.S. with easy access to suppliers and customers. The state's integrated infrastructure system is a huge part of this and why the economy has been successful in recent years.
International airports in Oklahoma City and Tulsa and 137 public use airports offer access to domestic and international destinations. Major highways connect Oklahoma to all U.S. markets within a day's drive, and the state has three inland ports. Twenty rail operators provide Class I and II service throughout the state.
Oklahoma's five major industry sectors are the backbone of the state's economy and include aerospace and defense; agriculture and biosciences; energy; information and financial services; and transportation and distribution. Manufacturing, research and development, distribution, logistics and others benefit from Oklahoma's policies, existing supply chain, low energy costs and workforce investments.
The state's Training for Industry Program provides customized training programs through the CareerTech system. Ohio is also home to many research institutions with programs in military training, unmanned aerial systems, mechanical engineering and radar and sensor technologies. The state includes the largest MRO facility in the world and the largest air depot for the U.S. Department of Defense.
Oklahoma's agriculture and bioscience workforce is larger than the national average with institutions like the Oklahoma Medical Research Foundation and Samuel Roberts Noble Foundation.
Manufacturing is integral to all of Oklahoma's major sectors, contributing more than $18 billion to Oklahoma's economy.
Oklahoma Regional Sidebar
By Rachel Hamilton
Elk City
Elk City is in western Oklahoma on Interstate 40 and Historic U.S. Route 66. It is home to the National Route 66 Museum as well.
Big Elk Industrial park, the city's third such park, has just been declared officially shovel-ready, including electrical, four-inch natural gas pipeline and phase one environmental studies, according to Jim Mason, director of economic and community development for the Elk City.
Big Elk is 130 acres, twelve of which are occupied by the park's first tenant, Big Chief Plant Services which manufactures materials for and builds natural gas plants and pipelines, says Mason.
"With the downturn in oil [prices and production], our unemployment rate soared up to 7.9 percent," Mason says, oil and gas having historically been a cornerstone of Elk City's economy. Currently, there are in excess of 300 wind turbines in operation or under construction in the vicinity.
As of January 2017, unemployment was down to around 6.5 percent in Elk City, so the area's workforce is still hungry for jobs. They are not without access to training. "We have a new campus of Western Technology Center, [with a] training for industry program," says Mason.
Elk City is also located 18 miles from the Oklahoma Space Port. "The Spaceport has a three-mile-long runway 300 feet wide," Mason says. To help attract businesses interested in space travel, Elk City has dedicated airspace for it.
"We're also very involved with unmanned aerial systems [UAVs]," says Mason, explaining that "there are a lot of opportunities in the energy sector for UAV use." For example, observations of often dangerous and tall drilling equipment or wind turbines can be done more safely with a small UAV than by a worker "climbing a ladder or a catwalk."