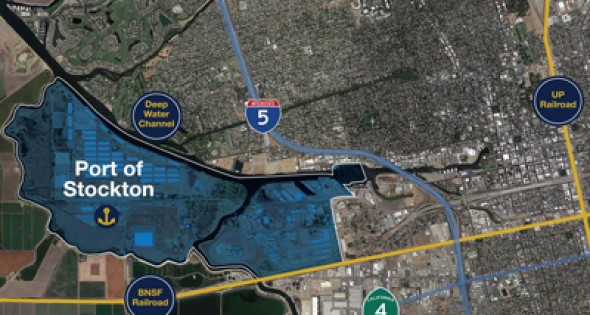 Port of Stockton
07 Aug, 2014
Advantages to Locating at the Port of Stockton
The 1,403 acres that comprise the West Complex (formerly Rough and Ready Island) was transferred from the US Navy to the Port in 2001. Since the transfer of the land, the Port has invested more than $80 million dollars in infrastructure upgrades (docks, roads, bridges, and utilities) to expand its industrial capabilities and services, and incent industrial oriented companies to locate their businesses at the Port. This upgrade and expansion translates into millions of dollars of savings for new development projects.
Deepwater Channel/Dock Access
Located 75 nautical miles from the Golden Gate Bridge the Port of Stockton is serviced by the Stockton Deepwater Ship Channel with a project depth of 35 feet MLLW. With seven berths covering more than 6,000 lineal feet and over 2 miles of on dock rail, the Port of Stockton is well suited to handle dry bulk, liquid bulk and break-bulk cargos.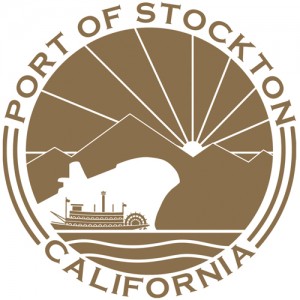 PT Zoning Designation
The Port is also uniquely zoned. The PT zoning designation only exists for the Port, whereby most industrial uses are by-right (no discretionary action required by the City).
Programmatic EIR – $2,000,000
Originally completed in 2004, the Port spent over two million dollars on a Programmatic EIR to address buildout of the West Complex. There are large brown field and green field parcels available for development.   In most cases, the EIR baseline information can be augmented to address new projects at a minimal cost and reduced time frame.

Stockton Port District is Lead Agency – Reduced permitting time
As the governing body, the Board of Port Commissioners will act as the Lead Agency for all projects requiring environmental processing. The Port environmental staff is available to provide some assistance with permitting activities. In addition, the Board of Port Commissioners, and as delegated to the Port Director, has absolute authority over all business aspects of the Port. The City of Stockton has ministerial responsibility for construction and life/safety requirements, i.e. building and fire permits.
New 60KV Substation – $5,000,000
In 2009, the Port invested more than five million dollars on the installation of a new 60kV substation. The new substation has a 25MW capacity expandable to 50MW when needed. The Port is the Municipal Electric Utility on the West Complex.
Established Security Services – $2,000,000 annual expenditure
There is a two million dollar plus annual budget for ongoing security at the Port. The majority of the West Complex is limited access only, with 24-hour armed security, perimeter fencing, and CCTV.
Warehouse Space – Existing
There is warehouse space available for storage and on-site fabrication work to support on going construction activities. The Port typically makes these available for major projects at a reduced rate.

Other Advantages
Additional advantages include:
Designated as Foreign Trade Zone #231 (Port is the Grantee)
Easy access to State Route 4 and I-5
Multiple sources of water (Cal Water, riparian, and groundwater)
State and Local political support for industrial development
Rail service from both UP and BNSF
Levees Certified for 100-year floodwaters
Adequate fill material available at no cost for tenant projects (transport costs only)
Key Site Features:
LOCATION
| | |
| --- | --- |
| Highway | I-5, SR4, and Hwy 99 are all readily accessible from the Port. |
| Deep-Water Ports | The Port has riparian rights to take non-potable water from the Delta on an unrestricted basis as long as other users are not impacted.  Cal Water is the potable water supplier for our area.  An additional 16″ inch water can be extended to the West Complex for and additional capacity of approximately 500 mgd. |
| Rail | The Port currently has about 60 miles of rail track in service.  The Port is currently served by both the Union Pacific and BNSF railroads.  The Port's short line operator is Central California Traction Company.  The BNSF mainline runs just south of the Port. |
| Regional Population | City of Stockton 301,090; Metro Area 685,306 |
| Distance to Major Metros (miles) | Distances to Major Metro areas – Sacramento 47 miles; Oakland 65 miles; San Francisco 82 miles; San Jose 73 miles |
GENERAL CHARACTERISTICS
| | |
| --- | --- |
| Size | The Port of Stockton consists of 2,000 acres (1,400 acres on the West Complex and 600 acres on the East Complex).  The Port has approximately 600 acres of developable land on its West Complex. |
| Zoning | All Port land is zoned PT, Port Zone.  This zoning is unique to the Port and allows essentially all land uses "by-right". |
UTILITIES
| | |
| --- | --- |
| Electric | The Port is the electric utility on the West Complex.  The Port currently has a phased service capacity of 50MW (60kV substation, 12.5kV distribution).  Three 230 kV lines are located about 1.5 miles west of the West Complex (2 WAPA, 1 PG&E).  The Port owns property on Roberts Island where the 230 kV lines cross. |
| Gas | Gas service is provided by PG&E.  The Port's current supply system runs at 5 psi.  Additional gas demands can be served by a PG&E 50 psi line.  Higher demands can be served by a PG&E 8" 750 psi line that is currently stubbed at the Navy Dr. Bridge on the East Complex.  The 8″ line would need to be extended under the San Joaquin River to service the West Complex. |
| Sewer | Sewer service would be provided by the City of Stockton.  The City's treatment facility (less than a mile away) has a total processing capability of 55 mgd currently handling approx. 33 mgd. |
| Telecommunications | Fiber, DSL/Copper, wireless broadband services are available from multiple providers (Verizon, AT&T, T-Mobile). |