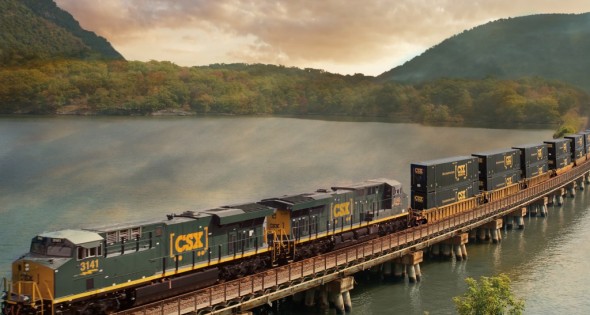 Rail is Vital Link in Supply Chain Strategies
04 Nov, 2015
Caption:A double-stack CSX intermodal train crosses the Bear Mountain Bridge on the northern portion of the CSX River Line, which runs from North Bergen, New Jersey to Selkirk, New York. Photo: CSX
Trucks shoulder most U.S. freight – but rail and intermodal transportation is on the rise, and that means rail-served distribution centers are gaining important benefits as well.
By Rich Thompson
The trucking industry carries the weight of more than 80 percent of freight that makes its way around the continental United States. However, increasing freight costs and concerns over trucking capacity, in part driven by expected driver shortages, have caused supply chain executives to adapt their transportation strategy to incorporate more rail. In fact, the combination of rail and truck — called intermodal — is the fastest growing transportation mode in the United States today.
The Rise of Intermodal:
The growth in intermodal as a viable transportation method has occurred in direct response to challenges facing the trucking industry, namely:
• Logistics managers face an increasingly tightening of trucking capacity: The trucking industry is facing a shortfall of some 35,000 to 40,000 drivers needed to move goods, especially over long distances, as the workforce in this sector ages. In fact, trucking employs a greater percentage of persons age 65 or older (6.1 percent), than 20 to 24 year olds (4.9 percent). This does not bode well for an industry that relies on able bodies to drive significant distances, especially considering that the majority of the older age group will be retiring in the coming years. Federal regulations such as the Hours of Service rule, which limit the number of hours a driver can be on the road, further limits what the trucking industry can do with the drivers they have.
• Despite lower oil prices, freight costs continue to rise: Higher operating costs driven by insurance rates and increasing driver wages also have a negative impact on supply chains. Freight costs in general are on the rise, even with the fluctuation of oil prices, which while significant, is only one component of the entirety of the cost. Railroads are, on average, four times more fuel efficient than trucks, and unlike truck trailers, containers can be double-stacked. This two-in-one approach lowers costs and also enhances productivity, as containers can be easily transferred to and from ships and trucks.
• Rail is greener: As corporations look for ways to lower their carbon emissions, they are seeking more efficient, therefore greener, modes of transportation. Trains, on average, are 60 percent "greener" than trucks.
• Intermodal as a risk mitigation strategy: The West Coast port shutdown has been the most recent example of why logistics managers need a clear and present Plan B. To avoid supply chain interruptions, risk management has become a top priority. To that end, logistics managers are investing in locations that can provide multi-modal transportation options close to parcel hubs, intermodal rail terminals, or alternative port locations.
Inland Ports: Incorporating Intermodal Into Your Supply Chain Strategy
Developed to serve the intermodal transportation network, inland ports are typically located along railroad lines, and offer intermodal transfer facilities that are often linked to specific seaports.
Florida East Coast Railway Manages Growing Demand
By Rachel Duran

With numerous equipment purchases, a double-tracked rail infrastructure, a new intermodal facility in Cocoa, Florida, an expanded presence at Port Everglades, and on-dock services at PortMiami, a regional rail company is positioned to handle increases as highway freight converts to rail.
The Florida East Coast Railway (FECR) services three ports in South Florida: PortMiami, Port Everglades and the Port of Palm Beach. The rail line moves the cargo to Jacksonville and other locations in Florida, as well as to destinations such as Atlanta and Charlotte, North Carolina, through connections with Norfolk Southern Corp. and CSX Corp.
"Intermodal represents 78 percent of our volume," says Jim Hertwig, president and CEO, FECR. "Forty percent of the volume is international, with 60 percent domestic."
Initiatives the company has put in place during the last few years include on-dock rail services at PortMiami, where a tunnel was built to divert car and truck traffic from downtown Miami. The port completed its 50-foot dredging project in September, which will support traffic coming through the expanded Panama Canal. Located adjacent to FECR's facility at PortMiami is a new logistics center for Flagler Global Logistics. The center will feature 1.2 million square feet of warehouse space. "You don't have to go out on public highways to reach the warehousing," Hertwig says. "You can come into the port, move containers 12 miles on our railroad, and offload at the logistics center, which is located in a foreign trade zone."
FECR has also undertaken an expansion project of its presence at Port Everglades, through a public-private partnership, expanding to 43 acres, up from 12 acres. There are two gates to the FECR facility, with the southern gate providing direct access to the port.
The completion of an intermodal project in Cocoa, 150 miles south of Jacksonville, allows FECR to penetrate the central Florida market. The facility is located near Florida State Road 528, 30 miles east of Orlando. "With international volumes coming in from the ports we are able to load on dock, take containers to Cocoa, and only dray 30 miles to Orlando," Hertwig says.
For complete details, visit www.fecrwy.com.
The market for industrial space in these inland ports is showing promise. On average over the last five years, rental rate growth at inland port destinations and the areas adjacent to large intermodal yards — has steadily out-paced overall rent growth in other markets. The Chicago area is experiencing leasing momentum as the Midwest economy continues to expand. 3PL users continue to be active in the region, and inland port and rail line convergence is driving the market. Nearer to the East Coast, the Palm Beach County, Florida, inland port project also could have trickle down possibilities for the industrial market there.
Currently, there are a few top markets in the United States where inland ports are progressing and show particular promise for future transportation abilities:
• In the Midwest, RidgePort Logistics Center in the Chicago area is a 1,500-acre development that has the potential to construct almost 15.0 million square feet of space. Most interestingly, this park will feature refrigerated express rail service for produce and other perishables grown in Central California and rail-shipped to Chicago. Processed foods, grains and other perishables grown and produced in the Midwest will fill the back-haul to California. Transport of food via rail is the newest product to receive interest from those in the supply chain looking to take advantage of the economies that rail offers.
• Also in the Midwest, Logistics Park Kansas City opened in late 2013 and sits on the operator's transcontinental line between Chicago and the ports of Los Angeles and Long Beach. The Edgerton, Kansas, facility opened with annual capacity for 500,000 container lifts, which will be tripled upon build-out. The 1.5 million-lift capacity is expected to attract 100 million square feet of new industrial development within a 350-mile radius of the inland port; 60 million of that will be constructed within the Kansas City area.
• On the West Coast, Paramount Logistics Park in California is a 1,625-acre, BNSF rail-served industrial development that is fully entitled for up to 26 million square feet and is located 55 miles north of the Los Angeles County line in the city of Shafter. It offers build-to-suit facilities up to 2.8 million square feet and is within a 2-day truck "turn" of 65 million people.
• On the East Coast, Charleston, South Carolina, is a throughput port hub on the Atlantic with excellent rail connectivity. Specifically, an on-dock Norfolk Southern line (with double-stacking capabilities) runs 212 miles inland to Greer, South Carolina. Greer is home to the 220-acre South Carolina Inland Port (opened in 2013), where Michelin, BMW and other international manufacturers operate. With a one-day drive time to more than 95 million consumers, the rail line serves as a vital land-to-water bridge to send exports to global markets. The Port of Charleston is seeking approval to deepen its entire channel to 54 feet.
2016 Outlook: It's All About Panamax
TEUs have been shifting to the East. A new Panama Canal will advance this trend.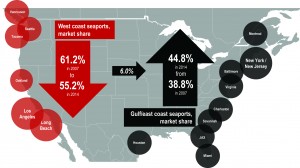 In 2016, one of the most anticipated events to impact the global supply chain will be the Panama Canal expansion opening, currently slated for completion in the spring of 2016. The expansion will handle containerships with a 12,000- to 14,000-TEU capacity, which marks a 2.5 times increase from current canal vessel restrictions for large ships on the East Coast. The Panama Canal expansion will provide logistics managers with a potentially more economically effective route — via newly-renovated East Coast deep water ports — to reach Midwest population centers. As a result, the demand for industrial space near Inland Ports in the east and Midwest is already growing, in anticipation of the new East Coast port arrivals.
The Port of Miami and its affiliated inland ports in particular will benefit from the Panama Canal expansion as it is a gateway into the now second most populated state on the East Coast, providing access to millions of people within a few days. Recently, Florida East Coast Railway re-activated freight rail at the port, and the rail system links PortMiami to 70 percent of the U.S. population within four days. PortMiami's ongoing capital expenditure totals over $2.0 billion and includes dredging, four new cranes, a new tunnel and other enhancements to facilitate the anticipated trade increase when the port becomes Post-Panamax ready. As part of these improvements, the Deep Dredge project was completed in the second half of this year. This will make PortMiami one of few East Coast seaports able to accommodate 13,000-14,000 TEU vessels — well ahead of an expanded Panama Canal's debut. Other ports that are already Panamax ready are in Baltimore and Virginia. The Port Authority of New York and New Jersey recently announced that the Bayonne Bridge Raise the Roadway project has been pushed back by two years.
CSX Successfully Converts Freight from Highways
By Rachel Duran
The fastest growing component in CSX Corp.'s portfolio is tied to intermodal activities. The rail company handled more than 2.7 million units in 2014. In the first six months of 2015, intermodal volume has increased 3 percent over 2014. "We continue to expect to grow domestic intermodal two to three times faster than GDP as our customers continue to see value in the rail solution, and we are successful in converting more freight from the highways," writes Melanie Cost, spokesperson, CSX, in an email correspondence. CSX directly serves more than 50 intermodal terminals on the largest rail network in the East United States, with access to all major ports on the Atlantic and Gulf coasts, as well as connectivity to the West United States via the western railroads.
With U.S. freight volumes expected to increase 20 percent by 2024, shippers are turning to intermodal as a more competitive alternative to truckload, even with short hauls. As such, CSX and government partners have been making substantial investments and improvements to rail infrastructure to expand highway-to-railway services. One initiative is in its second phase, the $850 million National Gateway. The gateway spans multiple states and will increase intermodal capacity and create environmental advantages in corridors between the Mid-Atlantic ports and the Midwest for double-stack intermodal trains.
Cost writes the cornerstone of the National Gateway is the company's northwest Ohio terminal, which began operating in 2011. An expansion earlier this year supports growth and market access to and from East Coast ports and consumption centers. The improvements in clearance allow double-stack trains to run between Chambersburg, Pennsylvania, and the northwest Ohio facility. Upon completion of the second phase of the gateway, the double-stack route will run from Chambersburg to Wilmington, N.C.
A significant part of the effort is the modernization of the 100-year old, 4,000-foot single track and single-stack Virginia Avenue Tunnel, Cost notes. The updates will improve efficiencies on the Interstate 95 Corridor.
Cost writes by the end of 2016, CSX will be able to run double-stack trains on one of the new tracks. What's more, as part of the National Gateway initiative, CSX will build a Pittsburgh terminal in McKees Rocks, which is expected to open in late 2016 or early 2017.
"The intermodal market is gaining share of transportation in the global supply chain and is poised to continue its growth as freight demand rises," Cost notes. "CSX is investing to support this growth with network enhancements and shipper education."
For complete details, visit www.csx.com.
Another inland port city to watch is Columbus, Ohio, due to its double-stacking capabilities and on-dock rail connections that make the flow of materials from East Coast ports into the heart of the Midwest more efficient. In general, Columbus has a strong transportation network and is a strategic location, within 10 hours away of nearly half of the U.S. population. A generous amount of the new development around the area will be for the Rickenbacker International Airport and intermodal terminal.
In conclusion, a flurry of new rules regulating the trucking industry — as well as the opening of the Panama Canal expansion – will see intermodal shipping continue to grow as a top transportation strategy for supply chain executives, and the real estate around inland ports will benefit as well. As the Midwest sees more cargo coming from the East Coast, economic development agencies would be prudent to determine how their city fits into the supply chain picture in the face of the industry's changing dynamics.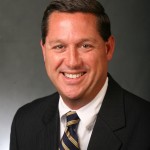 Rich Thompson is a managing director and leads the global supply chain & logistics solutions team for JLL (formerly known as Jones Lang LaSalle). His team focuses solely on delivering value to clients by formulating and implementing solutions to complex supply chain/logistics issues. Learn more by visiting www.us.jll.com.