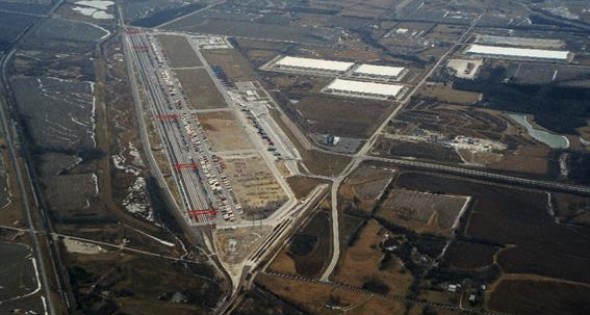 Rail-Served Property Underway at Logistics Park KC
10 Jul, 2015
Photo: Aerial of Logistics Park Kansas City in Edgerton, Kansas. Image: www.kcsmartport.com, photograph by Hodnett Photographics LLC

The Logistics Park Kansas City (LPKC) team of BNSF Railway (BNSF) and NorthPoint Development will begin construction of an industrial rail spur and North Park near the LPKC Intermodal Facility. The rail spur will open 325 acres of rail-served property on Waverly Road north of 183rd Street known as North Park.
At full build-out, the North Park will accommodate 3.4 million square feet of rail-served space, which is in addition to the 11 million square feet of warehouse building capacity at LPKC. BNSF's multimillion dollar investment in constructing the industrial lead track coincides with the City of Edgerton's Waverly Road Improvement Project. Construction of the rail spur is projected to be complete in mid-2016.
The Waverly Road Project, announced in December 2014, is improving nearly three miles of Waverly Road, making it a heavy-haul corridor in Edgerton, Kan., where LPKC is located. The project also incorporates construction of a grade separation at the BNSF intermodal tracks to ensure Waverly Road traffic can operate without delays due to train traffic.
Located in Edgerton, Kan., a suburb southwest of Kansas City, LPKC is a 1,500-acre master-planned distribution and warehouse development that is anchored by BNSF Railway's newest intermodal facility, which opened in the 4th quarter of 2013. Companies located at LPKC can benefit from significant transportation savings and direct access to the heavy-haul corridor.
Source: LPKC press material