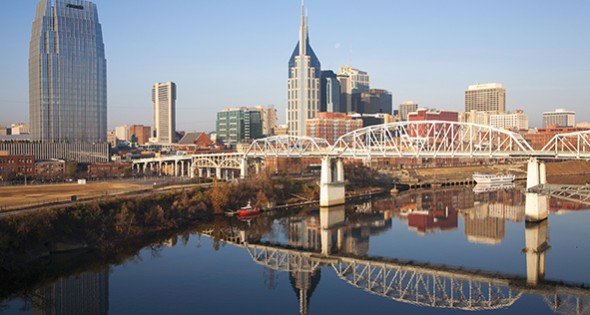 Tennessee: Continued Focus on Manufacturing
06 Apr, 2017
By Lori Culpepper
While some states may not have focused as much on their manufacturing workforce in recent years, Tennessee still makes a huge variety of products, including cars, guns, guitars, batteries, refrigerators, savory snacks and whiskey.  These products are made in Tennessee and shipped out all over the world.
The state is home to big brands, such as Duracell, GE, La-Z-Boy, Nissan, Beretta USA and Whirlpool.
To continue growing and improving this workforce, the state is making groundbreaking investments in educational programs that are aligned with business needs. Drive to 55 aims to bring the percentage of Tennesseans with college degrees or certifications to 55 percent by the year 2025.
Tennessee is known for its sound fiscal management and new investments in the economic ecosystem. The state's budgetary discipline has allowed it to make investments in public education, workforce development and international business reach. The right-to-work state has no personal income tax on wages or salaries and has the lowest debt per capita in the country, according to the Tax Foundation.
Tennessee is home to the second busiest cargo airport in the world, the third largest rail center in the U.S. and the nation's fourth largest inland port. The state features more than 95,500 miles of highway, 1,104 miles of interstate and 2,177 miles of rail.
By Rachel Hamilton
Networks Sullivan Partnership
"2016 was an outstanding year for us," says Clay Walker, CEO of the Networks Sullivan Partnership (NSP). The economic development agency was part of bringing over 1,500 jobs to the area, through expansion, new recruitment or other means, as Walker says.
"Among the headlines of those are Agero, a contact center for roadside assistance," which added about 600 jobs, says Walker. Teleperformance "is adding 500 jobs" and Alpha Natural Resources is adding 80 jobs in Kingsport. Contura Energy, Inc. is bringing 90 jobs to Bristol.
NSP is a partnership between Sullivan County, three of its towns and Hawkins County. They are in the northeastern corner of the state, and brand themselves as the place "where Tennessee starts its business day," Walker says.
"We've had great success working with the [Tennessee Economic Partnership]," Walker says. That is the statewide economic development entity that promotes economic health all over the state.
One advantage in Sullivan County is the ACT Workforce Ready Certification program. Northeast State Community College in Kingsport offers custom workforce training at the Regional Center for Advanced Manufacturing (RCAM) through an aerospace and aviation program developed to support Bell Helicopter.
"Aerospace is one of our top targets," says Walker. "It's an industry that kind of ebbs and flows, but our companies here seem to be doing well and increasing their market share." They also attract support industries to the area.
Logistics and distribution and advanced manufacturing are targets for NSP's territory. "We have a rich history of valuing good manufacturing employment. Our communities have put together and put up the resources to make that happen," says Walker.
Blount County
"One of our biggest priorities [for] 2017 is our workforce development," says Jeff Muir, director of communications for the Blount County Partnership, located just southwest of Knoxville.
The Partnership is working with Pellissippi State Community College to construct a workforce development classroom building, Muir says. That classroom can combine with Tennessee Promise to "help get kids out of high school and ready to move into the workforce faster," says Muir.
The Tennessee Promise program ensures that all high school graduates in the state can attend any state community college, such as Pellissippi, for free.
"We worked hard with our local manufacturers and our county and city schools to make sure they're teaching skills in their high school career and technology programs that our local manufacturers need," Muir says. This will include the healthcare industry starting in 2017.
"The state also offers incentives to manufacturers to hire seasonal interns," Muir says. The interns, he says, gain skills and experience they need to succeed either at that company after graduation or to move on with a better resume.
This can help keep local talent local, and businesses can build employee loyalty from the beginning of students' careers. "We're trying to get a lot of our manufacturers on board; not all of them realized the program existed," says Muir.
"People that come here looking to relocate or expand their business find that our county and city governments work together really well," Muir says. "We've got community leaders and elected officials that work hard with these companies — not only to bring them here, but to take care of them when they're here."

Clarksville-Montgomery County
Clarksville in Montgomery County is northeast of Nashville on Interstate 24 and the Cumberland River. Google is currently planning a data center to be located in the county, says Mike Evans, executive director of Clarksville-Montgomery County Economic Development Corp.
Akebono Brake Company, Hendrickson Trailer and Hankook Tire, which is scheduled to start production in its new facility in the first half of 2017, are part of the county's automotive supply sector, Evans says.
"We have a pretty good mix [of industries]," says Evans, those include printing, zinc refinement and manufacturers of plastics, ceramic tiles, heating and air conditioning equipment and other products. Constantia Flexibles Company, which makes flexible packaging, invested $20 million in an expansion as well.
One factor in Montgomery County's success "is that we have been able to own product," Evans says. They have a 1,170-acre site slated to be completely shovel-ready by the first quarter of 2017. It will be serviced by two natural gas lines owned by two companies, providing redundancy and competitive prices.
That property and all other business parks in the county either are or could be connected to rail, says Evans. Montgomery County expects to construct a commercial barge port facility on the Cumberland River by 2018, he adds.
Workforce is the county's other big asset. Fort Campbell is located across the Kentucky border, but it provides large numbers of former military personnel equipped with "built-in soft skills" who often want to say in the area.
The county is home to a four-year university, a community college and a college of applied technology, so "when a new company comes in, they have training options," Evans says.