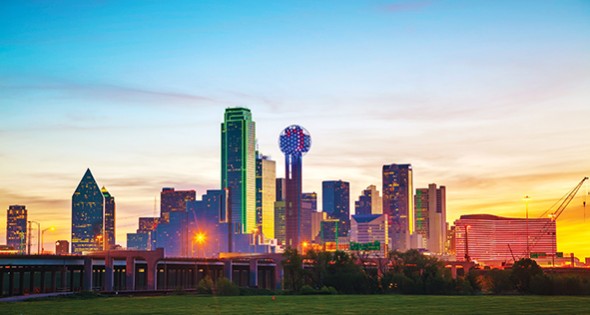 Texas: Diverse and Growing
16 May, 2017
By Lori Culpepper
The economy of Texas is the most diverse in the country and the 12th largest economy in the world based on gross domestic product. There are more than 12.6 million workers employed throughout the state.
Low taxes are one aspect that encourages the hard working and entrepreneurial spirit of Texas. The Texas Economic Development Corporation and the Governor's Economic Development & Tourism division offer many services that facilitate location research, identify valuable incentives, explore financing options and employ support services. They promote Texas as being, "Wide Open for Business."
Texas has the most farms in the U.S. in terms of number and acreage. Texas leads the nation in number of cattle and leads nationally in production of sheep and goat products. Texas also leads the country in cotton production, its leading crop and second-most-valuable farm product.
Texas is one of the major U.S. hubs for development of computer components and systems and software, especially in Austin, Dallas and Houston. Hewlett-Packard United States has offices near Houston, and Dell headquarters in Round Rock. The Austin area is nicknamed "Silicon Hills" because of the concentration of semiconductor design companies including AMD, Cirrus Logic, Freescale Semiconductor and Silicon Labs. Major offices for Google, Facebook, EA Games and Apple are also located in the Austin area.
Texas is a global leader in the energy industry, and Houston is the energy capital of the world. The state is also a leader in alternative energy sources, producing the most wind power of any state.
Texas Regional Sidebars
By Rachel Hamilton
Tomball
GE has put its water treatment and processing technology lab in Tomball up for sale, with an announcement of new ownership expected in late spring, according to Kelly Violette, executive director of the Tomball Economic Development Corp. (TEDC).
Baker-Hughes has purchased a pressure pumping facility it had previously owned from BJ Services Company. Both companies have specialized in fracking services, according to Violette.
Additionally, "GE has made an offer to buy Baker-Hughes," Violette continues, noting that there are conditions in favor of Baker-Hughes, BJ Services and GE all three choosing to continue in the area.
"What's in our favor is land adjacent to existing sites," she says. This is available in the Tomball Business and Technology Park, which has other lots available for lease as well.
Tomball is on the northwestern edge of the Houston metro area, near the intersection of State Highways 249 and newly opened 99. The construction industry in Tomball is growing, due at least in part to Houston's growth and the now easier access to the city.
Hospitality and retail are thriving in Tomball, says Violette. A lot of that is happening downtown, especially with boutiques and restaurants, particularly "unique" ones.
TEDC is investing in Tomball's historic downtown area. "That has made Tomball a place people want to visit and a place for businesses to relocate to because they're seeing not just new growth but something revitalized; it's bringing a new life into this community."

Leander
Leander is in the northwest Austin metro area along State Highway 183. It is one of the fastest growing cities in America according to Mark Willis, economic development director for the City of Leander.
"We are adding 13 people a day to the population right now," Willis says. Leander grew to over 46,000 at the end of 2016. "Retail and service stuff [and housing construction] are just exploding around here." Leander is part of the Interstate 35 corridor, which Willis notes is not dependent on oil and gas, unlike much of Texas.
"We're becoming a tech hub," says Willis. "We have a tremendous amount of people working from their homes here, tech types. One of the things they like is […] that they can take the train downtown for an evening."
Leander is the terminus of the commuter rail line into downtown Austin 25 miles away. "Ridership is growing between 8 to 10 percent a year," says Willis, noting that they are laying parallel track and buying more cars.
In mid-spring, the city is to start construction on the emergency facility for St. David's Hospital, which is located on a 50-acre campus in Leander. "The long-term plan is to have a major hospital here," says Willis.
Austin Community College will build a branch in Leander to serve about 20,000 students, Willis says. The technology sector, particularly biotech, uses Austin Community College to "train their techs as they come out here."

North Houston District
The North Houston District is at the intersection of Interstate 45 and the Sam Houston Tollway, at the southwest corner of the George Bush Intercontinental Airport, an advantageous central location, says Robert Fiederlein, vice-president of strategic planning and development for the North Houston District (NHD).
Amazon has a fulfillment center under construction in Pinto Business Park that will bring over 1,000 jobs to the area, and "they told us it was due to our location," Fiederlein says. The NHD and the county also offered Amazon economic incentives.
"What we're seeing a lot of is development of warehousing and distribution," says Fiederlein, noting especially "the growth of e-commerce" as companies "try to get closer to the end user. A lot of folks that used to serve Houston out of the Dallas-Fort Worth area are beginning to build places [here] to serve Houston."
Data centers are also cropping up, such as Data Foundry's large space opened in 2015. "Data centers are locating here because we are at the intersection of major trunk lines of the internet," Fiederlein says. "We have reliable available power and electrical infrastructure as well."
Lone Star College has a campus in the NHD; it provides workforce development and small business development. "It's very good at helping with workforce training needs and small businesses as well," says Fiederlein.
The NHD is being proactively developed, according to Fiederlein, and that gives people "comfort that somebody is looking very closely at this area" for "day-to-day, medium- and long-term future growth."
Dayton
Dayton is almost 40 miles northeast of downtown Houston on U.S. Route 90, giving it access to a very large population within a 30-minute drive time, according to Courtland Holman, executive director of the Dayton Community Development Corp. (DCDC).
Dayton is seeing a lot of growth along Highway 146, "due to the underground infrastructure of ethane, methane, butylene and natural gas in the ground" required by companies such as "plastic and resin and chemical plants, and steel manufactures," Holman says.
Gulf Inland Logistics Park (GILP) is served by both "BNSF and Union Pacific rail with 7,000 cars located on the park daily," says Holman. It is also in a foreign trade zone (FTZ), as is all of Liberty County. GILP has "already fenced off about 550 acres in that FTZ."
"DCDC can do performance grants," which are "massive and many in Texas, especially in manufacturing and industrial business," Holman says. The DCDC assists with infrastructure improvements as well.
Sumiden Wire Products Corp. has announced a move to Dayton and will construct a new facility in excess of 105,000 square feet, according to Holman. The DCDC helped them with infrastructure that made Dayton their final choice.
Dayton is part of the massive growth of Texas cities including Houston, and is therefore engaged in formal city planning and housing construction. "I'm looking to locate an assisted/independent living facility [for seniors]; I need one pretty badly," says Holman, adding that the first one to come in with about 130 beds will "corner the market."
McKinney
McKinney is north of Dallas at the intersections of U.S. Highways 75 and 380 and Sam Rayburn Tollway. The city owns "roughly 50 acres" of currently undeveloped land called the Gateway development, located at the intersection of Highway 75 and Sam Rayburn, says Darrell Auterson, president of McKinney Economic Development Corp. (MEDC).
"The Gateway project is literally at the gateway of our community and that's going to be a signature location for us in the future," Auterson says. MEDC is currently in the selection process for developers to partner with them. The project will "predominantly be for office/mixed use" property.
"McKinney is wide open for business; we're primed and ready for significant capital investment and we're a major market in the [Dallas-Fort Worth (DFW)] region," says Auterson.
McKinney has been seeing growth in advanced manufacturers like Encore Wire Corp. or Simpson Strong-Tie Co. Inc., food processors, and office headquarters — "particularly of a corporate nature, regional or national. We're always looking for that type of opportunity to come our way," Auterson says.
Software applications, data centers and other "high tech" industries have "found McKinney to their liking" says Auterson, as have healthcare companies.
"Aviation is important to our community," he says, noting that McKinney National Airport's leadership is beginning plans to develop the airport and better connect businesses with air services.
McKinney is farther from the center of the DFW region, so it doesn't "have quite as much traffic" and can still offer "cost competitive land prices" for industrial, office, retail or housing land, Auterson says. Workers north and east of the DFW region can also reach McKinney.