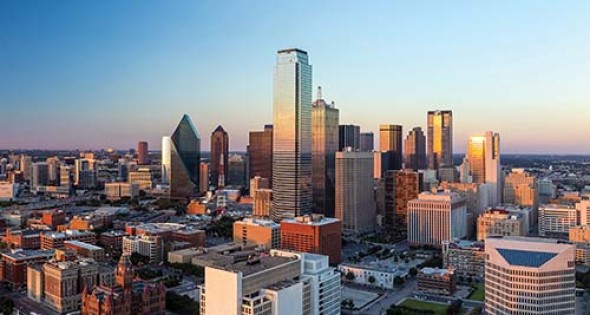 Texas: Wide Open for Business
18 Jul, 2016
By Lori Culpepper
We've all heard it before, and in the case of their economy, it is true that "everything is bigger in Texas." The state's economy is the most diverse in the country and the 12th largest economy in the world based on gross domestic project. Over the past decade, more than 1.77 million net new jobs have been created in Texas. The state employs more than 12.6 million workers.
So how do they do it? Low taxes are a big part of the answer. With no corporate income tax and no individual income tax, Texas has one of the lowest tax burdens in the country, ranking as a Top 10 Best State in the Tax Foundation's 2015 State Business Tax Index.
In 2008, Texas replaced its franchise tax with a margins tax to establish a broader, fairer tax assessed at a lower rate. The state wanted to provide a level playing field for all businesses. They also wanted to have a broad base to include all business entities that receive liability protection from the state, to be competitive with other states to maintain Texas' reputation for having one of the best business climates in America and to reflect the realities of a rapidly evolving economy. Under the reformed tax, businesses are rewarded for making good choices. Every time a business puts a Texan to work, pays for health insurance or invests in a pension plan, their tax liability decreases. The tax also penalizes bad business practices, such as hiring illegal immigrants.
These changes to the business tax code started stimulating the state's economy very quickly and continue to do so. Low taxes also continue to encourage the entrepreneurial spirit of Texas.
The Texas Economic Development Corporation and the Governor's Economic Development & Tourism division also offer many services that facilitate location research, identify valuable incentives, explore financing options and employ support services. They promote Texas as being, "Wide Open for Business."
In 2015, Texas exported $251 billion in goods to destinations all over the world, leading the nation for the 14th year.
Texas has the third largest share of domestic travel revenue – $67.5 billion generating 568,000 jobs.
Fifty-four of the nation's leading companies base their headquarters in Texas and are on the Fortune 500 list.
Texas has the second largest civilian workforce in America – 13 million people.
Site Selection magazine awarded Texas the Governor's Cup trophy for securing more corporate facility expansion projects than any other state in the nation in 2015.
In 2014, CNBC named Texas "America's Top State for Economy and Infrastructure."
Much of the economic success of Texas can also be attributed to the people of Texas, according to Gov. Greg Abbott. Because of this, he aims to make the state's higher education system more affordable, accessible and accountable, which involves several proposals to expand access and increase value at the community college level.
With all of the positives of their economy, where does Texas go from here? Abbott says that when Texas introduced their Enterprise Fund concept more than a decade ago, it was groundbreaking. However, since then other states have followed suit, which means Texas has to make their future economic development efforts bigger, broader and bolder and be more aggressive in attracting company and foreign direct investment to become a world leader in job creation.
Burnet
By Rachel Hamilton
Forty minutes outside Austin, Texas, in the Highland Lakes, is the city of Burnet. "The location offers opportunities not only business development, but for families. We call ourselves your new home town," says Crista Bromley, Burnet's director of administrative services.
This is because the city of over 6,000 people has done a lot to make itself attractive to businesses and residents and because it sits in an advantageous spot outside of the larger metros of Austin to the southeast and San Antonio farther to the southwest.
The city owns the electric, so it can provide utility incentives to businesses that use a lot of power. They also have "top-of-the-line fiber and broadband" internet access, Bromley says. The city sits at the junction of State Highways 281 and 29, with Highway 180 providing access to Interstate 35, which runs south into Mexico and north all the way to Duluth, Minnesota. For citizens commuting, CARTS bus service is available in town and in the area surrounding Austin.
Burnet has an airport, Burnet Municipal Kate Craddock Field, with a 5,000 foot runway. The Burnet Economic Development Corporation's industrial park is shovel ready with access to rail via the Austin Area Terminal Railroad, and the city can also offer property tax abatements to businesses in the park.
All in all, Bromley says they have "anything that a business would be interested in having without the hassle of being in a big city." This is born up by an "influx of small businesses" and expansions of industrial businesses, according to Bromley. "With the improved economy, people have the revenue to do some expansion," she says.
The nearby Highland Lakes, including Buchanan, Inks and Lyndon B. Johnson, add to the recreational value of the area, as does the historic downtown with buildings dating back to the 1880s.

Matagorda County
By Rachel Hamilton
Matagorda County is located along the Texas coastline between Huston and Corpus Christi at Matagorda Bay. The location provides two ports, three rail lines and two airports, according to Eva Peterson, executive director of the Matagorda County Economic Development Corp.
Peterson describes the county as "fairly rural," but notes with excitement that in addition to the jobs in everything from nuclear power and construction to chemical production and shrimping, the county will soon be adding 600 jobs in steel pipe manufacturing. She says they also hope to diversify further.
"We're not short on land," Peterson says. The Port of Bay City has roughly 300 acres of land available for development."
While the county protects its air quality status with the EPA, that existing air quality is good enough to loosen the strict regulations large companies might face in more congested areas, according to Heather Menzies, director of communications for Matagorda County.
"We aren't trying to be something we're not. We're rural and we don't want to change that," Menzies says. The county is close enough for residents to take advantage of Huston's big city amenities, especially with the transportation infrastructure available.
"We're positioned just right. That was one of the things that drew our steel pipe manufacturer to us," Menzies says, explaining that the company's headquarters are in Huston, and that this plant is the first one for which the company has been the facility's original builder. "They chose to do it in Bay City because they saw everything we really do have to offer."
The county is a tourist attraction for its beaches and in particular its birding. The annual Audubon Society Christmas Bird Count, which originated in 1900, has been observed in Matagorda County's Mad Island Marsh for more than 20 years. The marsh is home to the Audubon Count's largest number of species in on area in the United States/Canada region.
The area is also good for recreational and commercial fishing, and the Port of Palacios is home to one of the Gulf Coast's largest shrimping fleets.
Rockwall
By Rachel Hamilton
"We've got a lot going on in Rockwall," says Sheri Franza, president and CEO of the Rockwall Economic Development Corp. Among Rockwall's industries are packaging, telecommunications, aerospace and dense, advanced manufacturing and food processing. "Then we have the world's largest bakery," she adds.
Rockwall is "among the top three fastest growing counties in the nation," Franza says, explaining that the county's location just to the northeast of Dallas is part of that growth, as well as the miles of shoreline on Lake Ray Hubbard. "You've got a small town atmosphere and culture with big city life right across the water."
"We have an outstanding education system," she continues. Rockwall's College and Career Academy is slated to open in August of 2018 and represents partnerships with the school districts, community colleges and businesses in the community.
Rockwall can draw workforce from Dallas as well. "We have quite a few new interstate infrastructure bridges that have opened up many arteries to different areas in the Metroplex," Franza says. "It's very easy for us to draw a talented workforce and for businesses to open and operate here in our city."
"The RODC owns 400 acres in Rockwall Energy Park to offer land with infrastructure to companies looking to locate here," says Franza, noting the advantage of dealing directly with the RODC for land versus a third party. The RODC regularly helps large industrial businesses "get up and operational" within nine to 12 months, she says, noting that Rockwall has "very strong community leaders."
"Doing business in the state of Texas is always a plus," Franza says. Texas levies no state income tax, and she notes, "there's a good solid collaboration" between local businesses and government from local to state levels.
"The combination of quality of place and quality of business life," is what sets Rockwall apart, Franza says. "It's a very warm, business-friendly place, and everybody works together to support each other's industries."

New Braunfels
By Rachel Hamilton
New Braunfels, Texas, is situated right on Interstate 35 just northeast of San Antonio on the way to Austin, and it is growing. "Just recently we were named the second fastest growing community in the U.S.," says Rusty Brockman, economic development director of New Braunfels. He notes that the city has seen housing growth of more than 1,200 new home starts this year.
Another marker of growth is the investment of more than $80 million by Canadian General Tower, a tier one automotive supplier, which Brockman says plans to hire over 200 employees for its new facility.
"We are fortunate to be able to have several local companies expanding in different industry sectors—not just manufacturing but aeronautics and healthcare," Brockman says. "And we are in the business of recruiting in both of those industry sectors to bring more healthcare services to our community and to this region and to encourage the continued growth of our New Braunfels Regional Airport."
Quality of life is one factor that attracts companies to New Braunfels, according to Brockman. The largest of the Schlitterbahn water parks is located there, two rivers pass through the city, the Guadeloupe and the Comal, and it offers "two top tier public education systems […] and several private and parochial schools recognized by the state of Texas," according to Brockman.
The training center available in New Braunfels has been recognized by the U.S. Department of Commerce as one of the top training facilities in the U.S., says Brockman, and it is doubling in square footage with a $25 million construction grant.
The industrial development corporation manages more than $6 million each year that is set aside for business incentives, and has "great partnerships with city and county elected officials," according to Brockman, which allow for answering questions about incentive packages in less than 60 days.

Tomball
By Rachel Hamilton
The completion of the Grand Parkway, that is State Highway 99 which makes the third outer loop around Huston, has benefited Tomball, Texas, according to Kelly Violette, executive director of the Tomball Economic Development Corp.
The loop allows access to nearby large state highways and Interstates 45 and 10, as well as more workforce, according to Violette. "The Grand Parkway has opened up the area," she says, noting the improved access to Huston's amenities and commerce as well as the access to trade corridors.
One big announcement to come out of this was Packers Plus Energy Services, an international oil and gas service company, Violette says. Packers Plus is in phase one of three on a roughly $21 million investment that will include construction of a research and development facility first, then a manufacturing facility and finally a corporate building. They expect to create about 353 jobs.
The Tomball EDC also now has GE under contract, hoping to close by the end of June on a 40,000 square foot lab facility for their water and process technology division. They hope to break ground, according to Violette, by the fall of 2016 on the $30 million project that they expect will employ 75 people.
Tomball can offer businesses a lot, Violette says, emphasizing the area's quality of place. "We have access to these major highways and shovel ready sites and excellent education system […]." The town of Tomball is not only strategically placed, but also charming, she says.
"We're the northernmost incorporated area [in the county]; there really isn't an identity out there, but here we have the ability to be part of a town. Because of that and our mayor and council being so accessible, it's made Tomball one of those communities that has a connectedness to it, a charm." Violette explains.
Jacksboro
By Rachel Hamilton
The town of Jacksboro sits at the intersection of several major highways just northwest of the Fort Worth Standard Metropolitan Statistical Area, making it an emerging edge community. "The oil servicing companies popped up here so they could go out from here and work in all directions. This has been, since the 1940s, the mainstay of what Jacksboro does," says Lynda Pack, executive director of the Jacksboro Economic Development Corp.
Jacksboro is working to attract more service companies for not only the oil and gas industry, but also the wind energy industry. "We have three windfarms in the county. We're looking for small manufacturing for replacement parts for the turbines and things," Pack says.
Jacksboro is about 45 minutes from Fort Worth, about an hour from Alliance and about an hour from the Dallas/Fort Worth International Airport, according to Pack, who says the town's access to many highways "makes us a very good location for distribution centers. We think that is a huge opportunity."
"Economic development entails more than just bringing the businesses in. We have to be ready for them," Pack says. She explains that the city has a new housing development with infrastructure in place with about 50 lots up to five acres in size. Adjacent to that area, the JEDC has a business park with five remaining lots.
Jacksboro has constructed new elementary, middle and high school buildings to prepare for expected growth. Their high school offers dual credit courses so students can learn trade skills including welding, Pack says.
"We're really proud of the fact that we have a new hospital," Pack says, pointing out that a hospital is a necessary support for many manufacturing industries. Faith Community Hospital opened in the late fall of 2015.
"Quality of life is a huge part of what everyone looks at," Pack says. She cites the quality of the school system, the business opportunities, the lower cost of living and the easier commutes. "We're close enough to the Metroplex without having to live in the madhouse. You can be in Fort Worth in the same time as driving from the middle of the city."
Lubbock
By Rachel Hamilton
Lubbock is a West Texas town and the home of, among other things, Texas Tech University, which "has been growing significantly," and is "a key part of why companies want to be in Lubbock," according to John Osborn, president and CEO of the Lubbock Economic Development Agency.
"Having the universities that we do, both a major Tier 1 research institute in Texas Tech and Texas Tech Health Science Center," Osborn says, "allows us to attract research corporations." Some of those include Bayer Crop Science, Chromatin Inc. and "smaller cancer type research industries as well."
Monsanto announced a $140 million, 500,000 square foot cottonseed processing facility which they will build in Lubbock on 150 acres.
Food processing companies such as Shearer's Foods which produces chips for Frito Lay are in Lubbock already, and Osborn sees interest from more food processors as well.
"In Lubbock, we're seeing a tremendous amount of commercial growth," Osborn says. This growth includes new restaurants and recreational activities, in addition to 17 new hotel constructions between June 2016 and the end of December 2017.
Lubbock has a former military base and land available near its Preston Smith International Airport, so it has interest from aeronautics industries, according to Osborn. The proximity to the university also attracts wind energy research to an area with wind energy production as well.
"We consider ourselves the pump capitol of the world because of the number of different pump companies that are producing in Lubbock," Osborn says. Those include oil and water pumps as well as others. "A lot of our companies ship pumps all over the world."
Lubbock's award-winning South Plains College has just received an expansion to add to the number of technical training programs available.
Companies also want to be in Lubbock, Osborn says, because of the quality of life. Lubbock has a new $145 million performing arts center on the way in its downtown and a "growing arts community" that includes Ballet Lubbock and a symphony. The Lubbock area grows 85 percent of Texas's grapes, so wine tours and tastings are also popular, he says.

Big Spring
By Rachel Hamilton
Big Spring sits in western Texas at the intersection of Interstate 20 and Highway 80, and that position is important to the town's economy. "One thing, we're doing a $3.25 million rail expansion at our airpark/industrial park," says Terry Wegman, executive director of the Big Spring Economic Development Corp.
Union Pacific's "main east/west route," which carries "a lot of container traffic," runs just north of the town, as Wegman says. He explains that there is a "short line that operates off of UP's main line into the industrial park," which he notes is shovel ready.
"The airpark was Webb Airforce Base," he says, explaining that it was decommissioned in 1977. The McMahon-Wrinkle Airport has two runways, one of which is 8,800 foot long and 300 feet wide, one of the longest in Texas. It was recently upgraded.
The other large project is a $65 million truck reliever route, scheduled to break ground July 2016, according to Wegman. The route will make a loop around the west side of Big Spring near the airpark/industrial park.
Big Spring is part of the Ports to Plains Corridor, which is "basically a coalition of different economic development groups and community organizations trying to develop a trade corridor from Texas to Canada," Wegman says. The new highway loop is part of that effort.
"We're kind of located in oil country," says Wegman. "We've got oil refineries and a couple companies moving pipe and frack sand." Energy is important in the whole area.
"West Texas in general is in wind development. We are just completing a large wind project in the northern part of the county," he says, adding that more "wind activity" is going on in about a 30 to 40 mile radius of Big Spring, and that they hope to attract suppliers for wind turbine repair, as they could use the new route and/or rail expansion to service wind turbines in a wide radius.
Georgetown
By Rachel Hamilton
Georgetown sits just north of Austin on Interstate 35 in Texas on the San Gabriel River. "The national census estimated that Georgetown grew by almost eight percent this last year," says City Manager, David Morgan. "That growth is the highest percentage of growth in any city with a population of over 50,000 in the country."
Georgetown is growing so much for two main reasons, according to Morgan. "We're a desirable place in a growth corridor." Georgetown's quality of life comes from its rivers, rolling hills, and historic downtown, Morgan says. "Our downtown is the gem of our city."
The Texas Life Sciences Center (TLSC) contributes to the growth as well; in addition to being an accelerator for new bioscience companies, established ones "are landing in that area creating synergy," Morgan says. The nearby Inner Visions Corporate Center nearby has space available in a 60,000 square foot spec building.
In the Rivery area, Georgetown has just opened a full-service Sheridan Hotel with a convention center; it is in a "mixed use environment" with "brownstones, multi-family housing, retail and a vibrant center," Morgan says.
"We also are working with a developer to promote spec office development on the southern side of Georgetown," Morgan says. Infrastructure is being put in place to help better connect the area with Round Rock and nearby Austin Community College: Round Rock.
Georgetown has its own Southwestern University as well, which along with Austin Community College, is "partnered with the TLSC." Georgetown also has "a strong partnership with the chamber to promote workforce development."
"We also have positive activity in our industrial space area," Morgan says, referring to the area near Georgetown Municipal Airport. "It's an excellent location for industrial uses, but also we believe for distribution centers as well, [because it would provide] a good connection with the Dallas market."