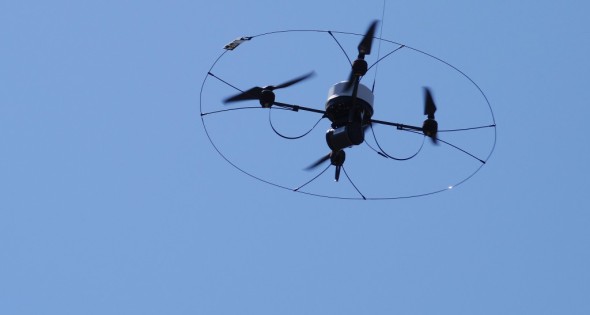 UAVs: Extending Your Line of Sight
04 May, 2015
Caption: An AirRobot AR100-B UAS owned by the Georgia Tech Research Institute flies in a demonstration in Georgia. Photo: AUVSI
By Rachel Duran
Precision ag applications on the verge of exploding.
For the precision agriculture segment of the unmanned aerial systems (UAS) industry, the state of Oklahoma is on its way to becoming known as the Silicon Valley for this specialized industry.
"Companies like to go where innovation is taking place and we have excelled with a lot of innovators early on," says James Grimsley, the associate vice president for research at the University of Oklahoma. He is also the owner of Design Intelligence Incorporated (DII) LLC, which is a developer of UAS, and which is testing ag-related applications.
"The forecast is $83 billion and 103,000 jobs created in our industry alone over a 10-year period once we have the ability to fly [commercially]," says Brian Wynne, president and CEO, Association for Unmanned Vehicle Systems International. (AUVSI). "We think 80 percent of the growth will occur in the agriculture sector. There are a lot of ways farmers can utilize these technologies, and in some instances, things are already being done."
The AUVSI represents unmanned systems, including robotics, in three domains: air, maritime and ground.
The agriculture sector is ideal for proving out UAS technologies. "We know there is a lot of value that can be unlocked once we have the ability to fly with operator certificates under 500 feet, line of sight, daytime operations away from people," Wynne says. "Agriculture fits right into that category."
Wynne says areas of UAS development focus on beyond line of sight applications, such as high altitude delivery systems. "There are technology solutions for the delivery of Internet services, for example, from UAS that can stay aloft for eight or nine days using solar panels," he says. "Ultimately, we want the technologies like detect and avoid proven out and perfected in a way that not only can they be used on unmanned aircraft but manned aircraft as well. The vision for this industry is that we are bringing solutions to the aviation industry that makes all flying safer."
Oklahoma Leads
Oklahoma's cluster of precision agriculture UAS firms is providing solutions to flying safer with innovative product developments thanks to the state's history in both the aviation sector and the agriculture sector.
"One of the unique attributes of Oklahoma's UAS initiative is that it is a cooperative endeavor between academia, industry and state government that has resulted in a number of cooperative arrangements," writes Dr. Jamey Jacob, Oklahoma State University, Booker Professor, School of Mechanical and Aerospace Engineering, in an email correspondence. He is also the president of the Unmanned Systems Alliance of Oklahoma.
"Probably the largest of these is spearheaded by Dr. [Stephen] McKeever himself through the office of the [Oklahoma] Secretary of Science and Technology, by which the governor's UAS Council is able to advise and develop strategic initiatives at the state level for UAS initiatives," he continues. "Another would be our research at Oklahoma State University in developing UAS technologies for weather, and the research at the University of Oklahoma in meteorology, and NOAA's National Severe Storms Laboratory, which is the end user."
Jacob notes there is a great deal of activity occurring with UAS in Oklahoma, but in short, the efforts are focused on developing and promoting larger use of UAVs in agriculture through technologies that provide more reliability and independence of the platform of the operator.
Grimsley's company is among those in Oklahoma demonstrating UAS applications in the agriculture sector. His firm is testing its unmanned systems at a 3,500-acre farm, which he refers to as a living laboratory, with diverse ag-related activities underway. The farm is owned by an investor in DII.
DII will unveil a new solar-powered UAS this summer, which will be a lower cost alternative to the company's Eturnas product. "It will be much better suited for precision ag and reaching into other markets that might not have been possible with the original Eturnas," Grimsley notes.
Grimsley says the industry has begun to really take shape over the last two years, with the investment community embracing the enormity of the market and the applications. The overall cost savings will be huge, he says. "The worldwide agriculture market is around $6 trillion. It is an industry in need of innovation, and we have a lot of challenges moving forward in agriculture. The population is increasing and the amount of available farmland is not increasing. We are starting to encroach on agricultural lands due to urban sprawl."
FAA Approval is on the Horizon
When it comes to UAS technologies, the goal for the AUVSI is to ensure the safe and responsible integration of UAS into the commercial airspace. "The way we are doing that is starting with small UAS under 500 feet. We now have a proposed rule, which is a good way to start, and we have other things working parallel to that," Wynne says.
AUVSI is working to facilitate the finalization and adoption of the FAA's proposed rule. "We like the tone and we think the risk-based approach is the right approach," Wynne says.
In regard to the FAA reauthorization legislation, the association's officials want to ensure that in addition to support for flying below 500 feet line of sight, considerations are made for extended line of site, and beyond line of sight operations over populated areas. "We want to ensure the FAA has the proper resources to test out the technology solutions to integrate those things as quickly as we can," Wynne adds.
A little over a year ago, the FAA approved six test sites in the United States for developing the commercial airspace for UAS technologies. The sites either received certifications of authorization or exemptions in order to fly in the national airspace. The idea behind the sites is to provide a place where solution providers can demonstrate to the FAA certain types of technologies. These sites often consist of regionally based industry, academia and public partners, and each site is focused on a specialty area.
Proving applications in extended line of sight and beyond line of sight uses is vital, Wynne says, because the FAA wants to ensure UAS stay inside of the area they are designed to. An example of extended line of sight is a farmer who wants to conduct a survey of his property, where the UAS goes beyond his line of sight but is still on his property.
And depending on what the application is there have been beyond line of sight technologies that have been used successfully, in military theaters for example, where the UAS shared airspace with manned aircraft without incident. "Now we need to demonstrate we can do that in a commercial environment as well," Wynne says. "North Dakota's test site is looking to do this, and it has been done at the Alaska test site in regard to surveying offshore gas pipelines."
One of the challenges the test sites face is the fact that they receive no FAA funding, which is why it is important this scenario changes in the FAA reauthorization legislation. Wynne says at the end of the day, the test sites should be testing out things the FAAA wants to prove out. "That will be a more seamless process if the FAA has the ability to direct some of the R&D," Wynne says.
Hudson, N.Y. Area Needs Goats
The agribusiness cluster is the No. 1 industry in Columbia County and the Hudson area, which has added a goat cheese creamery to its business roster. The Hudson Valley Creamery, located in Livingston, is part of Groupe Eurial, a France-based global dairy company and leading producer of cheeses from goat and cow milk. The company selected Columbia County as the location for its first processing plant in the United States. An available factory space in the county has been adapted to meet the company's needs to produce artisan-style goat cheeses. And this growing company needs more local goat herds to support its efforts.
"We want to increase the diversity of the ag industry by expanding upon what is already here in terms of dairy goats," says Ken Flood, executive director, Columbia Economic Development Corp. (Columbia EDC). Currently, the Hudson Valley Creamery imports frozen goat curds from France. "What they would like to do, and what we are working with them on is to expand the dairy goat herds in the region to provide raw goat milk to their plant."
To assist the company, the Columbia EDC is finalizing what is basically a business plan template for farmers who would like to get involved in dairy goat farming, so they understand the capital investment, revenue streams and so forth. Development officials estimate they need to add approximately 20 new goat farms in the region of 200 heads each. Flood says officials will be and are working to secure seed money to further support the goat farm initiative.
Finally, efforts are underway with Groupe Eurial to perhaps provide genetics for the goats themselves, Flood notes.
For complete details, visit www.columbiaedc.com.
Industry Maturity
The use of UAVs in precision agriculture applications is gaining traction, viewed as a tool that will allow farmers and ranchers to manage their crops and herds more cost efficiently. In Oklahoma, initiatives and partnerships have created an extensive support infrastructure.
"We have had people who have selected Oklahoma over other locations because of the activity happening in the state," Grimsley notes. The business climate and cost of living costs are competitive with other states. "That is why we have seen larger defense contractors and larger aviation companies moving parts of their operations here, either relocating or consolidating their enterprises," Grimsley adds.
The state is also home to federal aviation resources, and a foundation interested in supporting agriculture-related developments in the state.
Oklahoma City is home to thousands of employees for the FAA's Mike Monroney Aeronautical Center, which is home to the largest concentration of U.S. Department of Transportation personnel outside of Washington, D.C.; and an FAA Logistics Center, which provides repair and technical support for air traffic control equipment and aircraft for the United States and 44 other countries.
In terms of funding, the Samuel Roberts Noble Foundation supports a wide variety of agriculture-related research in the region. "For years, they have been looking at how unmanned systems technologies can benefit agricultural producers," Grimsley says.
In regard to the future of the precision agriculture sector, Jacob notes: "In precision agriculture, data is the need — the unmanned aerial vehicle (UAV) is just a tool to get more data cheaper and quicker than other remote sensing systems. Providing more autonomous capabilities so that the UAS is only communicating the information necessary for the farmer/rancher is what will make the tool ubiquitous in the future, and not just a gadget."
For complete details, visit:
Association for Unmanned Vehicle Systems International.
Oklahoma State University's School of Mechanical and Aerospace Engineering
Samuel Roberts Noble Foundation
Unmanned Systems Alliance of Oklahoma