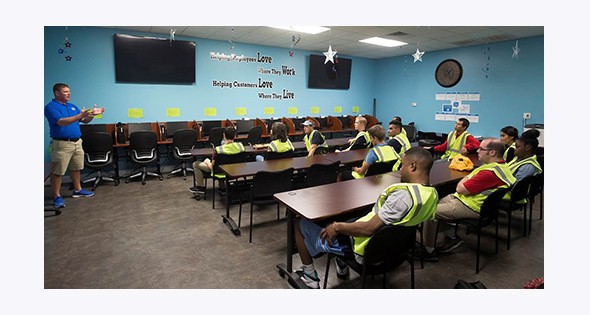 Valdosta State University Students Tour Local Supply Chain and Logistic Companies
14 Oct, 2016
Valdosta, Georgia– Management teams from Dillard's Regional Distribution Center, Lowes Regional Distribution Center and Smith Drug Company recently toured students from Valdosta State University who are currently in supply chain and logistic courses.  Students were able to see first-hand what they have been learning in class.
"The insight view was useful in order to see how the theoretical material we study in class is applied every day in the working environment," said Gereon Heitmann, VSU Senior majoring in International Business.
While on the tour, management teams discussed with students about what supply chain and logistic companies look for when hiring future employees, what their daily work schedule is like and how their companies are unique.
"The tour was such an eye opening experience," said Christopher Crowder, VSU senior majoring in Management. "It was exciting to see the supply chain and logistics operations that fuel our economy. Throughout the tour, I saw that logistics is no small task. From shipping to receiving, every action needs to be executed flawlessly," said Crowder.
The tour was organized by the Valdosta-Lowndes Development Authority (VLDA). "Anytime we can get future workforce into our existing industries to see what they do is a great thing," said Stan Crance, VLDA Project Manager/Existing Industry Coordinator. "When students are able to see the operations up close, it provides them with the perspective of what it is going to be like when they enter their career," said Crance.
VSU currently offers a minor in supply chain and logistics and is awaiting approval from the University System of Georgia Board of Regents on a major in supply chain and logistics. They hope to have it approved in 2017.
###
About Valdosta-Lowndes Development Authority
The Development Authority is an organization that oversees industrial and economic development in Valdosta and Lowndes County. In 1960 the Authority was formed as an amendment to the Georgia State Constitution. The mission of the Valdosta-Lowndes Development Authority is to create an environment to attract new industry and promote the growth of existing industry to drive job creation and capital investment.