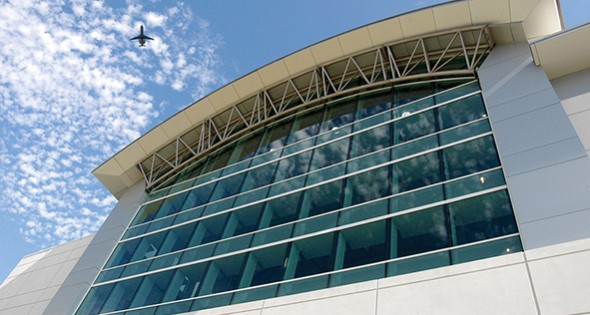 Amazon Creating 2,000 Jobs at New CVG Hub
10 Mar, 2017
A new centralized air hub for Amazon at CVG in Hebron, Kentucky, will help the company meet demand from Amazon Prime members for fast, reliable delivery.
Amazon has been an active member of the business community in Kentucky for nearly 20 years, employing more than 10,000 people in full-time jobs across 11 fulfillment center locations. When the new site opens, the company expects to create more than 2,000 new jobs.
"As we considered places for the long-term home for our air hub operations, Hebron quickly rose to the top of the list with a large, skilled workforce, centralized location with great connectivity to our nearby fulfillment locations, and an excellent quality of living for employees. We feel strongly that with these qualities as a place to do business, our investments will support Amazon and customers well into the future," says Dave Clark, Amazon Senior Vice President of Worldwide Operations. "We couldn't be more excited to add 2,000-plus Amazon employees to join the more than 10,000 who work with us today across our robust operations in Kentucky."
Last year, Amazon entered into agreements with two carriers to lease 40 dedicated cargo airplanes to support Prime members with fast, free shipping. Today, 16 of those planes are in service for Amazon customers with more planes rolling out over time. Amazon's Prime Air hub at CVG will support Amazon's dedicated fleet of Prime Air cargo planes by loading, unloading and sorting packages.
"Amazon's Prime Air hub promises to revolutionize the fulfillment industry worldwide, and Kentucky is excited to partner with them as they embark on this disruptive, transformative and exciting venture," says Gov. Bevin. "Kentucky's ideal location, proven workforce and an already extensive shipping and logistics industry have been the backbone of our relationship with Amazon for nearly 20 years. This new project will pay dividends to both the company and our state, and we are truly grateful for the jobs and economic impact it will bring to the commonwealth."
"We've worked hard to ensure CVG is a great place to do business and we couldn't be more pleased that Amazon recognized those efforts with plans to build a top-in-class air cargo hub at our airport," says Candace S. McGraw, CEO of the CVG Airport. "A vibrant airport improves the economic vitality of the region and adding thousands of new jobs through establishing this hub at CVG will certainly be transformational for the local economy and local businesses."
The company plans to offer job opportunities at any Amazon site across the U.S. to those involved in the package sortation that occurs today in Wilmington.
Amazon recently announced plans to create more than 100,000 jobs across the U.S. over the next 18 months. You can learn more about working at Amazon by visiting www.amazon.jobs.