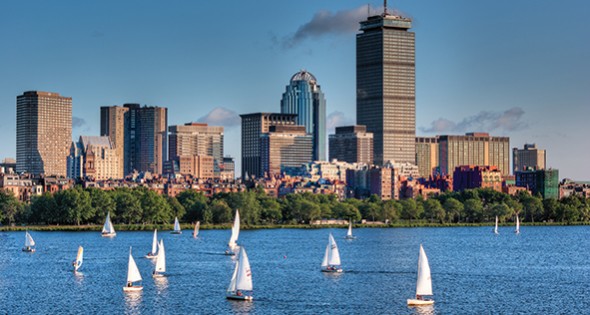 Massachusetts: Ingenuity, Innovation & Entrepreneurship
14 Aug, 2017
Massachusetts is comprised of closely knit, diverse regions with a variety of economic opportunities. In a recent U.S. News & World Report Best States ranking, Massachusetts was ranked the #1 State in the nation. Factors such as education, health care, infrastructure, government economy, opportunity and justice were all considered. Massachusetts has a long history of ingenuity, innovation and entrepreneurship that makes it an ideal location for conducting business.
As the state's finance and development authority, MassDevelopment works with businesses, nonprofits, and municipalities to help grow the state's economy with ongoing efforts in manufacturing, the defense sector, the Transformative Development Initiative and Property Assessed Clean Energy (PACE.)
The state continues to build on its strong contracting history, R&D capabilities and technology expertise to foster growth in the state's $10 billion defense technology industry. Defense Technology & Homeland Security Massachusetts has a long history as a world center for defense technology innovation.
Massachusetts is also home to a growing digital health cluster that is comprised of more than 250 health technology companies and startups, academic and research institutions, venture capital firms, investors, startup accelerators, healthcare providers, associations and policymakers.
When it comes to life sciences, Massachusetts is a global leader and plans to continue to be so with the Massachusetts Life Sciences Initiative, a ten year, $1 billion package of investment resources designed to foster continued growth in the Massachusetts Life Sciences supercluster.
Massachusetts Regional Sidebars
By Rachel Hamilton
Town of Holyoke
Holyoke is in south-central Massachusetts on the west side of the Connecticut River at the junction of Interstates 90 and 91. "So we have access to two of the largest markets on the Eastern Seaboard [New York City and Boston]," says Marcos Marrero, director of Planning and Economic Development.
Holyoke's electricity production is "almost 100 percent renewable," and the town offers "the cheapest electricity in Massachusetts" from its hydroelectric plant at the Connecticut River Dam, according to Marrero.
The town aims to become a "testbed for renewable technology," Marrero adds. "We're pre-permitted with the Federal Regulation Commission," so companies can begin testing renewable products or energy sources within two months instead of the usual nine.
"We feel like we could develop a cluster of green businesses here," says Marrero, referring to renewable energy as well as indoor growers that can occupy some of the two million square feet of mill space in Holyoke's downtown.
Holyoke has be rehabilitating that space to "create an economy that would use that space — a creative economy," Marrero says. Examples include design, digital media, boutique manufacturing and, of course, the indoor grow operations.
"Right now the hot commodity in that area is cannabis, medical or otherwise," says Marrero. "We think that we provide advantages for any crop indoors."
Holyoke Community College has partnered with local, state and federal government as well as MGM to not only expand their culinary and hospitality department, but to build a new center for downtown Holyoke.
MGM is planning a casino to open in the early 2020s or sooner, and hospitality is the third largest employer in Massachusetts.
Town of Charlton
Charlton is on Route 20, "just minutes away from four interstates," says Alan Gordon, executive director of the Charlton Economic Development Commission (CEDC). "We're kind of at a hub of the southern Worcester County commuter network."
Being a hub for commuters has meant that much of Charlton's largely "middle-class, white-collar" workforce commutes out of the town to Boston or into northern Connecticut, Gordon says. Of course the CEDC has been working to attract more employers to Charlton itself.
"We completely overhauled our zoning along the [Route 20] corridor," Gordon says, noting that the town also has utility, water and sewer line improvements underway in the corridor. The rezoning of the area "is flexible and allows for expedited permitting" as well as for "creativity and mixed use."
Treehouse Brewing Company was attracted to a 60-acre site in the rezoned area and will start production in a 53,000-square-foot craft brewery in Charlton by the end of 2017, according to Gordon.
Charlton is home to Karl Storz Endovision, Inc. which is adding office space and a warehouse to its existing offices, R&D, and manufacturing space in Charlton.
The town has approved 17 commercial solar arrays already, Gordon says, adding that those companies can sell electricity far beyond Charlton and even out of Massachusetts.
Charlton is also home to warehousing, light manufacturing and a growing retail sector, as well as the Barkwood Inn, which Gordon says is adding 4,800 square feet to its existing 7,000-square-foot building for doggie daycare and overnight pet boarding.