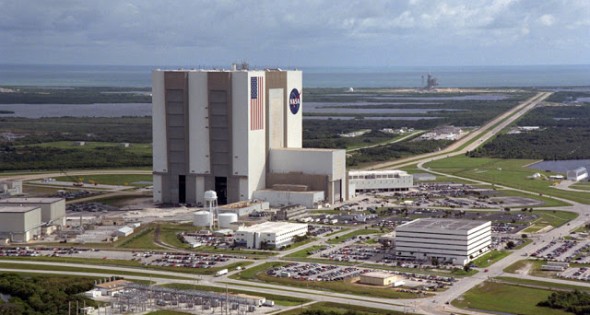 Space Coast EDC and NASA Announce Alliance
04 Feb, 2015
NASA and the Economic Development Commission of Florida's Space Coast (Space Coast EDC) are partners in a new strategic alliance designed to bring cutting-edge technology, resources and expertise to solve manufacturing and technology challenges across a wide spectrum of industries. From aerospace to the most basic manufacturing operations, this alliance will provide applied technology solutions to accelerate regional economic growth on the Space Coast.
The Space Coast is a partnership between the Brevard County (Fla.) Commission and the Space Coast business community. Business leaders, chambers of commerce, local and state government leaders, and community organizations contribute to the overall mission of the EDC.

Powered by NASA and EDC, this regional initiative is part of NASA's national pilot program for Regional Economic Development (RED) and seeks to provide small and medium-sized manufacturers and technology-based companies with access to NASA's subject matter experts, advanced technologies, and capabilities drawing on NASA resources both at the Kennedy Space Center and across the nation.
The end users and beneficiaries of this agreement are the hundreds of manufacturing and technology companies in Brevard County, which have specific technical challenges with new or existing products, technologies or production processes. Through this program, the region's companies will have access to NASA resources to help solve their issues quickly with the end goal of increases in revenues and the creation of jobs and new technologies, business lines and companies.
"NASA is pleased to partner with the EDC on this effort and we look forward to making the linkages between industry and NASA technology, resources and capabilities," says Robert Cabana, director, Kennedy Space Center.
To make the local connection, the EDC will work with NASA to establish guidelines and target companies that qualify for assistance. The EDC will also provide regional economic development services including asset mapping, supply chain analysis, and technology matching programs to infuse NASA technology into the surrounding business community.
"With a large concentration of manufacturing and technology companies that operate from the Space Coast, these companies could all benefit from more tools and assistance," says Lynda Weatherman, president and CEO, Space Coast EDC. "We are pleased to say there is now a program in place, just for them, that will expand their reach, increase their access to emerging innovations, and better position them to compete in an industry that is increasingly focused on new technology."
One important piece of this agreement includes the appointment of a NASA technology liaison who will be co-located for a year with the EDC in Rockledge. This NASA "technologist in residence" will be responsible for further assessing the NASA technology portfolio and serving as the link to local industry and will also provide access to NASA data and studies, facilitate access to NASA facilities, expertise and personnel.
This pilot program is conducted at the Agency level, and is executed in an agreement between NASA's Space Technology Mission Directorate and the EDC through a four-year cooperative agreement.
For more information, email EHuy@SpaceCoastEDC.org.
Image: Vega 0.0