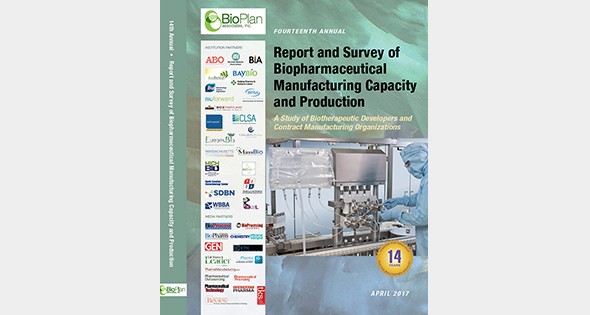 14th Annual BioManufacturing Capacity and Production Report and Survey
12 Sep, 2017
The 14th Annual Biopharma Manufacturing Capacity and Production Report is the industry's most detailed, leading study of biotherapeutic developers and contract manufacturing organizations' current and projected future capacity and production.
The report's 476 pages of data-rich analysis will help improve decision-making in biomanufacturing operations, with in-depth analysis of capacity, production trends, benchmarks and more.
By the numbers
227 biodevelopers & CMOs; US vs EU & global biomanufacturing
131 industry vendors and direct suppliers of materials
25 countries represented
476 pages
13 chapters
200+ graphs and 28 tables
Subject matter experts providing analysis
30+ independent sponsoring organizations
Report coverage

Biosimilars pipeline in development
In-depth analysis of key data, capacity, production trends and benchmarks
Budget trends and impact of current economic environment
Expression system advances
Downstream purification problems and issues
Current and projected industry bottlenecks
Capacity utilization and current production levels
How capacity bottlenecks are being resolved
Production trends and implications for industry
Outsourcing trends
International offshoring through 2021
Range of titres, growth
Disposables: Spending growth; downstream uses; L&E's; reasons for increasing/restricting; budget increases; vendor satisfaction
Disposables: Compare innovators vs CMOs & US vs Europe
Batch failure rates & trends
Selecting a CMO – problems & solutions
Quality management & PAT implementation
Hiring and employment growth
Supplier growth rates
For more information, visit the website.