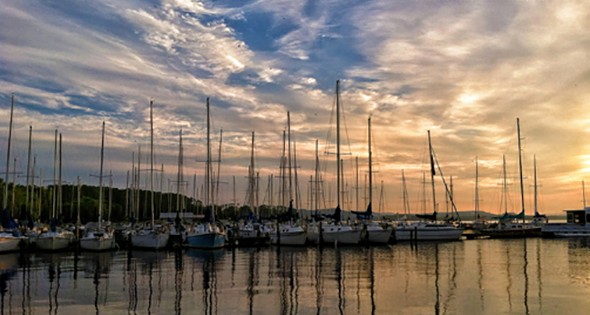 Alabama: Innovation in Technology for Economic Development
12 Sep, 2017
In Alabama, public and private sectors are committed to helping the businesses and industries of the state succeed, which has been a major factor in bringing many world-class companies to Alabama in recent years.
Airbus, BASF, GE Aviation, Home Depot, Honda, Hyundai, Mercedes, Outokumpu, Polaris, Remington, Toyota and Webster Industries are a few that have recently announced new or expanding investments in the state.
Regions Financial, a Fortune 500 company, is headquartered in Alabama, along with O'Neal Industries, Drummond Company, EBSCO Industries, Altec and Brasfield & Gorrie. All of these are on the Forbes list of America's Largest Private Companies.
Alabama is fostering innovation in technology based economic development, making investments in promising entrepreneurs and cutting-edge research to introduce new ideas and products. The Economic Development Partnership of Alabama is working to strengthen the state's entrepreneurial ecosystem by partnering with universities, entrepreneurs, investors and companies to make economic development a priority.
Alabama Launchpad, a public- private partnership, is at the center of the state's strategic economic development plan that focuses on job creation through innovation, entrepreneurship, research and development, and commercialization.
The Alabama industrial base is diversified and continues to grow. The largest industries based on number of workers in 2015 were manufacturing, retail trade, health care, and accommodation/food services. The state's high growth job sectors from 2010 to 2015 were administrative and waste services, accommodation and food service, transportation and warehousing, and manufacturing.
Alabama has a strong history in aviation, aerospace and defense and has been integral to the success of U.S. space and defense programs. Companies like Airbus, Boeing, Commercial Jet, GE Aviation, GKN, Lockheed Martin, Northrop Grumman, PPG Aerospace and United Launch Alliance are located in Alabama.
Alabama's success in the automotive industry began in 1997. Today, Mercedes-Benz, Honda and Hyundai collectively produce 11 passenger vehicle models. The state also has a growing list of automotive suppliers such as Kamtek, Lear, ZF Chassis, Topre, Gestamp and Mando.
Guntersville in Marshall County

By Rachel Hamilton
Conners Island Business Park in Guntersville is recognized as a Tennessee Valley Authority (TVA) Primary Datacenter Location, says Matt Arnold, president of the Marshall County Economic Development Council. The park is shovel-ready and has been extensively vetted as a strategic datacenter location.
Guntersville is surrounded by 68,000-acre Guntersville Lake, which was created in 1939 when the TVA built a hydroelectric dam at the southernmost point of the Tennessee River.
The business park has over 400 acres available, and roughly 40 acres near the rear are specified for the TVA datacenter designation, according to Arnold. The park is adjacent to the Guntersville Municipal Airport and its 5,005-foot jet-capable runway.
"You fly over one of the prettiest lakes anywhere to land in that airport," says David Jones, chair of the Guntersville Industrial Development Board. "A lot of people are struck by the beauty of the area."
"Lake Guntersville is our economic engine," says Mayor Leigh Dollar, explaining that the city's economy is built on tourism, especially bass-fishing, but it also has a "robust business community and diverse industry."
Tourists with their own boats often moor in Guntersville and "walk one block to the downtown area with restaurants, shops, museums and a variety of things to do," says Jones.
Defense contracting, poultry processing and automotive-related manufacturing are significant industries in Marshall County, says Arnold. Guntersville's biggest tourism draw is bass fishing, and the lake's Tennessee River location provides navigable access all the way to the Gulf of Mexico for commerce and tourism.

Guntersville by the Numbers

949 miles – the length of shoreline for 68,000-acre Lake Guntersville, located at the southernmost point of the Tennessee River. The lake was formed in 1939 when TVA created a series of hydroelectric dams to control flooding and support economic development.
10,000 years – how long ago the area was populated by Native Americans, a rich history the Guntersville Museum highlights along with many regional and national art and historical exhibits.
200.4 MPH – the world speed record for a propeller-driven hydroplane, set by Roy Duby driving Miss U.S. in 1962 – a record that stood for 38 years. The prop record was followed five years later by a jet boat record, when Lee Taylor's Hustler hit 285 miles per hour on Lake Guntersville in 1967.
428 acres – available property at Conners Island Business Park, a shovel-ready development that comes complete with an Alabama AdvantageSite designation. Conners Island is also recognized as a TVA Primary Data Center Location as vetted by an extensive Deloitte Consulting process.
5,005 feet – the length of the jet-capable runway at the new Guntersville Municipal Airport, located adjacent to Conners Island Business Park.
Top 10 – the national ranking Lake Guntersville typically enjoys as a bass fishing destination, which makes the city a hotspot for Bassmaster and other major national pro fishing events. Of course, fishing is not just for pros – Guntersville's economy enjoys millions of dollars of benefit from the thousands of visitors who hit "Big G" for bass, bream, crappie and other favorites in this world-class fishery.
35 minutes – drive time to nearby Huntsville, Alabama, which puts Guntersville's mountain-lakes lifestyle just a stone's throw from one of the country's leading business environments for aerospace, technology and biotech development.
4K surgery – as in ultra-high-def 4K minimally invasive surgery. The first installation in the entire U.S. of the most advanced integrated 4K surgical system was done at Marshall Medical Centers, the community-owned healthcare system serving Guntersville and Marshall County.
5.16 miles – of beautiful lakeside walking and biking trails, along with 175 acres in an extensive park network that includes Every Childs's Playground to serve kids of all abilities.
6 national awards – in one year alone, from Keep America Beautiful. The city's recycling program and other green initiatives are not only award-winners, but contribute to Guntersville's unique natural beauty and excellent quality of life