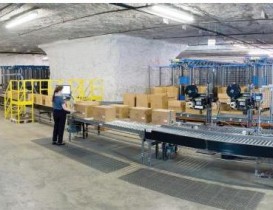 Interior of SubTropolis.
The National Archives and Records Administration (NARA), which oversees the management of all federal…
The National Science Foundation has awarded Prince George's Community College a $5 million National Advanced Technological Education Center continuation grant for its National CyberWatch – Cybersecurity Education Solutions for the Nation project. Funding over the next four years will promote cyber security education at community colleges nationally.
The grant will…
More than two-thirds of health plan business leaders who participated ina KPMG LLP webcast poll in September say they have analyzed the operational impacts and developed a plan of action to become exchange ready (39 percent), or had started implementing required changes and are on schedule to meet the…
According to a survey by Adecco Staffing US, companies are holding back on hiring due to rising costs of benefits. More than half of the more than 500 senior executives polled in the United States cite providing health care benefits to employees as the greatest business challenge they face.
However…
For decades, "bigger is better" has been the conventional path to efficiency in industries ranging from transportation to power generation. New research from the Columbia University's Business School shows a radical shift from building big to building small—a change that has profound implications for both established and emerging…
Uncertainty over how the national elections will impact the next Presidential Administration's approach to domestic economic policies, along with a host of global challenges, tempers commercial real estate executives' market outlook for the remainder of 2012, according to the Q4 Sentiment Index released by The Real Estate Roundtable. The…