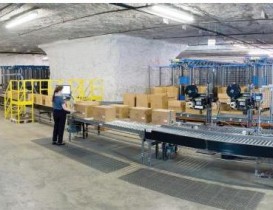 Interior of SubTropolis.
The National Archives and Records Administration (NARA), which oversees the management of all federal…
Florida Power & Light Company's Office of Economic Development today announced the launch of PoweringFlorida.com – a new online resource dedicated to helping businesses start up, expand or relocate their operations in Florida
"A discount on FPL's already-low rates can help businesses set up shop and expand…
The Agriculture Council of America (ACA) will host National Agriculture Day on March 19, 2013.
This will mark the 40th anniversary of National Ag Day which is celebrated in classrooms and communities across the country. The theme for Ag Day 2013 is "Generations Nourishing Generations."
The National Ag Day program…
Tech is back. For the first time since 2001, San Jose tops the Milken Institute's Best-Performing Cities index, which looks at jobs, pay and the technology sector to determine which cities are best at creating and sustaining economic growth. For the second year in a row, Logan, Utah…
Nearly 4 million businesses have received forms for the 2012 Economic Census, the U.S. government's official five-year measure of American business and the economy. By law, these businesses must respond by February 12, 2013.
Have questions about the census and how to respond? Sign up to participate…
To highlight the current and potential benefits of data, groups from around the country will participate in Data Innovation Day on Thursday, Jan. 24. Data Innovation Day is sponsored by the Information Technology and Innovation Foundation (ITIF).
"Thanks to advancements in computing, networking and informatics we are currently experiencing a…