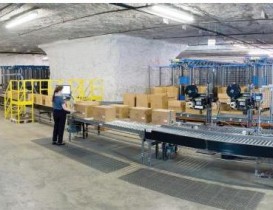 Interior of SubTropolis.
The National Archives and Records Administration (NARA), which oversees the management of all federal…
If you feel the rules have changed, that you can't catch your breath and just as you step on stable ground a rug has been pulled from beneath you, you'd be right! In a short dozen years there's been almost an unimaginable impact of unforeseen events in…
Omega Valley Farmers LLC in Dorchester, Wis., announces the roll out of naturally processed dairy products that are high in Omega-3s.
Heartland Cooperative Services in Dorchester has introduced the new Omega-3 feeding concept to the ag marketplace. "We are now able to naturally increase the nutrient content of…
The Conference Board's Measure of CEO Confidence, which decreased in the third quarter, improved in the fourth quarter. The measure now reads 46, up from 42 in the third quarter. A reading of more than 50 points reflects more positive than negative responses.
"CEO Confidence improved in the final…
In its final passage on January 1 of a bill to avert the fiscal cliff, the U.S. Congress has extended wind energy tax credits for projects that begin this year.
The bill applies to all wind projects that start construction in 2013. Companies that manufacture wind turbines and install…
The U.S. Environmental Protection Agency (EPA) and LG Electronics USA (LG) have entered into an agreement to collaborate on a number of environmentally beneficial goals. The memorandum of understanding (MOU) is the first such agreement signed by a leading consumer electronics and appliance manufacturer.
Under the MOU, LG will…