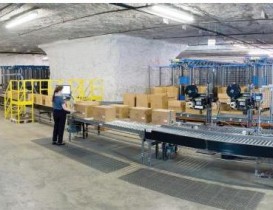 Interior of SubTropolis.
The National Archives and Records Administration (NARA), which oversees the management of all federal…
The online Mississippi Minority Business Registry will assist businesses and public entities looking for prospective suppliers or contractors that can meet their procurement needs. It also provides greater visibility for minority- and women-owned businesses in the state.
The registry is an effort of the Mississippi Development Authority, the state…
U.S. President Barack Obama has signed S. 1956, the "European Union Emissions Trading Scheme Prohibition Act of 2011," which the U.S. Chamber believes is a step in the right direction. The chamber would also like to see the U.S. administration take the steps to present its case…
In a white paper entitled "Real Estate Recovery is All About Job Growth," NAI Global Chief Economist, Dr. Peter Linneman, outlines that without a robust job recovery, the real estate market will continue to be slow to recover.
The white paper also addresses the health of the U.S. real…
On November 13, Chicago Mayor Rahm Emanuel announced that the city will invest $1.25 million in advanced manufacturing education programs led by the Chicago Manufacturing Renaissance Council and its managing partner, the Center for Labor & Community Research.
"We need to invest in something other people recognize as one…
The National Science Foundation has awarded Prince George's Community College a $5 million National Advanced Technological Education Center continuation grant for its National CyberWatch – Cybersecurity Education Solutions for the Nation project. Funding over the next four years will promote cyber security education at community colleges nationally.
The grant will…