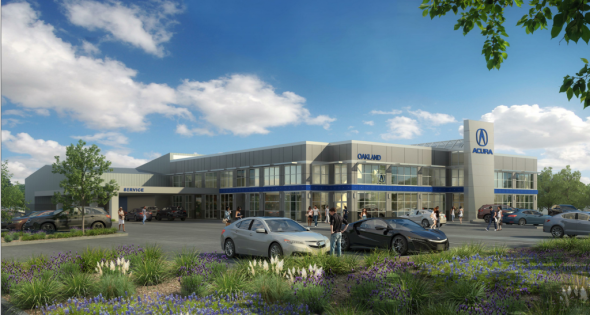 Dealer Builds on 30-year Legacy with Grand Opening of new Oakland Acura Showroom
29 Oct, 2018
After three decades downtown, Oakland Acura has moved to a new state-of-the art showroom at 6701 Oakport Street.
City officials and community leaders joined Oakland Acura managing partner Gordon Walton at the official Grand Opening for Oakland's newest dealership. The event marked the successful retention and on-going commitment of a long-standing Oakland business that provides well-paying jobs and important tax revenue which supports vital City services.
"It gives me great pride to welcome the New Acura Dealership to District 7," said Council President Larry Reid, who represents District 7. "We are committed to growing Oakland's economy through partnerships with our local business owners that nurture successful relationships. Oakland Acura, along with the other automobile dealerships on this corridor, has helped create an 'Auto Row' in East Oakland."
When the dealership determined it needed to expand, Walton began an extensive search for a new location. Upon learning of Acura's needs, City Council President Reid energized City officials in a sincere effort to keep the Acura dealership in Oakland. Oakland Acura owners Dave Robb and Gordon Walton had an equally passionate desire to remain in Oakland and shared their commitment. Collectively, City staff and the Oakland Acura team worked hard to keep the dealership in Oakland.
Walton and Robb concluded that the City's Coliseum Auto Row site, with its exceptional freeway visibility, would serve as an ideal location for the new location. Oakland Acura purchased the City's 3.6-acre parcel at fair-market value to develop this new dealership at 6701 Oakport Street.
"We were fortunate to find the space and visibility we needed to grow our dealership at the Oakport site," said Oakland Acura managing partner Gordon Walton. "Our investment means Oakland Acura will serve the community for another 30 years."
Construction began in April 2017 on a state-of-the-art, 38,000-square-foot facility with a luxurious showroom, 18 service bays, a large detail shop with a car wash and 335 parking spaces for the dealership's inventory as well as customer and employee parking.
Striving to be as green as possible, the new facility was built with California Title 24 energy efficiency standards to reduce energy usage. Soon-to-be-installed solar panels will allow the dealership to produce most of its own energy. The automated car wash has a water recycling system to reduce water usage to a fraction of previous levels. Beautifully landscaped bioretention swales were included to capture stormwater runoff from everywhere on the property, keeping untreated runoff out of the local waterways.
The family-owned dealership has proudly served the Bay Area since 1986. As a locally owned, responsible and profitable business, Oakland Acura is excited about its future, and is ready to continue its legacy of a mutually beneficial relationship with the City of Oakland and the Oakland community.