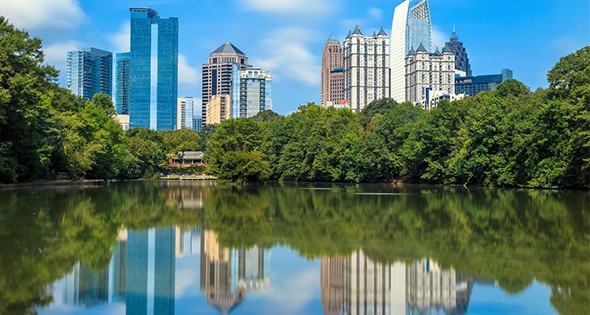 GEORGIA: Gateway to Prosperity
08 Oct, 2019
With seventeen Fortune five hundred headquarters, a workforce of over five million and 66 billion in tourism impact dollars, Georgia continue to flex its economic development muscle with no slowdown in sight.
Key industries throughout Georgia are advanced manufacturing, aerospace, agribusiness, arts, automotive, contact centers, data centers, defense, digital entertainment, energy and environment, film and television, financial services, food processing, information technology, life sciences, logistics and transportation and tourism.
A strong foundation of air, land and sea transportation enables the state to sustain business growth in an increasingly globalized economy. Large logistics companies such as Delta Air Lines, UPS, SAIA and Manhattan Associates are headquartered in Georgia, as well as internationally-recognized brands like The Home Depot, The Coca-Cola Company and Gulfstream Aerospace Corporation.
Georgia's Centers of Innovation provide over 1,500 businesses each year the technical industry expertise, collaborative research and partnerships to help the state's strategic key industries connect, compete and grow globally. The centers provide services that assist companies in developing new products, services and markets through partnerships with state, federal and private institutions that comprise Georgia's Innovation Ecosystem. This ecosystem includes the state's universities and technical colleges.
Lifestyle and standard of living are two reasons Georgia continues to attract Fortune 500 companies and the skilled, educated workforce those businesses and others need to succeed. Thriving cities mixed with charming towns offering mountains in the north and beaches in the south, plus a temperate climate with all four seasons guarantee something for everyone. Below average housing costs, low taxes — and a cost of living lower than the national average combine to make Georgia an affordable place to live.
The Peach State is also very serious about its arts, music and sports including hosting the summer Olympics in 1996.
GEORGIA: AEROTROPOLIS ATLANTA
………………………………………………………………………..
There's something special happening on the southside of Atlanta.
The nation's 9th largest metropolitan area, with a GDP the size of many countries, home to seven Fortune 100 companies, CNN, and the CDC, is also home to a massive, previously-underappreciated economic engine. It turns out, if you drive south from downtown Atlanta on Interstate 75 for 9 miles you will find the busiest airport in the world in the middle of a large swath of under-developed land and communities just bursting with possibilities.
Who knew?
Actually, everyone sort of knew. Every year, the Hartsfield-Jackson Atlanta International Airport (ATL) has a $34.8 billion impact on the metro area economy—$70.9 billion across the entire state—while supplying the city with 63,000 jobs. But it took real vision to bring together all the right players to work together to leverage the airport as a major asset and to drive economic investment, job growth, and quality of life in the area now known as Aerotropolis Atlanta.
It all started when Porsche Cars North America made the decision to build its 27-acre, $100 million headquarters, not in downtown or midtown or on the north side, but right next door to the airport. It's the largest investment outside of Germany for the sports car manufacturer, who immediately began seeking out local partners to join in revitalizing the area.
Long-time south-siders Delta and Chick-fil-A, as well as Georgia Power, were all in, as was the Airport Authority and a long list of other companies, – and virtually all the southside municipalities around the airport. The result, in 2015, was the birth of the Aerotropolis Atlanta Alliance.
Aerotropolis Atlanta or AeroATL represents a new vision for metro Atlanta's southside. The goal: to transform the area by stimulating investment and strengthening public and private coordination for the benefit of all stakeholders. According to the Aerotropolis Atlanta Alliance President and CEO Shannon James, it's all about partnership and collaboration. "Now more than ever," he says, "we all have the idea that a win for one is a win for all, which is making it more inviting for investors and developers."
And it's working…
The first year, the City of College Park celebrated the groundbreaking of its first new apartment complex in more than three decades, The Pad on Harvard. Now, the City is moving forward to develop its massive 320- acre site, which will begin to unlock the "Airport City" concept set by AeroATL. The mega mixed-use project currently titled "Airport City" is anticipated to bring an economic impact of $1B+ to include residential housing, office space, hotels and an entertainment district. The site is set to begin construction in 2019.
Other Aerotropolis Atlanta projects include the Gillem Logistics Center in Forest Park, where the Kroger Company recently opened a one million square-foot distribution facility, and the Gateway Center in College Park, a $230 million mixed-use development adjacent to the Georgia International Convention Center. "By 2020 to 2021," says James, "we'll have over 700 acres in the immediate area of the airport under construction for development."
For all its successes and "rare spirit of intensive collaboration and planning," the Aerotropolis Atlanta Alliance was awarded the 2018 Atlanta Regional Commission Development of Excellence Great Places Award.
GEORGIA: MERIWETHER COUNTY
………………………………………………
Nestled among the rolling hills of west central Georgia, Meriwether County exudes the kind of small-town warmth and charm people write stories about. Yet, this endearing hamlet also offers its approximately 21,000 inhabitants the many advantages of its position on the edge of one of the nation's largest metropolitan areas.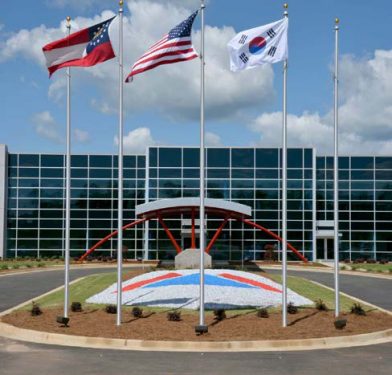 With convenient access to Atlanta via Interstate 85, Meriwether is a short 30-minute drive from the busiest airport in the world, Atlanta's Hartsfield-Jackson International. "Because of our proximity to the airport, we are the perfect location for auto suppliers, warehousing, and advanced manufacturing," says Jane Fryer, President of the Meriwether County Development Authority.
Indeed, the County's close proximity to Kia Motors Manufacturing Georgia less than a half hour away has also helped make it a prime destination for companies like Dongwon Autopart Technology, which builds automobile door frames and bumper assemblies in Meriwether County's newest industrial park. The appropriately named Meriwether County Industrial Park consists of approximately 100 acres of land available with infrastructure located just a mile from I-85. Three other industrial parks are located strategically throughout the county as well in Greenville, Woodbury, and Manchester.
The county's largest employer, Mando America Corporation, employs over a thousand at a casting facility and a brake manufacturing plant that sit across the street from each other also in Meriwether Park. Other county employers make everything from ambulances to specialized paint and soap, and even bottled water. (Okay, they don't actually make the water.)
Many know Meriwether County best for the warm, freshwater springs that President Roosevelt cherished so much. FDR's Little White House is the crown jewel of the historic district that bears its name and draws thousands of visitors to the county each year. But tourism isn't the 32nd president's only legacy in Meriwether County. The internationally renowned Roosevelt Warm Springs Institute for Rehabilitation is the descendent of FDR's polio foundation and the birthplace of the March of Dimes. The Institute's Center for Therapeutic Recreation is a fully accessible recreational complex serving people with all types of disabilities.
Meriwether County benefits immensely from the State of Georgia's pro-business environment, including its competitive tax structure and convenient access to world markets, not to mention a high quality of life. In fact, the state has ranked number one in Site Selection Magazine's annual survey of business climates for five years in a row.
GEORGIA: EATONTON AND PUTNAM COUNTY
………………………………………………………………………..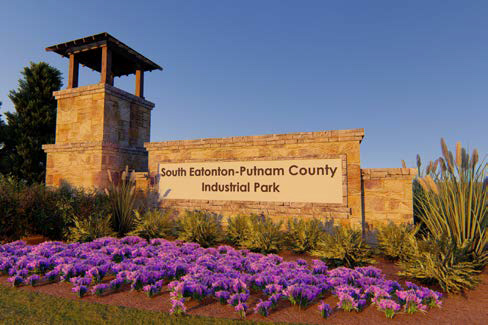 Eatonton and Putnam County boast a very diverse economic mix ranging from manufacturing to agriculture to technology to film. Advantages include a central location, low operating costs, tax incentives, and a relaxed lifestyle.
LOCATION AND TRANSPORATION
Situated in the center of Georgia between Atlanta, Augusta, Athens, and Macon, Putnam County is located 10 minutes south of Interstate 20, 78 miles southeast of Atlanta's Hartsfield-Jackson International Airport (the busiest airport in the world) and 185 miles northwest of the Port of  Savannah (the 4th largest seaport in the United States).
BUSINESS FRIENDLY
Putnam County offers new and expanding businesses a healthy, economic landscape supported by a business-friendly environment.
STRONG EXISTING INDUSTRY GROWTH
Existing Industry in Putnam County is currently investing significantly in their facilities.
BlueStem Brands (fulfillment center) completed a $1.2 million facility improvement project in 2018.
Aalto Scientific (bio-tech company) completed a $700,000 facility expansion in 2018 and has begun an additional $900,000 expansion.
I nterfor (sawmill) will begin a $90 million Equipment Upgrade & Mill Modernization project in Fall of 2019.
Lake Oconee Tree Farm & Nursery invested $1,489,840 in a 200 acre expansion project in 2018.
Cosmo Cabinets (new kitchen cabinet manufacturer) completed a $400,000 manufacturing equipment installation.
Universal Forest Products has started a $600,000 new equipment project.
Stair South built an additional $450,000 building in 2018.
WORKFORCE
Putnam County draws from a labor pool of over 67,775 employees from a 6-county area. Putnam County has a lower cost of doing business due to a cost of living index of 93.1 which is 6.9% lower than the national average. County average wages were $671/week in 2018, well below the state average.
TAX CREDITS AND INCENTIVES
Local incentives include available city and county property tax abatement, 100% Freeport Exemption, and job credits of $3,500/job for 5 years.
EDUCATION
The Putnam County Charter School System (PCCSS) is host to an award-winning College and Career Academy. In 2019 Putnam County High School had a 92% graduation rate, which is higher than the state and national average.
Gatewood Schools is an award-winning Christian, independent, non-profit, college-preparatory school that provides an educational experience that prepares students for postsecondary education and lasting success.
Central Georgia Technical College (CGTC) provides workforce development at the Eatonton campus, as well as at the Putnam County High School campus. CGTC provides a quality academic and technical education, along with customized business and industry training, continuing education and adult education services.
Georgia College & State University and Georgia Military College are only a short 21-mile drive to Milledgeville. Other colleges and universities within a 50-mile radius of Eatonton include the University of Georgia, Mercer University, Wesleyan College, and Middle Georgia State University.
HEALTHCARE
As the area's best 100 percent digital, non-profit, healthcare provider, Putnam General Hospital is very proud to have served the Eatonton and surrounding lake areas with over 40 years of excellent healthcare. Putnam General Hospital, a Navicent Health Partner, provides general medical and surgical care for inpatient, outpatient, and emergency room patients. Sixteen additional hospitals are located within a 50-mile radius of Eatonton, including four trauma hospitals, the Georgia Center for Total Cancer Care at Cowles Clinic, and more than 1000 specialists.
QUALITY OF LIFE
Putnam County is a lively, active community, which hosts many annual events and festivals. History, culture, arts, shopping, and recreational opportunities abound. Lake Oconee and Lake Sinclair offer almost 800 miles of shoreline and many opportunities for swimming, boating, water skiing and fishing. Enjoy world-class golf at Reynolds Plantation, The Ritz Carlton, Cuscowilla Resort, or Uncle Remus Golf Course.
…………………………………………………………………………………………….
CONNECT
Contact us about locating your business in Eatonton-Putnam
County, Georgia:
Terry Schwindler, CEcD
Economic Development Director
Putnam Development Authority
117 Putnam Drive, Eatonton, GA 31024
706-816-8099
tschwindler@PutnamDevelopmentAuthority.com