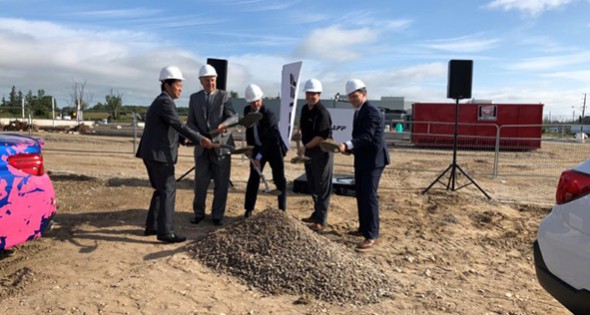 Guelph's Economy Sixth Fastest Growing Among Canadian Cities in 2018
09 Jul, 2019
The Conference Board of Canada, a national, independent research organization, reported that real gross domestic product (GDP) for the Guelph region grew at three per cent in 2018.
The Guelph region includes the City of Guelph, and Guelph/Eramosa and Puslinch Townships.
According to the Winter 2019 Outlook report, Guelph's economy has performed strongly in recent years, with GDP growth of 3.2 per cent in 2017 and 3.3 per cent in 2016. Guelph's real GDP growth in 2018 was the sixth fastest in Canada and second fastest in Ontario behind Hamilton region (3.1 per cent).
The Outlook report also states, "Guelph's GDP growth is solid by provincial standards; Ontario's real GDP growth clocked in at 2.4 per cent in 2018 and averaged an identical figure in the prior five years, so Guelph's GDP rose 0.6 percentage points faster on average."
The report notes Guelph's economy is expected to keep expanding over the next two years, with real GDP growth estimated at 1.9 per cent in 2019 and 2.1 per cent in 2020, and that despite slower performance in 2018, strong employment growth (5.7 per cent) is expected for the Guelph region in 2019. This is significantly higher than the expected employment growth in 2019 for both Ontario (1.2 per cent) and Canada (1.3 per cent).
"2018 was a great year for Guelph's economy and once again highlights our community as a national leader in economic performance," says Tyson McMann, business development analyst for the City. "Even with more moderate GDP growth expected in 2019, Guelph will continue to be one of Canada's economic engines."
The growth of Guelph's manufacturing sector was a highlight of the Outlook report. It noted continued rapid growth in the sector last year "with output expanding 4.0 per cent, the fifth straight year in which the industry met or exceeded that level. Manufacturing's healthy output expansion has been accompanied by solid job growth. Industry employment has risen in five straight years, with annual increases clocking in at an average of 3.7 per cent."
"Guelph's healthy economy and persistent population growth continue to underpin a solid residential market", says Robin Wiebe, senior economist for the Centre for Municipal Studies at the Conference Board of Canada. "A balanced existing home market features buoyant sales and price growth. On the new home side, falling inventories of unsold units are keeping housing starts elevated."
About Invest in Guelph
Invest in Guelph represents the business development outcomes identified in the City of Guelph's economic development strategy, Prosperity 2020. Invest in Guelph aims to position and promote Guelph as an ideal place to do business. From the moment you begin considering Guelph we provide you with a list of resources, offer an array of confidential business investment services, information and data resources and expedited and streamlined development approval processes to reduce your investment risk and save you time. We make it easy to do business in Guelph.
For more information
Tyson McMann, Business Development Analyst
Business Development and Enterprise Services
City of Guelph
519-837-5600 extension 3525
tyson.mcmann@guelph.ca