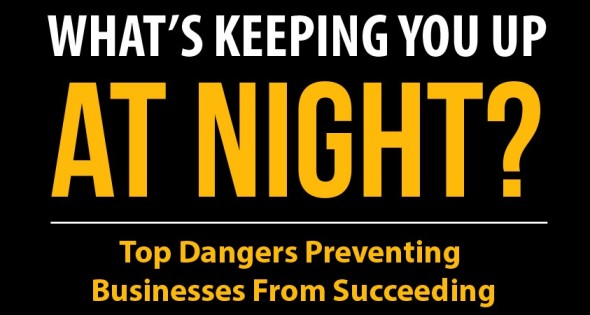 Infographic: Top Dangers Preventing Businesses From Succeeding
23 Oct, 2014
What's Keeping You Up at Night?" explores three obstacles businesses frequently face that likely impact success – time, team and money.
"One of the reasons certain issues are chronic for many business owners is that they don't know how to identify the root cause of the problem," says Terry Powell, founder of AdviCoach. "Small businesses face three common hurdles – time, team and money. Identifying which of these is the root problem may point you toward a long-term solution."
Because business owners are often so overwhelmed with the many aspects of running a business, it's easy to overlook issues that someone more experienced would see. Hiring a business coach – an objective outsider looking in – can help entrepreneurs build and maintain positive momentum in their businesses.
"Business owners often seek an ongoing relationship with outside leadership because they have reached a ceiling of complexity in their business," Powell says. "Coaches offer leadership that can help owners see beyond their blind spots to find solutions to problems they didn't know existed."
For more information about AdviCoach and its business coaching and advisory services, visit www.advicoach.com.