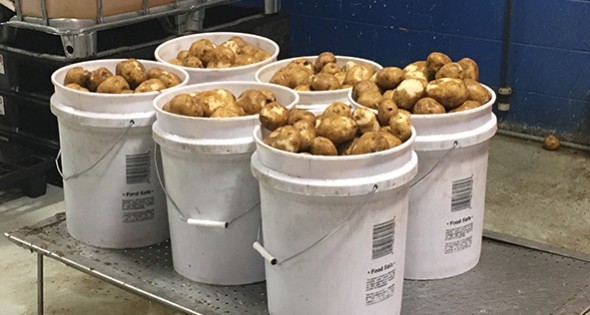 Agribusiness in Michigan
03 Aug, 2017
Michigan's thriving agribusiness industry contributes more than $100 billion to the state's economy each year. Home to more than 52,194 farms and 2,100 licensed food processors, with one in every five employees working in a food-related job, it's no wonder Michigan has become a key location for industry leaders to grow their businesses. The state is home to companies such as Kellogg's, Yoplait, Butterball Farms, Coles Foods, Country Fresh and Gerber.
Michigan is consistently ranked among the top ten states for major new and expanding facilities. Earlier this spring, two dairy processing companies, Continental Dairy and Fairlife announced plans to expand their facilities in Coopersville. The investments will generate $173 million and create 52 new jobs.
Last October, Zeeland Farm Services announced it would invest $123 million into a new soybean processing facility outside of Lansing, creating 75 new jobs and allowing the company to process 50 million bushels of soybeans annually. Last August, Kraft Heinz announced plans to invest $17.2 million to expand its production facility in Holland. The investment will bring 100 percent of the company's production of Grey Poupon mustard to the state and create 50 jobs.
Last May, Kent Quality Foods announced plans to expand their facility in Ottawa County. The meat production company will invest $35 million and create 140 jobs.
Other notable investments in Michigan include a $225.7 million expansion by Clemens Food Group in 2014 and a $17 million expansion by Herbruck's Poultry Ranch in 2013. Favorite consumer food and beverage also find support in Michigan, like Founders Brewing and Great Lakes Potato Chip Company. Founded in Grand Rapids in 1997, Founders Brewing has evolved into one of the highest recognized breweries in the United States.
Michigan's agribusiness industry offers diverse companies and opportunities. Michigan is home to 113 women-owned, 59 minority-owned, 18 veteran-owned and two tribal-owned businesses in the agri-food sector. For example, woman-owned C. Raker & Sons is the leading wholesaler of custom grown plugs and liners in North America, supplying 3,000+ plant varieties to greenhouses and nurseries. Producing 300+ agriculture commodities annually, Michigan is second only to California in national agricultural diversity. Additionally, Michigan exports its commodities globally; top export markets include Canada, Japan, Mexico and South Korea.
With such a robust agribusiness sector, Michigan enjoys a wide array of accolades. Home to more than 10 million acres of farmland, Michigan is number one in the nation in production of blueberries, cucumbers, squash, tart cherries, four varieties of dry beans and 12 varieties of flowers. With 100+ commercial wineries producing more than 2 million gallons of wine, Michigan is counted among CNN's "Top Ten Up-and-Coming Wine Regions of the World."
Overall, Michigan is a top contributor to U.S. agricultural output, supplying about half of the world's corn, ten percent of the world's wheat and 20 percent of the world's supply of beef, pork and lamb. The state is a powerhouse for national agriculture business as well as a magnet for foreign direct investment.