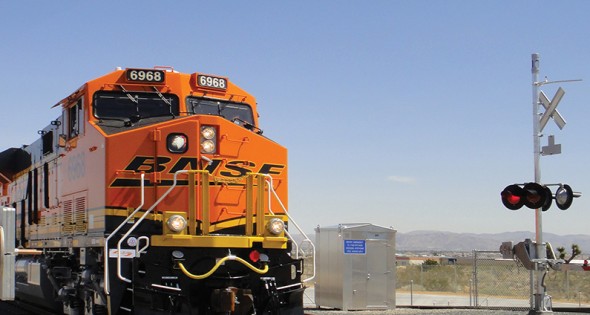 California: Economic Growth on Fast Track
26 Jan, 2016
By David Hodes
Photo courtesy of City of Hesperia
It's a new day in California, and economic developers are making it known that the hard times of the economic downturn are gone.
Brook Taylor, deputy director of the governor's office of business and economic development, also known as GO-Biz, says Gov. Jerry Brown repurposed about $75 million toward programs specifically targeted at encouraging new job growth.
That initiative, the Governor's Economic Development Initiative, was signed into law in 2013. Since then, three programs have been implemented as part of the initiative: a sales and use tax exemption for manufacturing biotechnology equipment; a new employee hiring credit that encourages companies to hire new employees where they get up to $56,000 during a five-year period for new hires; and the California Competes Tax Credit. "That Competes credit this year will provide roughly $200 million in tax credits to companies that are expanding, and adding new jobs," Taylor says.
California Competes works for everything from manufacturing, to IT and tech, to biotech and small businesses. The program is set up so that 25 percent of the incentive awards have to go to small businesses. "That is unique from what I understand, compared to other states," Taylor says.
In the early 2000s, the state witnessed businesses leaving to other more tax-friendly states such as Arizona. This tax credit addresses that pattern. "So there is an element of retention throughout that program," Taylor says.
Since the initiative was first established, GO-Biz has awarded 230 companies a total of roughly $230 million to create a projected 42,000 new jobs, and more than $9 billion in investment, as a result of these three programs, Taylor says. "The programs are thus far doing what they were intended to do," he says.
Gov. Brown also increased other initiatives, particularly the film tax credit. In 2014, he tripled the California Film and Television Tax Credit from $100 million to $330 million annually, Taylor says. "That program has resulted in immediate impacts for film and TV projects that are once again flocking to the state," Taylor says. "The fact is that film and TV people want to be in California because that is where the infrastructure exists, along with the human capital for the industry."
Industries and Innovations
Taylor says that it's a misnomer that California is not a manufacturing state. "In fact," he says, "California is the No. 1 manufacturing state in the U.S. in terms of total output, total firms and total jobs."
After 10 plus years of manufacturing job losses, California posted its first back-to-back years of manufacturing job gains in 2011 and 2012. Taylor says that there are now 38,000 manufacturing firms in the state.
The has seen many car manufacturing companies coming back into the state, opening new facilities and expanding partnerships, including Mercedes, Hyundai, Volkswagen, Volvo and Ford.
For example, Hyundai Motor Co., the fifth-largest automobile manufacturer in the world, has its North American headquarters in Orange County, representing a $150 million investment, the largest investment the company has made in the state to date.
Honda also has a presence in the state, with an R&D and parts center in Torrance and an advanced styling center in Pasadena. "Companies here include BMW and Maserati and a number of these high-end companies that you wouldn't imagine to have a presence in California," Taylor says. "But they are coming here specifically to take advantage of the intellectual capital that you can find here."
Aerospace has always been a bright spot in the state's economy. GO-Biz just approved a $420 million incentive package for the aerospace company that was ultimately to win the next generation B2 bomber contract from the Department of Defense. Both Lockheed Martin, working together as the subcontractor to Boeing, and Northrop Grumman, applied for that contract; Northrop Grumman eventually won it. "Northrop is working now on their proposal about how they are going to expand into the state," Taylor says.
The other big industry in the state, as it has been for years, is the agriculture business. The state is facing "significant challenges" now as farmers and business developers fight the drought, Taylor says, but there are new technologies coming to help address the drought. "Israel, for example has faced significant water shortages, and for the last several decades has developed some of the most innovative water technology in the world," Taylor says. "They are sharing that with us and we are learning more from them. We are hoping that we can apply a lot of that new technology to our current systems so that we can recycle more water, conserve more water, and provide resources to not only our residential communities but to the agriculture industry as well."
Talent and Education
The state has some of the world's best institutions of higher learning — the University of California in Los Angeles, the University of Southern California in Los Angeles; Stanford University in Stanford; California Institute of Technology in Pasadena; Pepperdine University in Malibu — and nearly 100 others.
But as it is in many states, supplying the workforce pipeline is the chief concern.
The governor's recently proposed budget includes $750 million during the next three years for a new career technical education incentive grant program that would prioritize school districts that apply in partnership with other education entities to provide regional programs.
California's budgets for 2013, 2014 and 2015 also set aside a total of $500 million for the California Career Pathways Trust, which provides competitive grants to partnerships of schools and community colleges to develop career pathways and strengthen connections with businesses to ensure the pathways are aligned with regional economies.
Assets
In Gilroy, billed as the garlic capital of the world, located at the crossroads of U.S. Route 101 and California State Route 152, more ag-related distribution companies are coming.
One example is United Natural Foods Inc. (UNFI), the largest distributor of organic and natural foods in the country supplying such food stores as Whole Foods and Costco. UNFI recently finished construction on its 400,000-square-foot distribution center in the area. The company has the ability to double its size in the area, says Tammy Brownlow, president, Gilroy Economic Development Corp. "That will be a big job creator for us at build out."
Agribusiness is one of the big businesses served by the 4,200-acre Port of Stockton, situated 75 miles inland from San Francisco in the heart of the San Joaquin Valley. The inland port is in the hub of four major freeways, two transcontinental railroads, an international waterway and a regional airport. The port handles an estimated $1 billion of freight across its docks each year.
There are a number of infrastructure projects underway or being planned at the port, says Mark Tollini, senior deputy port director in Stockton for trade and operations.
The port has 15 berths and is well suited for heavy lift cargos with the recent installation of two new 140-ton harbor cranes. "As part of the rail rehabilitation work at the port, we are adding 24,000 rail feet to our connection to our mainline on the east complex that was completed in late fall, which will improve the port's rail capacity," he says.
Lifestyle
Gilroy is positioned on the edge of Silicon Valley, just 33 miles south of San Jose, and is full of commuting millennials and others who work in the valley. "We have this mass commuting of people every day going to Silicon Valley to work," Brownlow says. "That's about 15,000 people every day."
Gilroy has been an economically stable city that continued to grow even through the economic downturn of 2008 because of its agriculture heritage in garlic growing and processing, among other products.
The city is now in a transition stage from an ag-driven community to a more business community, Brownlow says. Part of that reason is the quality of life in the area, where some of the Silicon Valley workforce are now looking at buying residential property in the area at a median price of just $580,000 for a single-family dwelling, as opposed to the much higher priced homes closer to the valley and farther northward 75 miles into San Francisco.
There are now 3,500 single-family homes either under construction or in the pipeline, Brownlow says. "The demand is just crazy," she says. "We have homes that haven't even been constructed yet and are already presold." She hopes that the quality of life will sway more millennials to stay in the city, and that businesses will be attracted to locate in Gilroy because of the intellectual capital that remains there instead of commuting away each day.
Another town promotes reasonable real estate as a quality of life consideration is Hesperia, located in the Mojave Desert 35 miles north of San Bernardino.
Median housing prices here are even lower, around $200,000, says Lisa LaMere, management analyst for economic development and redevelopment for Hesperia. "We are very outdoors and sports related here," she says.
A resident can go skiing in the mountains about an hour away in one direction, or to the beach an hour away in another direction. "There are also still a lot of people here who have horses," she says, adding that they have horse shows throughout the year. The city also just got its first 12-screen movie theater. "The tradeoff for the less expensive housing cost is that most of the residents commute," she says. "We are working hard to change that jobs/housing imbalance."
With all the changes from the economic downturn now becoming a distant past, Taylor says that the golden state is back on the top of the list for economic developers. "Companies are finding that their desire to locate to California is strong enough that if they can find a partner at the state to help them, and they can find some financial incentives that may offset the cost of doing business, than they are more than willing to make large investments in the state," he says. "We are seeing a lot of that."
For complete details on conducting business in California, visit: