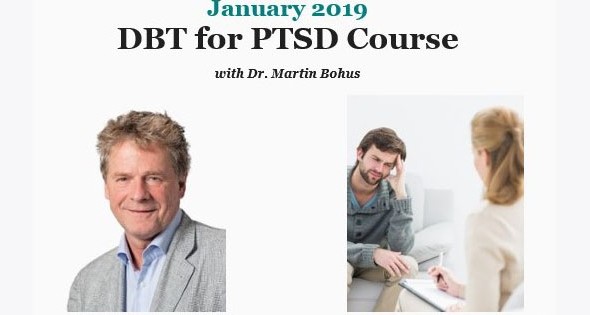 Dialectical Behavior Therapy for Post-traumatic Stress Disorder (DBT-PTSD) Workshop
04 Dec, 2019
Date: Saturday, January 19, 2019-Monday, January 21, 2019
Location: The Conference Center at Waltham Woods, Waltham, MA
http://www.conferencecenteratwalthamwoods.com/
Tuition Fee: $1000
Provided by: Borderline Personality Disorder Training Institute, McLean Hospital
CME Credits: 12
Course Director: Lois W. Choi-Kain, MD, MEd
Faculty: Martin Bohus, MD; Lois W. Choi-Kain, MD, MEd
Prerequisites: Knowledge of DBT is an advantage but not required
Registration: https://tinyurl.com/DBT-PTSD-2019
Course Description
This 3-day course offers training in an empirically validated treatment approach DBT-PTSD. This course teaches mental health clinicians what they need to know to provide care for a wide range of patients experiencing PTSD after severe interpersonal violence, including individuals who present with a high burden of psychopathology such as highly dissociative symptomatology, chronic suicidality, and ongoing non-suicidal self-injury. Approximately 60% of patients with Borderline Personality Disorder (BPD) suffer from severe co-occurring Posttraumatic Stress Disorder (PTSD), mostly related to sexual abuse during childhood. Even successful standard Dialectical Behavior Therapy (DBT) requires additional treatment with these clients. At the Central Institute of Mental Health, Mannheim, Germany, Martin Bohus developed a specific modular treatment program (DBT-PTSD) for this complex group of patients who have experienced childhood physical and sexual abuse.
DBT-PTSD's modular multi-component architecture allows sufficient flexibility to cover both complex psychopathology and crises of this complicated patient population within a principle-based structure. During the workshop, clinicians will learn the multiple phases of treatment in DBT-PTSD: 1) strengthening of commitment and psychoeducation, (2) skills training, (3) skills-assisted exposure, and (4) radical acceptance of the past, and (5) preparation for returning to everyday life.
Target Audience
Physicians, psychologists, psychiatric nurses, social workers and other licensed mental health counselors.
Educational Objectives
Upon completion of this activity, participants should be able to:
Extend their knowledge in DBT to evidence based treatment of co-occurring complex PTSD.
Identify trauma-related cognitions
Describe how to handle prototypical escape and avoidance strategies.
Motivate patients to engage in exposure to process experiences of powerlessness and helplessness related to their trauma
Effectively address severe dissociative states during exposure.
Employ a newly adapted concept of compassionate mindfulness and strategies to enable and facilitate their patients in the process of radical acceptance
Assist patients to move from organizing their life around avoiding triggers of trauma responses, and towards achieving a life in line with their values and goals
Agenda
Saturday, January 19, 2019
8:00a – 9:00a Registration and Breakfast
9:00a- 10:30a Theory and Data
10:30a – 10:45a Break
10:45a – 12:00p Principles and Structures of DBT-PTSD
12:00p – 1:00p Lunch
1:00p – 2:30p The Model
2:30p – 2:45p Break
2:45p – 4:00p Compassionate Mindfulness
Sunday, January 20, 2019
8:00a – 9:00a Breakfast
9:00a- 10:30a Treatment Phase 1: Commitment
10:30a – 10:45a Break
10:45a – 12:00p Motivation; Individual Values, Aims and Motives
12:00p – 1:00p Lunch
1:00a – 2:30p Individual Trauma Model
2:30p – 2:45p Break
2:45p – 4:00p Analysis of Escape and Avoidance Behavior
Monday, January 21, 2019
8:00a – 9:00a Breakfast
9:00a- 10:30a Stress-Tolerance Skills
10:30a – 10:45a Break
10:45a – 12:00p Shame, Guilt, Disgust
12:00p – 1:00p Lunch
1:00a – 2:30p Skills Assisted Exposure
2:30p – 2:45p Break
2:45p – 4:00p Develop your life after PTSD
Faculty Information
Prof. Martin Bohus, M.D. Chair of Psychosomatic Medicine and Psychotherapy, Heidelberg University, Medical Faculty Mannheim; Scientific Director Institute of Psychiatric and Psychosomatic Psychotherapy Central Institute of Mental Health, Mannheim
Lois W. Choi-Kain, M.D., M.Ed. Director, Adult Borderline Center and Training Institute; Director, McLean Gunderson Residence, Assistant Professor of Psychiatry, Harvard Medical School
Continuing Education
Physicians: McLean Hospital is accredited by the Accreditation Council for continuing Medical Education (ACCME) to provide Continuing medical education for physicians. McLean Hospital designates this educational activity for a maximum of 12 AMA PRA Category 1 Credit(s)™. Physicians should only claim credit commensurate with the extent of their participation in the activity.
Psychologists: McLean Hospital is approved by the American Psychological Association to sponsor continuing education for psychologists. McLean Hospital maintains responsibility for this program and its content. Participants meeting requirements will receive 12 CE credits.
Nurses: This program meets the requirements of the Massachusetts Board of Registration in Nursing (244 CMR 5.00) for 12 contact hours of nursing continuing education credit. Advance practice nurses, please note: educational activities which meet the requirements of the ACCME (such as this activity) count toward 50% of the nursing requirement for ANCC accreditation.
Social Workers: Application for social work continuing education credits has been submitted. Please contact us at 617-855-3195 or moverhiser@partners.org for the status of social work CE accreditation.
Licensed Mental Health Counselors: McLean Hospital has been approved by NBCC as an Approved Continuing Education Provider, ACEP No. 6085. Programs that do not qualify for NBCC credit are clearly identified. McLean Hospital is solely responsible for all aspects of the programs. This offering meets the requirements for up to 12 NBCC hours.
Disclosure Policy
Harvard Medical School (HMS) adheres to all ACCME Essential Areas, Standards, and Policies. It is HMS's policy that those who have influenced the content of a CME activity (e.g., planners, faculty, authors, reviewers, and others) disclose all relevant financial relationships with commercial entities so that HMS may identify and resolve any conflicts of interest prior to the activity. These disclosures will be provided in the activity materials along with disclosure of any commercial support received for the activity. Additionally, faculty members have been instructed to disclose any limitations of data and unlabeled or investigational uses of products during their presentations
Refund Policy
Due to the small nature of our trainings, the BPD Training Institute cannot offer any refunds. If the participant is unable to attend, they may send a substitute attendee.