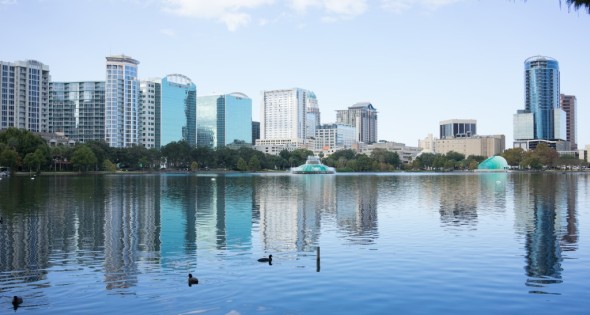 Fantasy Meets Reality in Orlando's High-Tech Economy
23 Nov, 2015
Special to Business Xpansion Journal
By Rick Weddle, President & CEO, Orlando Economic Development Commission
Caption: Lake Eola Park in downtown Orlando
While Orlando is already known as one of the world's most popular vacation destinations, the location has also earned its right as a global hub for high tech industries.
Orlando's high tech economy dates back to the mid-1950s, when companies like Lockheed Martin and other major defense contractors began operations in the region to support the "space race."
But Lockheed Martin is not the only high tech company in Orlando today—other global companies such as Oracle, Siemens, EA Tiburon, Northrop Grumman and more have also chosen to do business in the Orlando region.
From simulation and sensors to software and startups—Orlando has established itself as a hub for high tech innovation.

Industries and Innovation
Orlando: The Modeling and Simulation Capital of the World
Known as the 'world capital' of modeling, simulation and training (MS&T), Orlando is home to significant simulation operations for Lockheed Martin, FlightSafety International, the U.S. Air Force, the U.S. Army and more.
In fact, last year Lockheed Martin expanded its Orlando-based Mission Systems and Training facility with an $80 million investment, creating 200 jobs focused on training and logistics advancements for military aircraft programs.
Orlando isn't just pioneering simulation in the aviation and military sector though—the region is also working on simulation innovations in the entertainment, medical technology and transportation fields.
At the core of Orlando's strength in simulation, are resources like the National Center for Simulation, as well as the creation of the Central Florida Research Park—one of the world's top 10 research parks and comprised of more than 100 high tech companies. The University of Central Florida is also fueling the region's simulation industry—providing fresh talent through its Modeling & Simulation graduate program and establishing the Institute for Simulation and Training (IST).
Next-Generation Sensor Technology
Orlando will soon be home to the world's first industry-led consortium for manufacturing of smart sensors: the International Consortium for Advanced Manufacturing Research (ICAMR).
Currently being built in Osceola County, the state-of-the-art manufacturing and incubation facility, Florida Advanced Manufacturing Research Center (FAMRC), will include 100,000 square-feet of lab and office space to research advanced manufacturing techniques for emerging technologies, next-generation smart sensors, semiconductors, photonics and will help connect everyday devices to the Internet of Things (loT)—all with the ultimate goal of accelerating commercialization of the technology.
Software and Startups
Home to both the Southeast's largest tech meeting group and the National Entrepreneur Center—one of only two in the nation—Orlando has an ideal ecosystem for software firms, startups and other tech-related companies of all sizes. These companies take advantage of Orlando's creative workspaces, incubators, accelerators, events and supportive civic entities.
Software companies already thriving in Orlando include Paylocity, PowerDMS, and four of the big five software developers in the banking industry—FIS, Fiserv, D+H and Temenos.
Orlando's success in software has also led to growth in other specialized tech sectors in the region, such as gaming. Electronic Arts (EA) Tiburon has been located in Orlando for more than 20 years. Orlando also has two of the top schools for game design: Full Sail University and the University of Central Florida's Florida Interactive Entertainment Academy (FIEA).
Talent and Education
Behind every growing industry in Orlando is a higher education component to support it. Orlando offers companies a talent pipeline of more than 500,000 higher education students within a 100 mile radius—making Orlando among the nation's fastest-growing population and employment markets. Companies also can source talent from the second largest university in the nation by student enrollment, the University of Central Florida (UCF).
In addition to UCF, Orlando has one of the state's largest public school systems and is home to more than 35 colleges, universities, technical schools and private institutions across the region.
Assets
With 62 million visitors last year, Orlando has perfected the art of logistics—whether it's shipping products or transporting people, Orlando has the world-class infrastructure necessary for growing companies to keep moving.
Recent expansions at key transportation centers, such as Orlando International Airport (the third largest origin and destination airport in the U.S.) and Port Canaveral (which is slated to be the deepest, most accessible East Coast port in Central Florida by 2020), further connect the community with the rest of the world.
Proving itself to be among the most progressive, forward-looking regions in the country, Orlando has planned a $15 billion investment in transportation infrastructure, competitive products and quality of life features.
As the world's 19th largest economy, Florida is a favorable location for global companies. Orlando, in particular, leads much of the growth as one of Florida's top metro areas. The region's economic health can be credited to Orlando's inclination for collaboration and access to unique incentives and pro-business policies—for example, Florida is both a right-to-work state and has no personal income tax.
Lifestyle
Orlando, is more than our Castle. Affordability and diversity are widely apparent across the region thanks to housing options and neighborhoods spanning urban downtown Orlando to rolling hills of Lake County.
Keeping residents−as well as those traveling from afar−at their best are two of the nation's largest healthcare systems, Florida Hospital and Orlando Health, both headquartered in the region.
A multitude of sports and recreation opportunities are available in Central Florida's four-county region, also landing Orlando among the best cities in the U.S. for an active lifestyle. Sports spectators can watch the NBA's Orlando Magic at the downtown Amway Center, while soccer fans will be able to cheer on the MLS's Orlando City Soccer Club and the NWSL's Orlando Pride in a new 19,500-seat stadium in 2016.
The same ideals of creativity and innovation that rank Orlando's theme parks among the best in the world overflow to the surrounding community, making the region a haven for art, ballet, orchestra, film, and other cultural events.
Among top cities in the U.S. for job growth, companies considering expansion or relocation to Orlando will find a thriving metropolis.
More Info