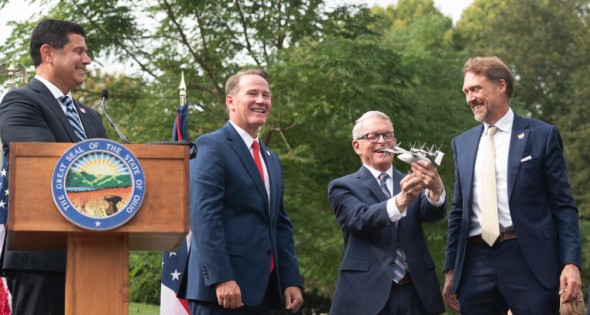 Governor DeWine, Lt. Governor Husted, Joby Aviation Announce Historic Manufacturing Site in Ohio
18 Oct, 2023
Dayton, OH— Ohio Governor Mike DeWine, Lt. Governor Jon Husted, Ohio Department of Development Director Lydia Mihalik, JobsOhio President & CEO J.P. Nauseef announced that Joby Aviation Inc. will build an electric air taxi manufacturing facility at the Dayton International Airport, creating 2,000 new jobs in the Miami Valley.
Joby Ohio's new assembly-line manufacturing facility will build, test, and fly all-electric, vertical take-off and landing (eVTOL) air taxis that will predominantly be used for commercial passenger operations. The aircraft, designed to accommodate a pilot and four passengers, will be capable of achieving speeds of up to 200 miles per hour over a 100-mile range. The corporation plans to operate the aircraft as part of aerial ridesharing networks in cities and communities around the world.
"Ohio's legacy in aviation leadership begins with the Wright Brothers and continues now with Joby Aviation, as they launch a new era in advanced aviation manufacturing and aerial mobility in Dayton," said Ohio Governor Mike DeWine. "The aircraft that will roll off Joby Ohio's production lines will redefine urban transportation and contribute to a transformational change in the way people and goods travel. We welcome Joby and celebrate the new chapter of air mobility history that will be made here in Ohio, the Heart of Aviation and Aerospace."
Joby Ohio will invest at least $477.5 million in the 140-acre site at the Dayton International Airport and plans to produce up to 500 aircraft per year. Construction is expected to begin next year, and the facility will come online in 2025. In the interim, the corporation will use existing nearby buildings for operations. The company's total new payroll is expected to surpass $140 million.
"Ohio has a long, rich history in aviation, and we're proud to bring the next chapter of that story to life in the place where it all started. As one of the top states in the country for aviation manufacturing and innovation, Ohio will play an important role in the future of our industry, and we're looking forward to growing our team here," said JoeBen Bevirt, Founder and CEO of Joby Aviation. "We're grateful to Governor DeWine, Lt. Governor Husted, Senator Brown, Senator Vance, Representative Turner, and the team at JobsOhio for continuing to grow Ohio's leadership in aviation and ensuring the U.S. continues to lead the way in delivering quiet, emissions-free flight."
Joby Aviation's Ohio production site investment is expected to significantly impact economic growth both in Ohio and across the U.S. The new facility will likely draw other advanced air mobility opportunities to Ohio, causing a ripple effect that could lead to an overall $13 billion economic impact statewide and the creation of 15,000 new Ohio jobs by 2045. According to Morgan Stanley, this economic growth potential will transcend state and national lines with a projected global economic impact of $9 trillion by 2050.
Other important factors that attracted Joby to Dayton include partnerships with JobsOhio, the Ohio Department of Development, Ohio Department of Transportation, Dayton Development Coalition (DDC), U.S. Department of Defense, and cutting-edge organizations including the Defense Innovation Unit, Agility Prime program, and Air Force Research Laboratory that are all based in Dayton.
In addition to being home to the National Advanced Air Mobility Center of Excellence, Ohio is also equipped with the necessary airspace infrastructure for Unmanned Aircraft Systems Traffic Management (UTM) and Urban Air Mobility (UAM) operations, with 226 square miles of dedicated testing space for air mobility vehicles. This landscape enables UAM vehicles to operate under Federal Aviation Administration waivers at altitudes ranging from 1,000 to 10,000 feet through Ohio's UAS Center. These crucial partnerships led Ohio to become the first state in the nation to test eVTOL beyond visual line-of-sight.
"When fully executed, the agreement and the forward vision Joby has shared today will mark the largest aviation job creation deal in Ohio history," said JobsOhio President and CEO J.P. Nauseef. "Today we continue Ohio's historic legacy as the past, the present, and the future of aviation innovation and further affirm we are in the midst of an economic renaissance of the American Midwest, with Ohio leading the way."
"Today's announcement is big news for the Miami Valley and will be transformative for the people and families in the region," said Ohio Department of Development Director Lydia Mihalik. "Joby Aviation's investment in Ohio will bring thousands of good paying jobs to the area, and when residents look to the sky, they'll not only see the revolutionary aircraft technology made in their own backyard, but also the limitless possibilities and opportunities that exist right here in Ohio."